Fig. 8.1
Deep recurrent decay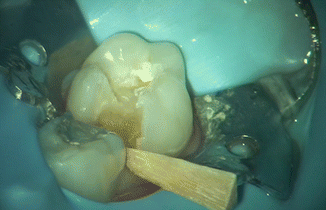 Fig. 8.2
Caries removal using the Er:YAG laser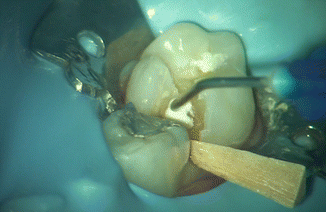 Fig. 8.3
Placement of liner
8.3.3

Pulpotomy

The American Academy of Pediatric Dentistry defines this procedure as the amputation of the pulp chamber while preserving the vitality of the radicular pulp which will be later treated with a medicinal product [

34

].

Pulpotomies in primary teeth are the most commonly used treatment when the pulp is cariously exposed, and the tooth appears both clinically and radiographically not infected. The rationale for completing a pulpotomy on a primary tooth is based upon the premise that by removing all or partial areas of the affected coronal pulp tissue, there continues to remain vital tissue in the remaining areas of the root canal. The goal is to maintain tooth vitality and normal pulpal activity. The material used to cover the remaining tissue should be bactericidal, compatible with the pulp and surrounding tissues; promote repair and healing of the pulp tissue; and allow the tooth to resorb without interference.

Using conventional vital pulpotomy methods, the tooth should usually be anesthetized prior to treatment. Presently, conventional treatment has seen less use of formocresol due to concerns about its safety and more emphasis on the use of mineral trioxide aggregate [

35

,

36

]. MTA is composed of tricalcium silicate, bismuth oxide, dicalcium silicate, tricalcium aluminate, tetracalcium aluminoferrite, and calcium sulfate dihydrate. Nonchemical pulpotomy procedures were recommended by Dean et al. (2001) using electrosurgery and pulp therapy [

6

].
8.4

Pulpectomy

When the pulp of the primary tooth is determined to be non-vital, a pulpectomy may be an option when it is desirable to save a restorable primary tooth. Pulpectomy should be limited to teeth where there are no signs of systemic infection, bone loss, swelling, or chronic fistulas both clinically and radiographically. The goal is to remove all infected tissue in both the coronal and root portion of the primary tooth.

The anatomic morphology of primary molar root canals makes complete conventional root canals difficult to complete. If the primary tooth's root canal shows signs of resorption and apical, bifurcation, or trifurcation bone loss and cannot be properly cleansed of all infected tissue, then endodontic (pulpectomy) treatment will most likely be unsuccessful.
8.5

Lasers in Primary Teeth Requiring Pulpal Treatments
Premium Wordpress Themes by UFO Themes
WordPress theme by UFO themes