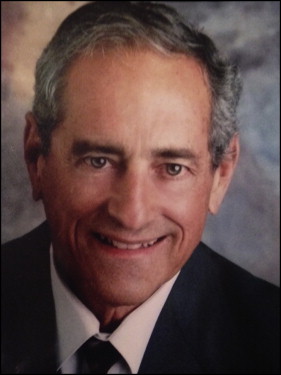 James Kimon Economides, DDS, MSD, died on December 8, 2014; he was 79 years old. Jim was born on June 23, 1935, to Kimon and Era (Griffin) Economides in Alton, Illinois. He spent his early years there, before his family moved to Glendale, California, and then to Albuquerque, New Mexico. He was part of the first class to complete 4 years at the brand-new Highland High School, where he met Renee Lewis, his high school sweetheart. They married December 3, 1955. Jim was a talented left-handed baseball player (acquiring the nickname "Lefty"). He received a baseball scholarship to the University of New Mexico. He graduated in 1957 and was commissioned as a second lieutenant in the U.S. Marine Corps, serving as a helicopter pilot during the Laotian Civil War. He was released from active duty in 1960 and moved back to Albuquerque, where he worked as the physical education coach at Hodgin Elementary School for several years. He took up the sport of handball, beginning a lifetime endeavor.
A couple of his handball buddies, both dentists, encouraged Jim to attend dental school. He did, and after graduating from Baylor Dental College, he entered the orthodontic program there. After graduation in 1972, he returned to Albuquerque, where he began what would be a successful career as an excellent orthodontist, providing beautiful smiles for thousands of children and adults who called him "Dr E."
Jim and I met in 1954, his freshman year at the Univeristy of New Mexico. I had no idea then that, before he graduated, he would become a UNM Lobo legend—one of the greatest baseball players the school ever had. His athletic exploits did not end on the diamond. He was a 4-time world champion handball player and a 17-time national champion. He bought a plane and flew with his staff to the Zuni Indian Reservation to treat patients who could not travel to Albuquerque. Jim was one of the first orthodontists to understand the importance that information technology would have in orthodontics, and he worked to develop software programs that allowed him to diagnose, plan treatment, and monitor a patient's progress. He wrote numerous journal articles and spearheaded a team of doctors to develop a low-cost, portable 3-dimensional imaging mammography machine.
He was a member of the New Mexico Dental Society, the American Dental Association, the American Association of Orthodontists, and the Texas Orthodontic Study Club. He had an intense fidelity to the specialty, and his enthusiasm and engagement were a model for professional commitment.
Jim was esteemed by his professional colleagues, loved by his family, cherished by his friends, and greatly appreciated by the patients who benefitted from his extraordinary skill. He was my great friend of many years, and I will miss his authentic friendship, sagacity, and marvelous sense of humor.
Jim was preceded in death by his daughter, Lisa Mullaney. He is survived by his wife, Renee; daughter, Cheryl Armstrong and her husband, Rob; and 8 grandchildren.