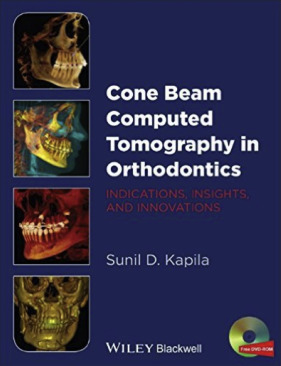 Cone beam computed tomography (CBCT) is an advanced imaging technology that has revolutionized orthodontics. Although there are many books covering the fundamentals of orthodontics, good specialized books are still rare.
Cone Beam Computed Tomography in Orthodontics: Indications, Insights, and Innovations provides a detailed and comprehensive look at one such area. It is a timely contribution to the literature on CBCT and will be of considerable interest to orthodontists, orthodontic researchers, and residents who are studying the use of this technology.
The book covers 4 areas of the use of CBCT imaging in orthodontics: technology assessment and enhancement, protocols and principles for CBCT in orthodontics, diagnosis and treatment planning, and clinical applications and treatment outcomes.
With leading experts contributing to the book, each of the 23 chapters examines 1 aspect of the use of CBCT in orthodontics, including concepts and characteristics, perspectives on radiation risk, selection criteria, medicolegal implications, protocols for its use, how to interpret the scans, detection of incidental findings, 3-dimensional diagnosis and treatment planning, temporomandibular joint and airway applications, assessment of impacted teeth and root positions, use of CBCT for orthognathic surgery treatment planning, and other clinical applications.
The book comes with 2 DVDs, which provide 15 hours of video presentations from the 39th Annual Moyers Symposium and the 38th Annual International Conference on Craniofacial Research. The videos are well made and worth watching.
As CBCT technology develops, so will attitudes concerning its use, which presently run from considerable interest to little faith. This book is so structured that it might easily go to several editions, with chapters revised or removed as the technology changes.
Some manufacturers of CBCT units are advising clinicians to acquire CBCT images for their initial, progress, and final records. Although some clinicians have followed this advice, others have questioned whether CBCT, because of its radiation dose and cost, benefits patients by improving treatment outcomes.
One of the more problematic aspects of CBCT is that the units vary considerably. They differ in major characteristics, such as effective radiation dose, image detector, scan time, patient positioning, and field of view. They also come with different operating softwares and footprints. Such differences are not typically seen in other dental and medical imaging techniques, but there is no reason to believe that manufacturers are likely to standardize CBCT machines anytime soon.
Therefore, it behooves whoever uses CBCT to understand this technique to ensure effective and meaningful implementation. This text provides a great resource to help with understanding of several aspects of CBCT in orthodontic practice and research.