9
Preventive Periodontal Therapy
Case 1: Plaque Removal
Paul A. Levi, Jr., DMD, and Luca Gobbato, DDS, MS
Case 1
Plaque Removal
CASE STORY
A 55-year-old Caucasian male, a plumber by trade, presented with a chief complaint of: "I know that my teeth are bad, and I want them fixed" (Figures 1 and 2).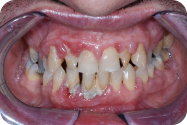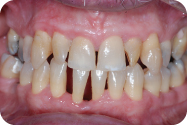 LEARNING GOALS AND OBJECTIVES
To understand that the behavioral motivation of a patient, to be consistent and thorough with biofilm removal, is of paramount importance in successful dental therapy, and that no matter how thorough scaling and root planing therapy is done, it is the

daily

removal of biofilm by the patient that sustains the professional therapy
To know that the removal of the etiologic agents can lead to healing with repair of the periodontium and sometimes even to regeneration
To learn various techniques of behavioral motivation and of plaque removal
Medical History
The patient had no significant past medical problems, nor were there any known allergies other than the severe periodontal infection. He reported no present medical illnesses and stated that he was taking no medications. He had not had a general physical examination for several years.
Dental History
Over the past several years, the patient had noticed blood on his toothbrush and in his saliva whenever he brushed his teeth, and he stated that he had bad breath. The patient claimed to brush his teeth only once a week because he did not like the taste of blood. He did not use dental floss or any other means of interproximal plaque control. He used mouthwash occasionally. His most recent visit to the dentist had been 12 years ago for "some fillings."
Review of Systems
Vital signs

Blood pressure: 120/65
Pulse rate: 72 beats/minute (regular)
Respiration: 15 breaths/minute
Social History
The patient did not drink alcohol. He had smoked cigarettes since he was age 23 and currently smoked a half a pack (10 cigarettes) daily.
Extraoral Examination
No significant findings were noted. The patient had no masses or swelling, and the temporomandibular joint was within normal limits (Figure 3).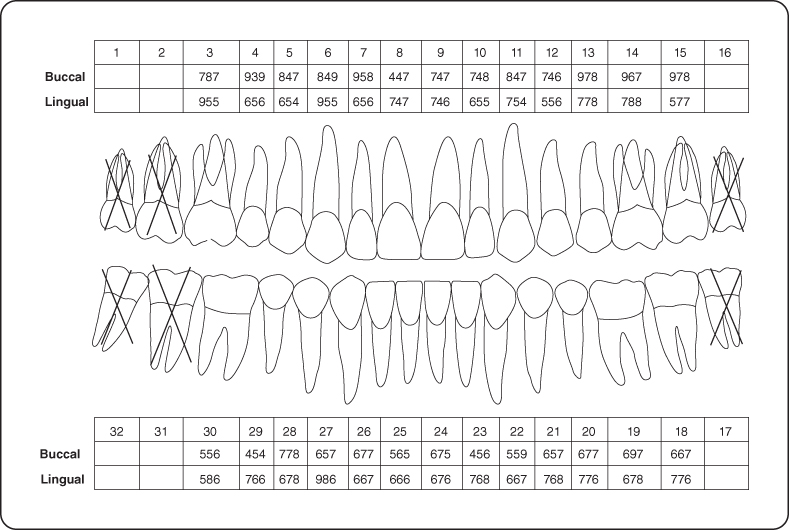 Intraoral Examination
Plaque control techniques were observed and were inadequate for complete plaque removal.
The soft tissues of the mouth with the exception of the gingiva appeared normal.
The gingival examination revealed severe marginal erythema, with rolled margins and edematous, bulbous, and spongy papillae (Figure 1).
A dental examination revealed cervical and interproximal smooth surface caries.
Occlusion
There were no occlusal discrepancies or interferences. There were no parafunctional problems, and there was no significant attrition.
Radiographic Examination
A complete mouth series of periapical radiographs revealed calculus, caries, defective restorations, evidence of from 25% to 85% angular bone loss, a loss of crestal-septal density, and a root tip with root canal therapy #29. (See Figure 4 for the patient's mandibular anterior periapical radiographs pretreatment and Figure 5 showing 1 year post-treatment.)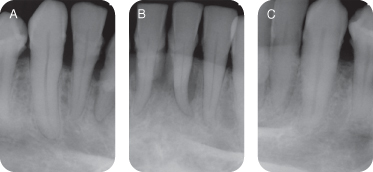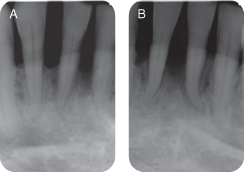 Diagnosis
1. Severe chronic generalized periodontitis
2. Dental caries and fractured teeth
3. Missing teeth
4. Defective restorations
Treatment Plan
1. General physical examination
2. Phase 1: Disease control therapy:
Plaque control instruction (PCI) and gross debridement
Continued PCI with scaling and root planing (SRP)
Caries control, extraction of nontreatable teeth
Periodontal reevaluation
3. Phase 2: Surgical pocket-reducing therapy as needed (resective or regenerative): Periodontal reevaluation
4. Phase 3: Restorative treatment (as planned)
5. Maintenance therapy:
Plaque control Instruction, scaling, and root planing (PCISRP) every 3 months or as indicated
Periodic periodontal reevaluation
Periodic restorative reevaluation
Treatment
At the outset of the initial treatment visit, the patient was instructed in an intrasulcular technique of brushing and dental tape for interproximal cleaning. In addition, interproximal brushes and gauze bandage was used for the proximal surfaces (Figures 6A–D).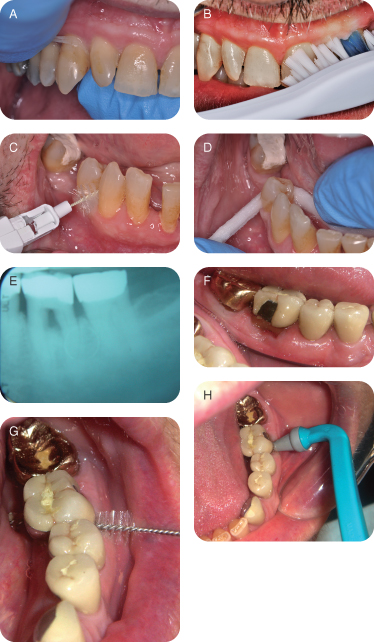 Following PCI, a gross debridement was performed using hand and power instrumentation without local anesthetic. Before the end of the appointment PCI was again reviewed.
At the second appointment PCI was reviewed at the beginning of the appointment, and scaling and polishing were performed using local anesthetic.
Hygiene therapy visits (PCISRP) were performed at 2-week intervals for 3 months.
After the first 3 months, PCISRP was continued at 5-week intervals. After 1 year of treatment the patient had achieved excellence in home care techniques and consistency. There was a significant resolution of the inflammation and reduced pocketing (Figure 2).
Postoperative radiographs of the mandibular anterior teeth at 1 year revealed apparent bone fill associated with tooth #24 (Figure 5).
Discussion
Because periodontitis is a plaque-induced inflammatory disease initiated by the periodontal pathogens in the plaque [1] and plaque adheres to the tooth surface, the treatment of periodontitis involves three factors:
1. That the patient be motivated to perform daily home care techniques
2. That the patient knows and performs appropriate techniques to remove the plaque
3. That the patient is able to access the tooth to perform the correct techniques
The theory of plaque removal from teeth is a basic principle of physics: "Two objects cannot occupy the same place at the same time and the object of the greater mass will displace the object of the lesser mass." Plaque removal is a displacement process, not an abrasive process. Thus scrubbing one's teeth is not only unnecessary but might be harmful. If the toothbrush bristles are moving across a tooth in the cervical third, abrasion of the teeth or gingiva might occur (especially if toothpaste is used), and the bristles will not enter into the gingival crevice.
The techniques shown to the patient were an intrasulcular technique of brushing, the "stationary jiggle technique," which is a modification of the Bass technique [2]. This technique involves using a multi-tufted nylon toothbrush with bristle diameters of 0.007. The brush head is angled slightly toward the gingival crevice (approximately 70°). The brush head is placed approximately at the middle of the clinical crown and pressure is applied against the tooth to place the bristle tips into the gingival sulcus and/>