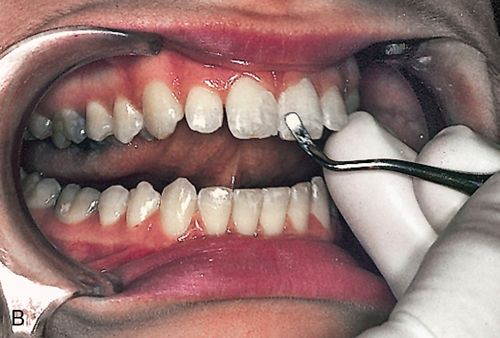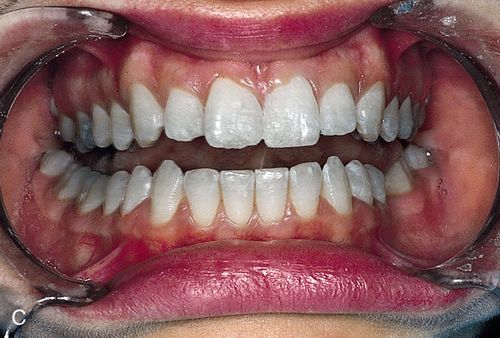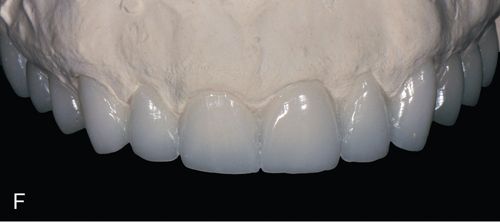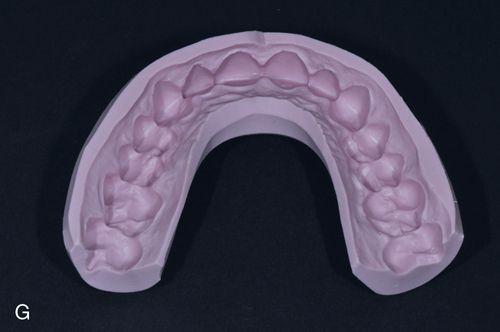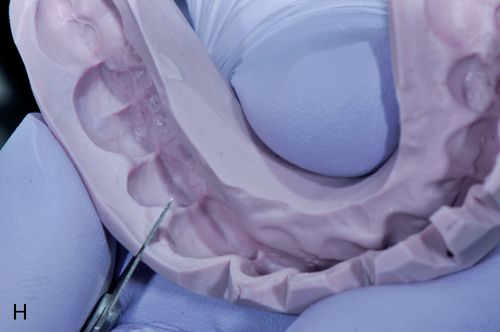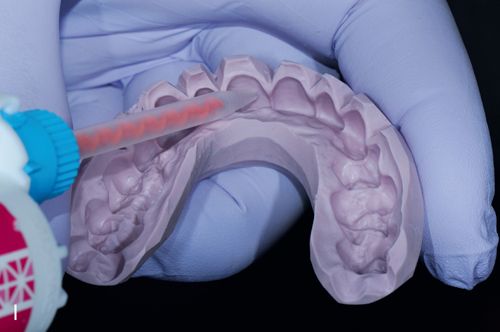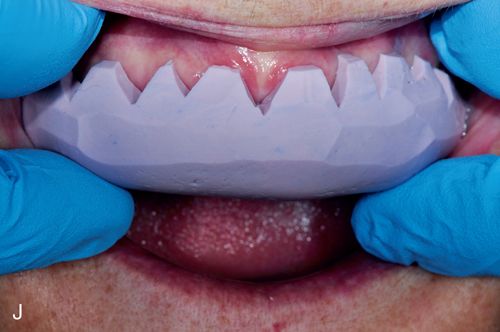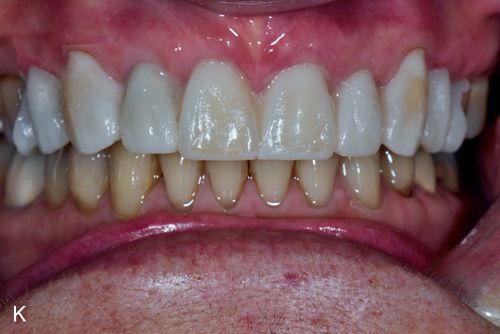 FIGURE 7-1​ A, The patient presented with a midline diastema. She also thought her teeth were too long. B, The wax is refined with a plastic instrument. C, The diastema is closed with white orthodontic tray wax. D, Mars black acrylic paint is applied to the teeth with the wooden end of a cotton-tipped applicator. E, The black acrylic paint helps the patient envision the esthetic effect of shortening the teeth. F, A diagnostic wax-up simulating the proposed final porcelain laminate veneer restorations. G, A trayless polyvinylsiloxane (PVS) laboratory putty impression of the diagnostic wax-up to be used as a matrix when fabricating a polyurethane intraoral mock-up of the proposed restoration. H, The buccal areas of the matrix are trimmed with the Bard-Parker knife.   I, The appropriate amount of material is placed into matrix. J, The matrix filled with the polyurethane acrylic is seated intraorally. K, The intraoral mock-up of the proposed definitive restorations. Note how some areas of tooth structure remain uncovered by the polyurethane indicating that the definitive restorations will reproduce the shape of the original tooth structure in those specific areas.
Porcelain use decreased following the introduction of silicate cements in 1908. Although silicates, a combination of silica alumina and calcium fluoride, showed significant solubility in salivary fluids, the fluoride component provided anticariogenicity. Acrylic resins, introduced in 1946, immediately replaced silicate resins as the esthetic material of choice. Although they exhibited better long-term retention, they did not contain fluoride, which resulted in an increased incidence of recurrent decay. Advances in acrylic resin systems, compared with earlier restorations, controlled some of the polymerization shrinkage, but they still exhibited poor overall dimensional stability. In addition, like silicates, acrylic resins required mechanical retention. The introduction of the acid-etch technique and filled composite resins further diminished the use of porcelain as an internal restorative material. Porcelain, in the form of all-porcelain and porcelain-fused-to-metal restorations, was relegated to full coverage restorations.
In the late 1970s, direct and indirect laminate veneers were introduced. Direct veneers, which used light-cured composite resin to overlay the entire facial surface, allowed great flexibility in both shaping and shading teeth. However, they were time consuming and required substantial artistic skill. In addition, they exhibited poor color stability and wear resistance.
Indirect or preformed veneers attempted to overcome some of these limitations.3 Composed of acrylic, they were treated with ethyl acetate, methylene chloride, or methyl methacrylate and then luted to the etched tooth with a composite resin. Although they exhibited greater color stability and stain resistance than early direct composite resin veneers, the composite resin-to-laminate veneer bond proved to be a fatal weak link.4 The acrylic veneer also exhibited a dull and monochromatic appearance, poor abrasion resistance,5 and resulted in unsatisfactory gingival inflammation.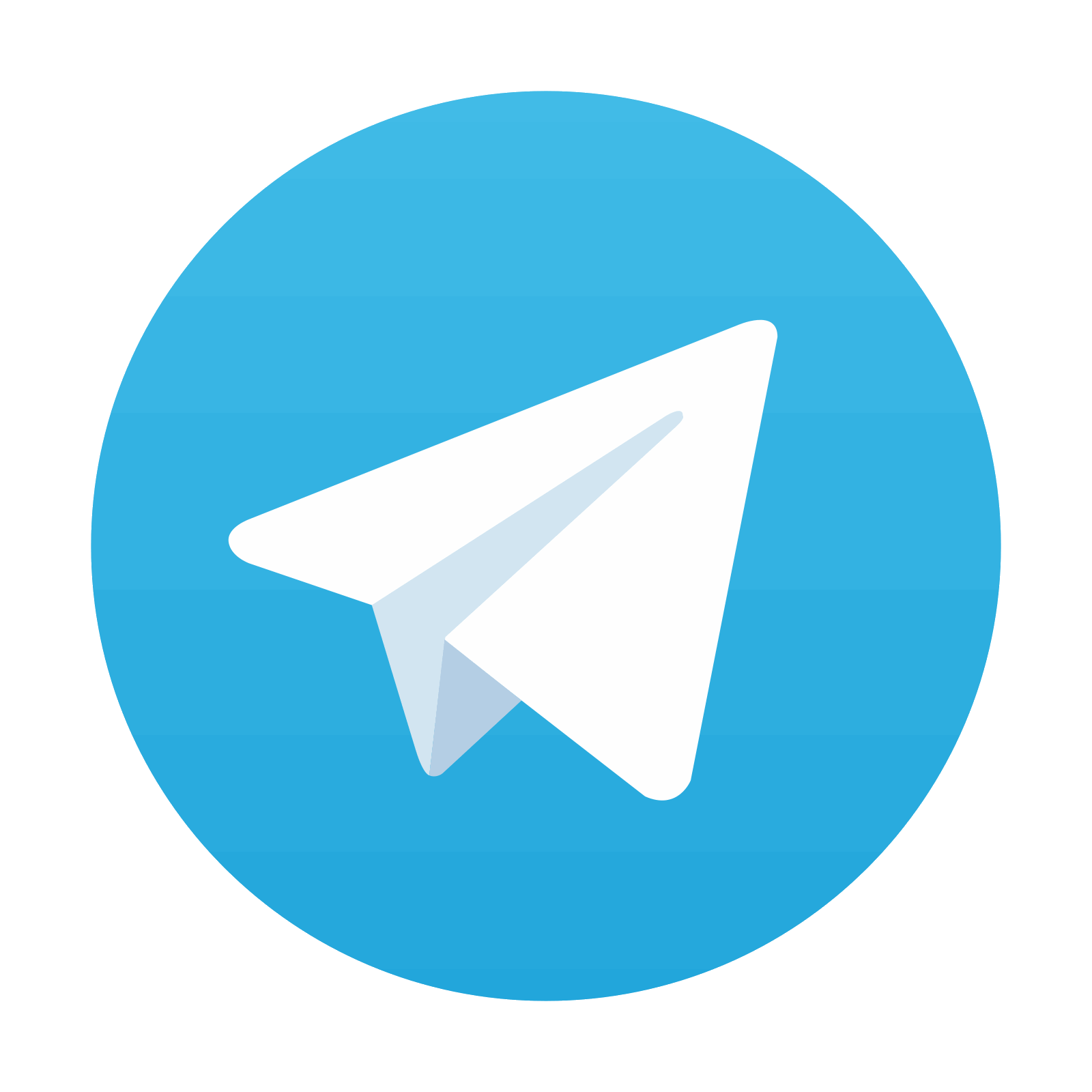 Stay updated, free dental videos. Join our Telegram channel
VIDEdental - Online dental courses