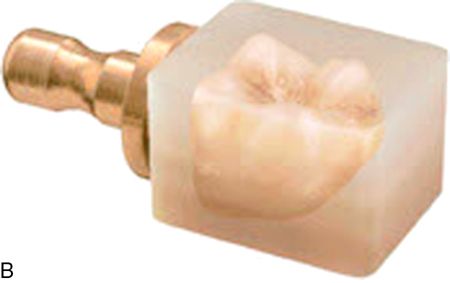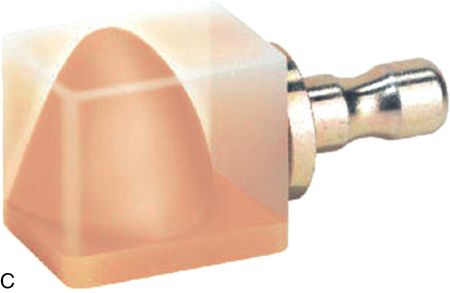 FIGURE 23-1 A, Vitablocs Triluxe Forte with grade variation in color saturation (block view). B, Vitablocs Triluxe Forte with grade variation in color saturation (tooth view). C, Vitablocs RealLife block with spherical dome dentin surrounded by more translucent enamel. Source: (Courtesy Vident, Brea, CA.)
The Vitablocs RealLife (Fig. 23-1 C) blocks better mimic the enamel-layered-over-dentin design of the natural tooth and reproduce translucency, chroma, and value by positioning the restoration to be milled within a spherical dome of dentin that is surrounded by more translucent enamel.
Leucite-reinforced ceramics
Leucite-reinforced ceramics are available in sintered pressed and milled block CAD/CAM forms. Examples are IPS Empress and IPS Empress CAD (Ivoclar Vivadent). Early chairside ceramic milling blocks were available in limited shades and therefore required external staining. Recently a greater selection of incrementally chroma and value gradated polychromatic ceramic blocks (IPS Empress CAD) for both the PlanScan CAD/CAM Restoration System (E4D Technologies) and CEREC CAD/CAM System (Sirona Dental Inc. USA) have become available. These tri-shaded blocks contain different cervical, body, and incisal segments in an attempt to mimic the polychromaticity of natural teeth. Blocks are also available with high and low translucency.
Lithium disilicate
Glass ceramics are characterized based on their crystalline structure and/or application with lithium disilicate ranking among the best known and most widely used types of glass ceramics. Lithium disilicate is an esthetic, high-strength material that can be conventionally cemented or adhesively bonded. For example, IPS e.max (Ivoclar Vivadent) composed of lithium dioxide, quartz, phosphor dioxide, alumina, potassium oxide, and other components is a composition that yields a highly thermal shock-resistant glass ceramic because of its low thermal expansion during processing. It can be processed using either well-known, lost-wax hot pressing techniques or state-of-the-art CAD/CAM milling procedures.
The pressable lithium disilicate (IPS e.max Press, Ivoclar Vivadent) is produced according to a unique bulk casting production process in order to create the ingots. This process involves a continuous manufacturing process based on glass technology (melting, cooling, simultaneous nucleation of two different crystals, and growth of crystals) that is constantly optimized in order to prevent the formation of defects. The microstructure of the pressable lithium disilicate material consists of approximately 70% lithium disilicate crystals, which are needle-shaped and measure 3 to 6 μm in length, embedded in a glassy matrix.
The machinable lithium disilicate blocks (IPS e.max CAD blocks) (Fig. 23-2) are produced by bulk casting but are only formed to a softer intermediate blue translucent state, to ensure that the blocks can be milled efficiently. The intermediate crystallization process yields lithium metasilicate crystals that have properties that include ease of machinability and good edge stability. After milling, the restorations are fired to their definitive higher strength crystallized state. The microstructure of the intermediate crystallized lithium disilicate consists of 40% platelet-shaped lithium metasilicate crystals embedded in a glassy phase. These crystals range in length from 0.2 to 1.0 μm. Post-crystallization microstructure of IPS e.max CAD lithium disilicate material consists of 70% fine-grain lithium disilicate crystals embedded in a glassy matrix.22–25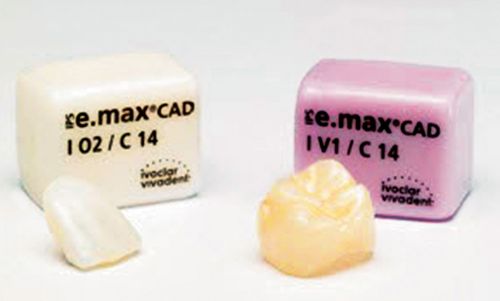 Ivoclar Impulse lithium disilicate blocks are available in different brightness values and opalescence shades. The opalescence blocks are mainly designed to create thin veneers and other partial coverage restorations and single crowns (see Fig. 23-2).
Reinforced resin-ceramic
A reinforced resin-ceramic block (Lava Ultimate CAD/CAM, 3M ESPE). is a unique resin nano-ceramic material. The manufacturer claims long-lasting esthetics and performance, however, data on material wear properties are not yet available and currently, there is only limited clinical data in the literature. The most significant advantage of this product is that p ost-milling oven firing is unnecessary.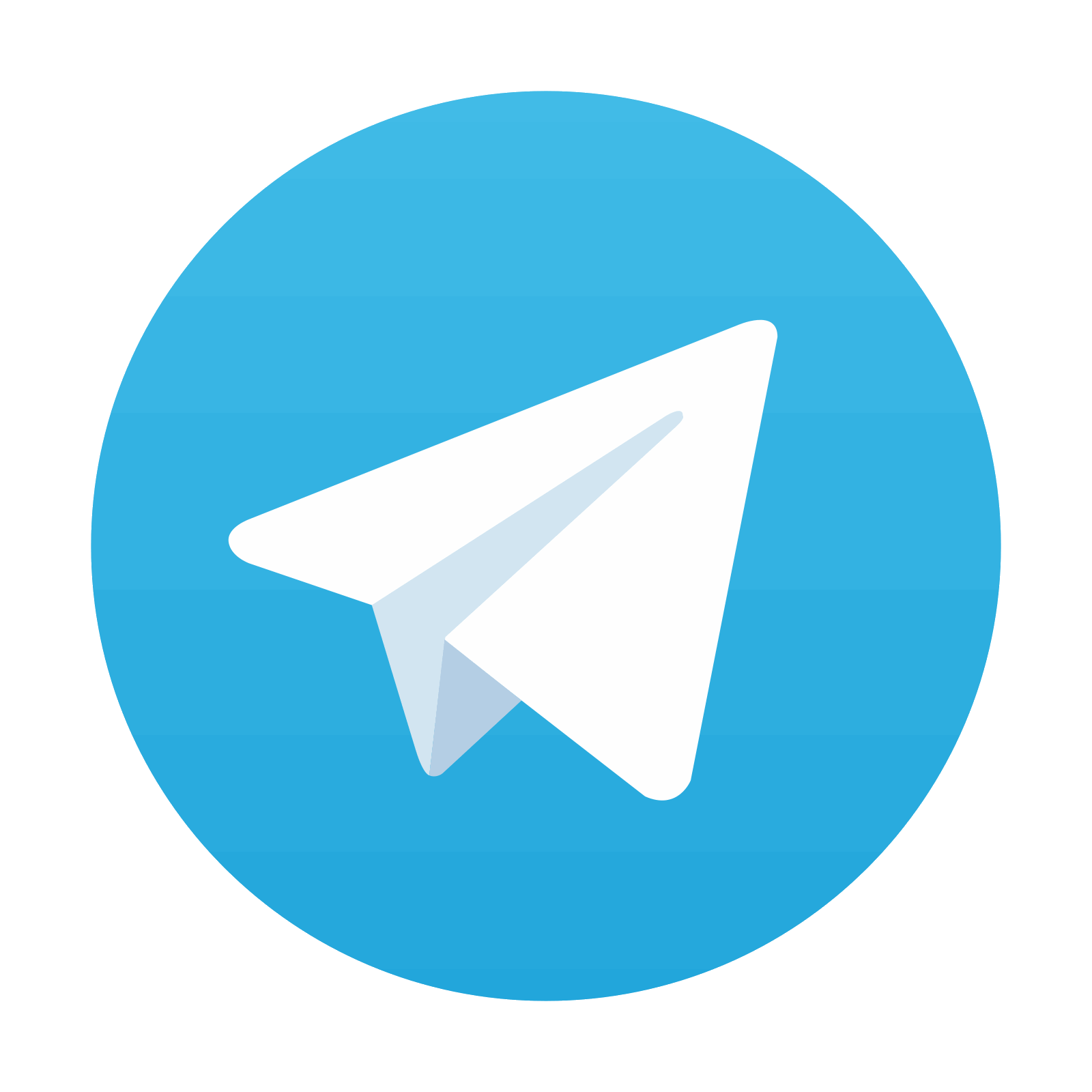 Stay updated, free dental videos. Join our Telegram channel
VIDEdental - Online dental courses