FIGURE 25-1 ​ A, Preoperative view of a female patient who was unhappy with her nose. B, Postoperative view of the patient after conservative reduction of all nasal elements.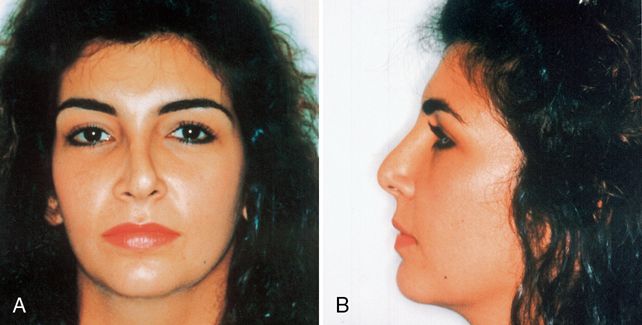 The best candidates for rhinoplasty are patients seeking reasonable improvement in their appearance. Several factors can prevent perfection, including individual healing properties, facial asymmetry, and unrealistic expectations. In most circumstances psychologically stable, healthy patients seeking natural results are good candidates. One in 10 patients who choose rhinoplasty requires a touch-up or revision. Nasal surgery is usually performed in less than 2 hours. A nasal splint is necessary for 1 week after surgery. After the first week a night splint is required for at least 2 weeks. Most nasal surgery is performed on an outpatient basis. Surgical incisions are necessary, but are usually undetectable and are placed internally in the nasal sill or the base of the nose. In corrective nasal surgery, the underlying cartilage and bone are sculpted. In some traumatic cases, septal or ear cartilage may be needed to support the tip or nasal bridge.
Rhytidectomy
A rhytidectomy or face lift is the removal of loose skin on the face and neck. Each patient has a unique characteristic of skin texture, plasticity, in addition to facial wrinkles and facial folds. Some patients have mid face bone resorption which produces a deep line or fold that runs from corner (ala) of the nose to the angle of the mouth.
Some patients develop jowls, which is a condition with loss of a well-defined jaw line. Jowls may require removal of fat, facial muscle tightening, or a combination of both techniques. Some candidates have loose skin, wrinkles, as well as excessive fat in the neck. Surgical treatment may require lifting of the neck, cheek, and forehead. In certain cases just a neck or cheek lift can achieve a fresh youthful face without a full face lift (Fig. 25-3).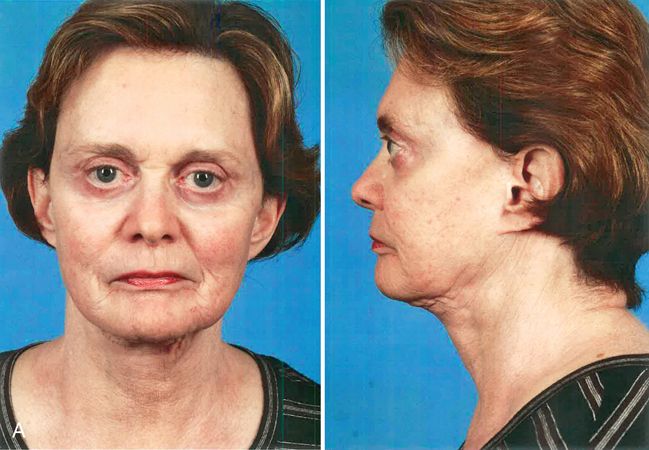 The best candidates for facial surgery are patients whose cheek and neckline have begun to sag but have skin that has some remaining elements of elasticity and also have good bone structure. The initial consultation may be uncomfortable for the patient, but honest discussion and communication are essential for the plastic surgeon to determine if the patient's expectations are realistic and what the patient hopes to achieve. Prior medical history is important and includes previous operations and medications taken. Smoking should be discontinued well in advance of surgery. Certain antiinflammatory drugs, aspirin, herbs, and alcohol are to be avoided to reduce bruising and bleeding. Poor general health, excessive sun exposure, and use of tobacco and alcohol negatively influence healing and accelerate aging. All cosmetic procedures can turn back the clock; however, aging cannot be stopped. Results of facelift surgery usually last 5 to 10 years, and face and neck surgery can be improved with effective alternate treatments such as laser resurfacing, chemical peel, liposuction, or augmentation of cheek and chin. All these treatments have some degree of risk. Minor unexpected complications such as bleeding and unfavorable scarring can affect the final result, but dire complications such as facial paralysis are relatively rare.
Blepharoplasty
Blepharoplasty (eyelid lift) is a procedure in which excess skin and fat from the upper and lower eyelids is removed. Blepharoplasty can be done through the normal upper eyelid crease and lower eyelid lining producing minimal to no visible scars (Fig. 25-4