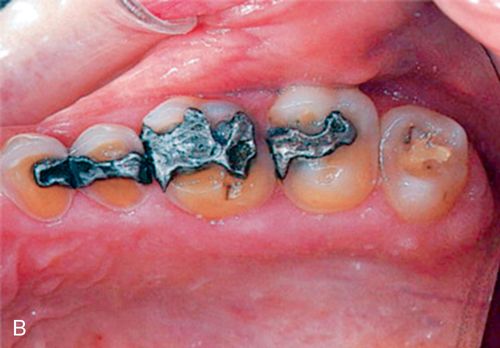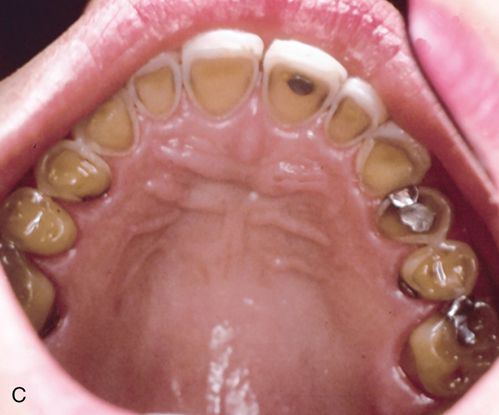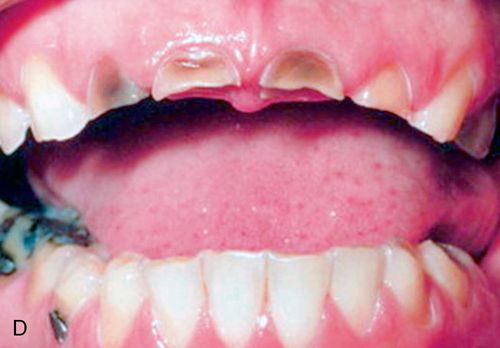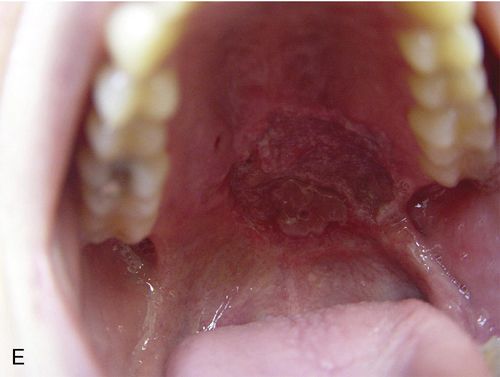 FIGURE 29-1 ​ A, Erosion. Palatal surfaces of the maxillary dentition in which the exposed dentin exhibits a concave surface and a peripheral white line of enamel. The patient had bulimia. B, In teeth affected by erosive tooth substance loss, amalgam restorations may stand proud of the remaining tooth surface. C, Bulimia. The lingual surfaces of the maxillary teeth show loss of enamel because of constant contact with regurgitated acidic stomach contents. D, The destruction of dentition in the mouth of this 26-year-old woman was caused by the eat-and-purge syndrome E, Clinical photograph shows a broad, shallow, ulceration of the posterior left hard palate that crosses the midline. The mixed red and white lesion has ragged borders and measures approximately 1.5 × 2 cm. Source: ( A, From Neville BW, Damm DD, Allen CM, et al: Oral and maxillofacial pathology, ed 3, St Louis, 2009, Saunders. B, From Walmsley AD, Walsh TF, Lumley P, et al: Restorative dentistry, ed 2, London, 2007, Churchill Livingstone. C, From Sapp JP, Eversole LR, Wysocki GP: Contemporary oral and maxillofacial surgery, ed 2, St Louis, 2004, Mosby. D, From Christensen GJ: A consumer's guide to dentistry, ed 2, St Louis, 2002, Mosby. E, From Solomon LW, Merzianu M, Sullivan M, et al: Necrotizing sialometaplasia associated with bulimia: case report and literature review, Oral Surg Oral Med Oral Pathol Oral Radiol Endod 103(2):e39-42, 2007.)
In eating disorders that involve frequent purging, perimylolysis12 is often associated with the excessive self-induced vomiting that occurs (Figs. 29-1 C,D).
Sufferers of ED often consume an excessive amount of caffeinated and/or carbonated drinks, sweetened beverages, sweets, and/or sugared chewing gum (often used to quickly boost energy levels and to decrease reflex hunger pangs through inducing stomach dilation.)9
Chronic purging can lead to dental erosion on all tooth-related surfaces (palatal, labial, lingual, and buccal surfaces). 12 The eroded enamel has a texture that is smooth, shiny, and hard and if extensive enough the yellowish color of the dentin becomes more prominent and observable and the teeth might become hypersensitive to temperature changes.