Non-vital Bleaching
Kyle D. Hogg
Principles
One of the more common causes of localised discoloration of a tooth or teeth is the presence of residual pulpal haemorrhage by-products in the pulp chamber, canal space and proximal dentine. Often there has been a history of trauma to the affected teeth, resulting in a disruption of the vascular supply to the pulpal tissues. This may be associated with a loss of pulpal tissue vitality, haemorrhage or both. It is important to note that not all localised discoloured teeth are non-vital, nor are all non-vital teeth discoloured. Thus a thorough and accurate assessment should be made regarding the history and vitality of the teeth in question prior to embarking on treatment.
It has been stated that nearly 10% of patients receiving root canal therapy are unhappy with the colour of the treated tooth on completion of the procedure.1 Given the relative frequency of root canal therapy being performed in the aesthetic zone, it is important that the clinician be skilled in performing bleaching of non-vital teeth in order to conservatively manage the aesthetic demands of the patient.
A variety of techniques have been employed to bleach non-vital teeth following root canal therapy. Strategies for bleaching the external surface of teeth are also successful for bleaching the internal surface of a non-vital tooth, and form the basis of the 'inside/outside' bleaching technique (Figure 10.3.1). A 10% carbamide peroxide gel is often utilised to bleach not only the outside of the tooth, with a conventional bleaching tray, but also the inside of the tooth via application of the gel directly into the pulp chamber through an access opening. This access opening is then effectively sealed off from the oral cavity by the close-fitting bleaching tray extending over the access on the palatal aspect. Other bleaching agents such as sodium perborate added to water, sodium perborate added to various concentrations of hydrogen peroxide, and high concentrations of hydrogen peroxide and heat have all been shown to bleach the internal aspect of the discoloured non-vital tooth effectively.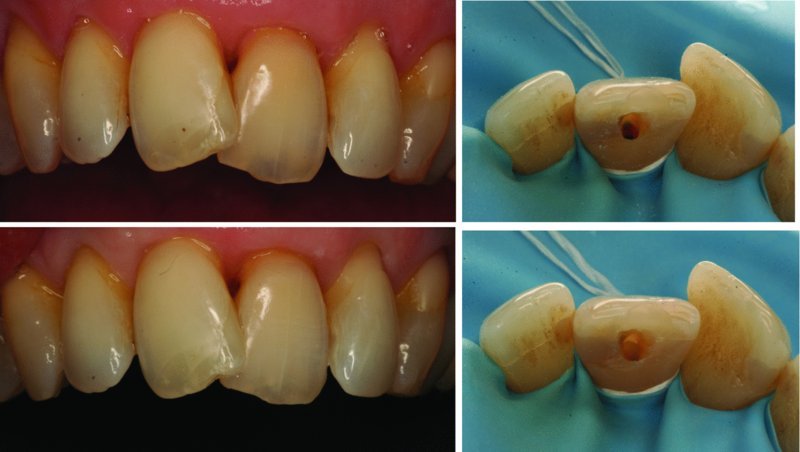 In contrast with vital tooth bleaching, the duration of treatment in non-vital tooth bleaching is abbreviated, typically lasting only 2–5 days. The bleaching tray is worn