and Melih Motro2
(1)
Faculty of Dentistry Department of Orthodontics, University of Marmara, Istanbul, Turkey
(2)
Henry M. Goldman School of Dental Medicine Department of Orthodontics & Dentofacial Orthopedics, Boston University, Boston, Massachusetts, USA
At the beginning of designing the archwise distraction concept for the treatment of cleft defects, fixed orthodontic appliances were planned to be used, and the distraction procedure was planned along the archwires. The aim of this method was to obtain a regenerated bone through distraction osteogenesis, which is curvilinear in shape, close to the original alveolar bone configuration. According to the philosophy of distraction, collagen fibrils are elongated along a straight line and a curvilinear distraction is not possible.
In this method, it is hypothesized that during archwise distraction, the segment is bent along the movement of the arch, and the bone regenerated calcifies in short segments, which add up to form a curve shape. However, there is a need for further research to prove this hypothesis.
Some cases were treated with this method successfully. The method was reevaluated, and the following comments were made:
System was not rigid enough to achieve distraction without tipping of the segments, which does not let the total approximation of the distracted segments that reduces usage of bone grafting after the completion of the procedure.

Archwise distractor developed was functioning perfectly, but it was bulky; a new distractor, similar in function but less bulky was necessary to be developed.
In this chapter, we will present two cases treated with archwise distraction on fixed orthodontic appliances.
Archwise Distraction in Cleft Cases with Large Bone Defect: Case 1
A 20-year old female patient characterized with unilateral incomplete alveolar cleft problem came into the clinic. In her medical history, she had previous orthodontic treatment with orthognathic surgery (maxillary advancement and mandibular setback), and she consulted for the repair of bone defect (Fig.
6.1
).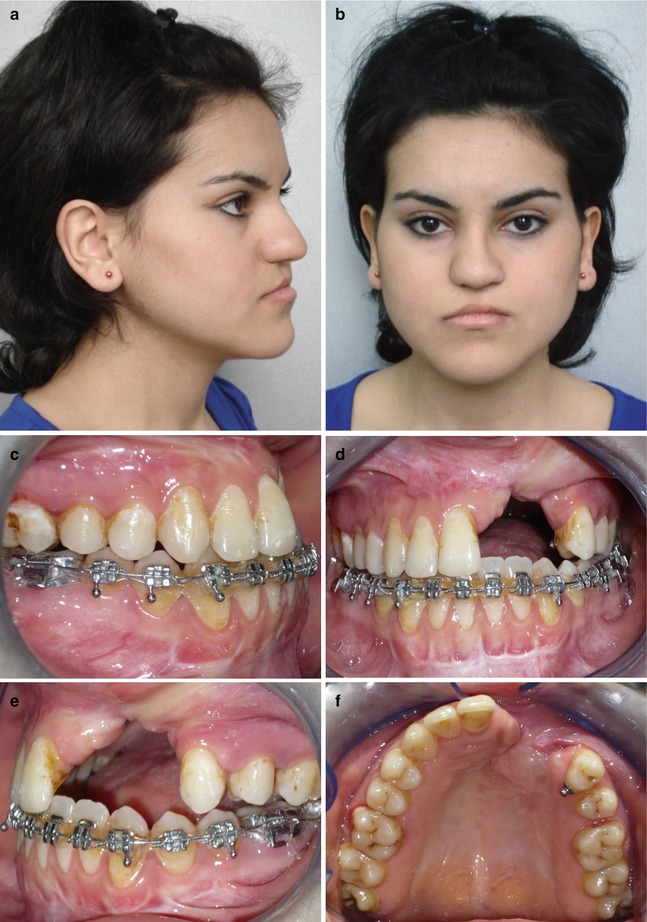 Fig. 6.1
(
a
, b) Extraoral and (
c
–
f
) intraoral pictures of the patient at the first application to the clinic
Clinical Examination
There was an orthodontic appliance fixed edgewise in the mandibular teeth. Maxillary teeth were in good alignment with enough overbite and overjet on the right side. Left side showed a slight class III occlusion. In the alveolar defective area, upper left central, lateral, and canine teeth were missing.
Alveolar defect was so wide that the conventional bone grafting procedure would probably fail. The usual clinical procedure for the treatment of these patients is application of obturator-type prosthetic restoration, which will gain closure of both the alveolar defect and the teeth. The disadvantage of this treatment is that the prosthesis usually is bulky, which creates both esthetic and hygienic problems and decreases the life quality of a young patient all through her life. Right after the successful treatment of the patient with linear distraction, it was planned to treat this case again with distraction osteogenesis, but this time along the archwire to maintain the arch shape.