Abutment Selection
Christopher C.K. Ho
Principles
An abutment is an intermediary component inserted on the implant, with the restoration then seated over the abutment. An abutment screw normally retains the abutment in place. This abutment provides the retention, support and final position of the restoration.
The abutment can be constructed in a two-piece combination consisting of the abutment and the restoration, with the latter cemented into place or as a one-piece combination consisting of an abutment/restoration screwed into place as one unit. They are generally available as either prefabricated (stock) abutments from the implant manufacturer or customised for the patient through CAD/CAM or casting procedures via a dental laboratory. Prefabricated abutments (Figure 11.2.1) are less expensive and relatively easy to use, although they have limitations due to not being customised. A customised abutment is made to fit the implant position specifically, taking into consideration the adjacent teeth, soft tissues and general contours. Situations that may require a custom abutment include the following:
Angle correction greater than 15 degrees – the abutment may be used to correct the implant angulation.
Minimal interocclusal space – the abutment height should not exceed the space required for the restorative material.
Splinted multiple unit cases to allow parallelism.
Ability to replicate anatomical cross-sectional profile of teeth.
Collar height needed more than 1 mm above the largest collar height of a stock abutment, to allow easier clearance of cement. Abutment margins should be supragingival in non-aesthetic zones and slightly subgingival in the aesthetic zone.
Interproximal distance whereby the abutment width must be sufficient to support the crown, but possess adequate interproximal access for hygiene maintenance.

The final choice between a custom abutment and a prefabricated abutment depends on the clinical situation, practitioner's experience and preference. The various types are summarised in Figure 11.2.2.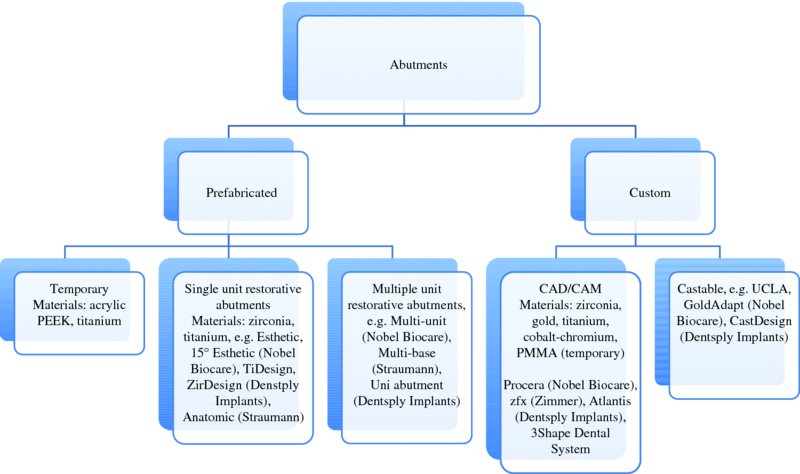 Custom abutments are used in situations where stock abutments cannot be used to correct angulations, and also to provide an ideal anatomical profile and customised marginal position of a restoration.
These are fabricated in two ways:
1) Castable abutments that are waxed by a dental technician to the required contours and customised for the restorative space. These techniques require waxing, investing and casting with alloys at high temperature. This can be more labour intensive and subsequently costly.
2) Computer-generated abutments, e.g. NobelProcera (Nobel Biocare), Atlantis (Dentsply, Dentsply Sirona, Salzburg, Austria). The use of CAD/CAM technology for this purpose was developed in the 1980s. Further developments are occurring with digital impression taking, scanning, milling abutments and restorations with great accuracy and precision. Conventional techniques rely on the accuracy of many steps including impression taking, investment materials, wax and casting, which can often lead to errors. CAD/CAM abutments have the potential to provide the most accurate fit due to minimal manipulation after milling. This is particularly useful in implant dentistry where precision is crucial for fit, longevity, distribution of stress, ease of insertion and long-term success.
Prefabricated (stock) abutments