5
Growth and development of the mandible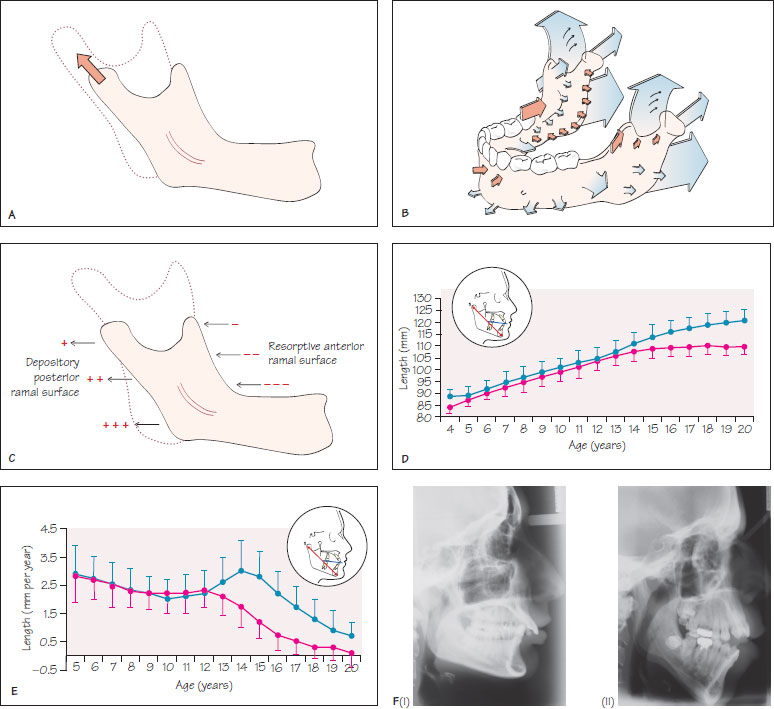 The mandible forms by intramembranous ossification, which first occurs within the mandibular process of the first pharyngeal arch at 6 weeks in utero. The mandibular condyles articulate with the glenoid fossae, which lie on the inferior aspect of the middle cranial fossa. The mandible grows downwards and forwards from the cranial base, with the vector of growth varying from a more horizontal to more vertical pattern among individuals.
Processes involved in the growth of the mandible include:
Endochondral ossification;
Surface remodelling;
Primary and secondary displacement.
The condylar cartilage is a secondary cartilage that differs histologically from the cranial base synchondroses. It provides a pressure-resistant articular surface with multidirectional adaptive growth occurring by endochondral ossification. The condyle usually grows in an upwards and backwards direction (mean = 6° to the posterior border of the ramus), however, this can vary within and between individuals from a more backward to vertical pathway. It is thought that the condylar cartilage reacts by adaptive growth to the downwards and forwards displacement of the mandi/>