APPROACHES TO TREATMENT OPTION FIVE
PARTIAL DENTURES
There are two types of partial denture:
Definitive: Failed units are removed and the partial denture is fabricated in the expectation that further treatment will consist solely of maintenance, with no further modification to the denture.
Transitional: It is anticipated there will be further tooth or pontic loss and that consequently, additions to the denture will be necessary.
Indications for Replacement with a Definitive Partial Denture
Presence of failed restorations which cannot be salvaged and would require extensive treatment to be replaced by new bridgework, but where the failed units can be replaced simply with a removable denture.
Failure of restorative dentistry which could be treated with fixed bridgework, but where the patient does not wish to embark on this course for financial or psychological reasons or because of the time involved.
Failure of restorative dentistry, when the dentist does not feel competent to make fixed bridgework and the patient does not wish to be referred to a specialist.
Failure and bone loss in which the flange of a denture is the most practical solution to restoring the lost bone (Fig 22-2a).
Failure which requires the extraction of distal units, thereby necessitating a distal extension restoration. This may be more simply provided with a partial denture, although cantilever bridgework or osseointegrated fixture support could be considered.
Indications for Replacement with a Transitional Partial Denture
As for definitive partial denture replacement, but where it is assumed that further loss of restoration will occur.
As an interim restoration between the first and second stages of surgery for the installation of an osseointegrated prosthesis.
Definitive Partial Dentures
Procedure
(i) Where it is Necessary to Defer Extraction of the Failed Units until Insertion of the Denture, for Example, for Aesthetic Reasons (Fig 32-1)
1) Mount the maxillary study cast with a facebow.
2) Mount the mandibular study cast. Often the casts are best hand mounted without the use of a record. If this is difficult, use an interocclusal record.
3) Take a protrusive record and adjust the articulator (see Appendix).
4) If anterior units are to be replaced by the denture, make an incisal guidance table from the mounted casts (see Appendix).
5) Survey and examine the mounted casts (Fig 32-1a) in relation to:
the units to be removed; path of insertion and guide planes; the need for crowns; position of rests; clasps; minor and major connectors; reciprocals; crown length of teeth to be replaced; and space available for mechanical retention of the teeth to the denture. Design the framework with a gap of at least 3 mm between it and the teeth, wherever possible (Orr et al., 1992).2
6) Prepare guide planes where possible.
7) Prepare rest seats.
8) Take shade.
9) Prepare undercuts on crowns if indicated.
10) Impression.
11) Make a conformative jaw registration and mount the cast to the opposing cast previously mounted (often hand mounted).
12) Cut off from the cast the section it is planned to remove (Fig 32-1b) (see Appendix).
13) Survey cast and prescribe the denture design.
14) Fabricate immediate partial denture; either cobalt chromium or plastic (see Appendix).
15) Cut off the failed units in the mouth (Fig 32-1c).
16) Polish any cut surfaces of artificial crowns.
17) Insert the immediate denture (Fig 32-1d).
Fig. 32-1 Removal of a failed section of bridgework and replacement with a removable partial denture.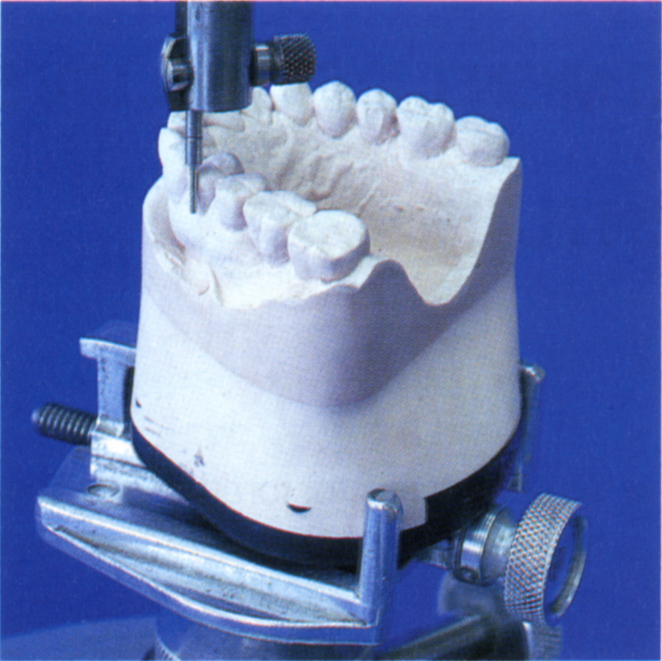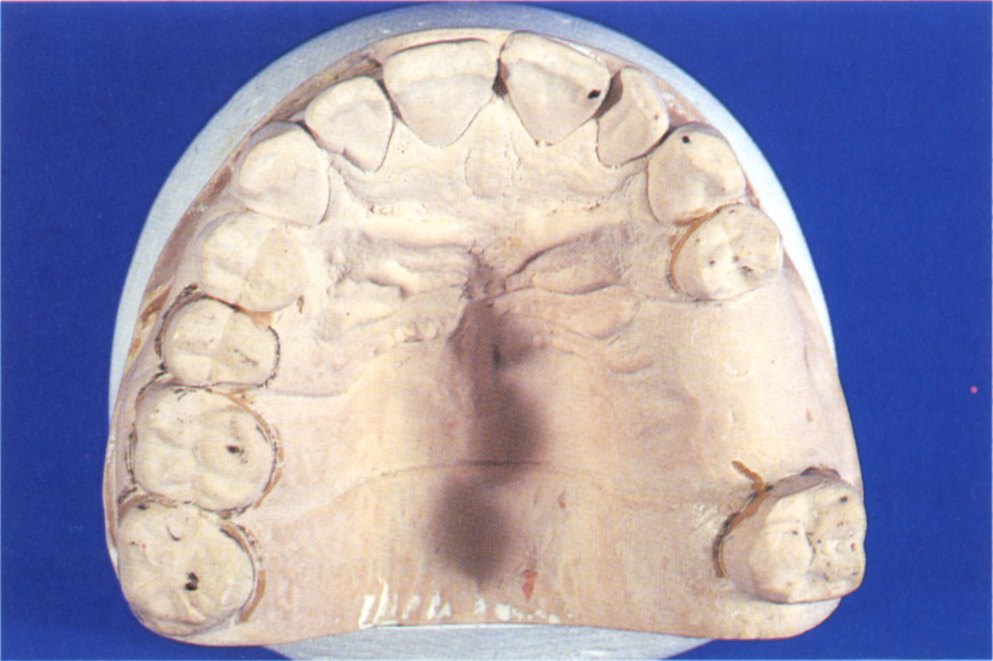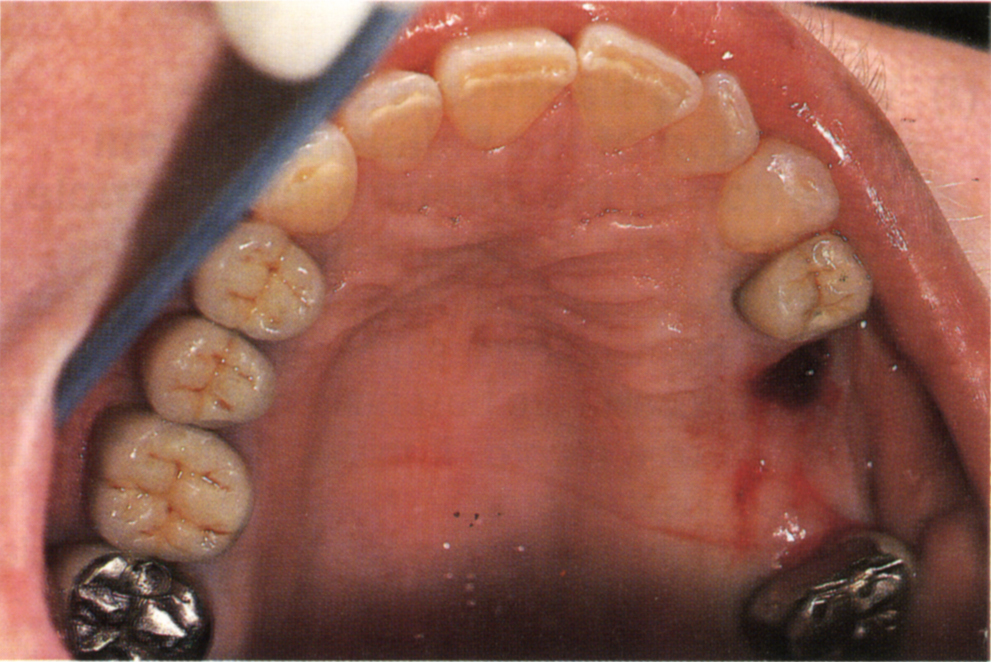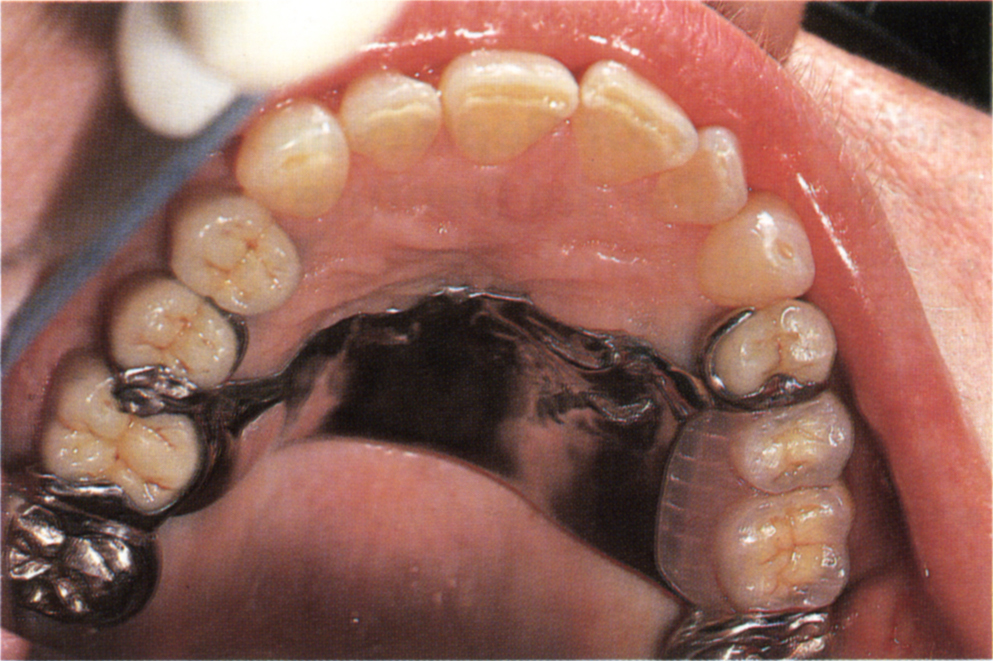 (ii) Where it is Feasible to Remove the Failed Units Prior to Fabrication of the Denture (Fig 32-2)
1) Mount the casts.
2) Examine the mounted casts as described in (i).
3) Cut off and remove the failed units in the mouth.
4) Take a shade.
5) Prepare rest seats, guide planes and crowns if required.
6) Make impression and a conformative jaw registration.
7) Survey the cast and prescribe the denture design.
8) Try casting in the mouth.
9) Try teeth in the mouth.
10) Fit finished partial denture.
11) Reline or replace when extraction sites have stabilized (8-24 weeks).
(iii) If Partially Tissue Borne Mandibular Denture
1) The foregoing technique is followed, but at the framework try-in, an autopolymerizing saddle is fabricated (Fig 32-2a).
2) The periphery of the saddle is moulded with greenstick composition (Fig 32-2b).
3) Reline impression with zinc oxide eugenol impression paste (SS White) in the saddle, ensuring that the framework is properly seated on the rest seats (Figs 32-2c–d).
4) Make a conformative jaw registration (Figs 32-2e–f) on the relined impression and framework.
5) Fabricate altered casts1 (see Appendix).
6) Try teeth in the mouth.
7) Finish denture in heat cured acrylic resin (see Appendix).
8) Fit the finished denture, adjusting saddles using pressure relief cream (Fig 32-2g).
9) The small saddle adjustment may alter the occlusion. If so, the occlusal sur/>