2
An introduction to facial growth and development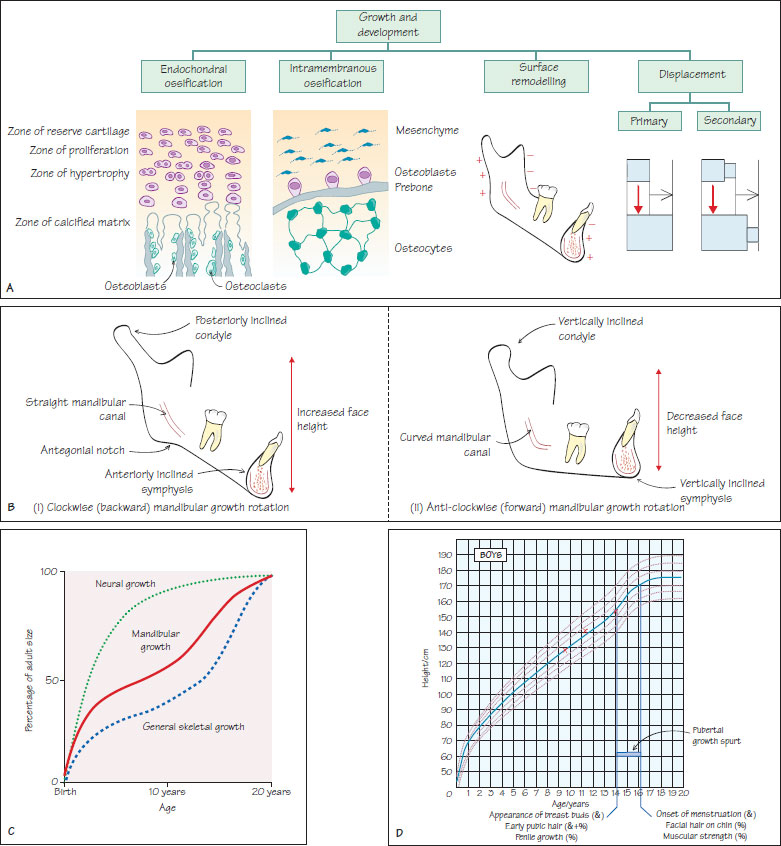 Facial growth and development is a complex three-dimensional process occurring until the late teens and then to a small extent in adulthood. Growth refers to an increase in tissue size as a result of cellular hypertrophy, hyperplasia, an increase in extracellular volume or a combination of these factors. Development refers to an increase in tissue organisation and specialisation. It is essential that the reader appreciates that there is tremendous individual variation in the timing, magnitude and direction of facial growth.
An understanding of normal facial growth and development is important to an orthodontist for several reasons:
understanding the aetiology of malocclusion;
recognition of abnormal growth patterns;
treatment timing (e.g. functional appliances, orthognathic surgery);
understanding factors influencing treatment stability.
The skull can be divided into two main components:
Neurocranium (cranial vault and cranial base);
Viscerocranium (facial skeleton).
The neurocranium has an important role in supporting and protecting the brain, and provides a passageway for nerves and blood vessels. The viscerocranium is particularly important for mastication, respiration and supporting the eyes.