The Geriatric Patient
In developed countries throughout the world, an increasing proportion of the population is aged 65 or older. Japan and Sweden lead the world, with 17% of their population currently over the age of of 65 years. Approximately 13% of the populations of Australia, Canada, Russia, and the United States are over the age of 65 years. In developing countries, such as Mexico, China, and Brazil, approximately 5% of the populations are over the age of 65 years. Although many of the statistical details reported in the first section of this chapter are related to the United States, they are mirrored by similar statistical data for most developed nations in the world. Oral health care for an increasingly large segment of elderly people will be a fact of life for dentists everywhere.
In 1900, the life expectancy at birth in the United States was about 47 years. At the beginning of the twenty-first century, life expectancy has increased to almost 80 years. The average citizen of the United States now has more parents than children,1 and older people are the fastest growing segment of the U.S. population. This chapter discusses treatment-planning issues that have particular relevance to this distinct group. The terms "senior," "geriatric," and "older adult" are used interchangeably, all referring to persons older than age 65. Although the authors recognize the arbitrariness of this designation, age 65 has become a common marker for retirement and therefore serves as a standard and convenient reference. Currently, 13% (33 million) of the U.S. population is older than age 65, and this number will almost double by 2030. By the middle of the twenty-first century, the number of centenarians in the United States is expected to reach 1 million.2 Table 16-1 shows life expectancies for adults 55 and older in the United States.
Table 16-1
U.S. Life Expectancy in Years at Age 55 and Beyond (Year 2000 Data)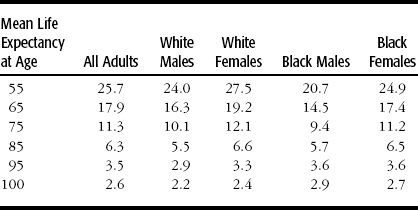 Source: U.S. Centers for Disease Control and Prevention; U.S. National Center for Health Statistics.
Most older adults (85%) in the United States are healthy and live in community settings. Another 10% are described as homebound (i.e., able to leave their home only with great difficulty). Although on a given day, 5% of U.S. seniors (1.5 million) reside in nursing homes, persons older than age 65 have only a 1-in-4 chance of spending some time in a nursing home during their lifetimes. The proportion of older adults living in nursing homes varies by age, with only 2% of the 65- to 74-year-old group living in that setting, compared with 6% of those 75 to 84, and 22% of those older than age 85. As discussed later in this chapter, access to oral health care can be difficult for nursing home residents and health-compromised homebound persons, and provision of treatment may become more complex as a result of chronic systemic illnesses.
Because of the differential in life expectancies between men and women, aging sometimes is described as a women's issue. At age 65, there are 123 women for every 100 men in the United States and by age 85, there are 246 women for every 100 men.3 Older women are more likely to be single, divorced, or widowed and as a result, are more likely to live in poverty. Nevertheless, overall, only 12% of older adults live below the poverty level (in contrast to almost 24% of children under age 18). The social programs enacted in the United States in the 1960s (Medicare and Medicaid) have improved the financial status of older adults, and it is encouraging to note that from 1970 to 1995 poverty within the senior age groups has steadily decreased. Although seniors have the lowest income level of any adult age group, income levels vary. Of all older persons, 65- to 74-year-olds have the highest median income, while those older than age 80 have the lowest. Those aged 85 and over are at the greatest risk for poverty. Overall income levels for seniors in the United States are expected to increase as baby boomers, the large cohort of persons born between 1946 and 1964, prepare for retirement.
ORAL HEALTH IN THE AGING POPULATION
Oral health can be both a benchmark for, and a determinant of, the quality of life. Currently, for example, people in the United States who are age 85 can expect to have at least another 5 years of life, but more important than the length of life span is the quality of life that can be afforded to the person in those later years. In the span of the past 20 years, the oral health of older adults in the United States has improved considerably from that of a generation that was predominantly edentulous to one in which each person has an average of 20 teeth.
In general, older adults in the United States have more dental needs, use dental services at higher rates, and incur higher average costs per visit than do younger people.4 Although younger adults have a higher income, seniors may have fewer financial obligations (mortgages are paid, children are raised, and their associated costs have diminished). As a result, seniors can invest their income in themselves, including their oral health. On the negative side, most U.S. dental insurance benefits cease when retirement begins, and Medicare includes almost no dental benefits. For the affluent elderly, dental expenditures often are made from discretionary or expendable income.
For the low-income elderly in the United States, financial options to pay for dental care are limited. Medicaid, available to some, varies from state to state both in types of dental care reimbursed and age groups covered. Even when the patient does qualify, few services are covered beyond basic preventive therapy, direct-fill restorations, extractions, and dentures. A mechanism does exist to use Supplemental Social Security Income to pay for needed dental services if the patient resides in a long-term care facility. Two thirds of those seniors who are considered poor are not eligible for any type of Medicaid dental coverage. For those persons, the prospects for receiving good quality definitive care are limited.5
The trend worldwide is for persons to live longer and to retain more of their natural teeth; as a result, older adults have more complex dental needs. Developed countries with national health systems that include dental care have seen increased costs as their population ages. As oral health costs have increased in this aging population, some governments have examined new ways of preventing oral diseases, particularly root caries. Access to dental care for homebound elderly and nursing home residents can be problematic even in countries with national health care systems.
Changing Needs and Values
In their book Successful Aging, Rowe and Kahn suggest that lifestyle choices may be more important to the aging process than genes.6 The baby boomers are the best educated age group in the U.S. population (almost 25% have attended college). Poised to inherit more than $12 trillion from their World War II—generation parents, they are also potentially the most affluent. Their approach to the aging process differs radically from that of their parents and grandparents. With more leisure time, more discretionary income, more knowledge of wellness issues, and more opportunity to engage in healthful activities, this group is expected to live longer and have higher expectations about their health. They have already demonstrated an increasing demand for discretionary health care services, particularly plastic surgery. Similarly the cosmetic services that dentistry offers have increased in popularity with this group. As the first generation to benefit from the widespread fluoridation of water supplies and the availability of fluoride toothpaste, boomer expectations for oral health include a strong preventive orientation. Already using dental services at a relatively high rate, they are predicted to seek out, appreciate, and benefit from high quality oral health care. As the baby boom generation ages, many in that segment will reach older adulthood with a relatively complete dentition.
Although the expectations of what older individuals want and what they can afford in dental care can and do vary widely, there are also commonalties. Many health problems both oral and systemic are more likely to occur in this population. How are these problems recognized and diagnosed? How are they managed? What are the dental treatment needs of the elderly, and how is dental treatment planning shaped by the characteristics of aging? These questions are the focus of this chapter.