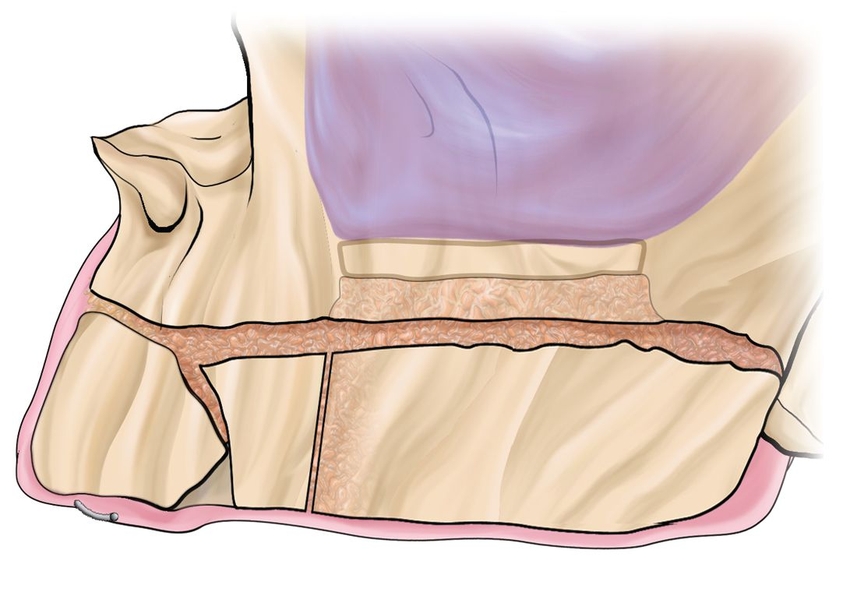 CHAPTER 14
Maxillary Alveolar Split Horseshoe Osteotomy
Every noble work is at first impossible.
—Thomas Carlyle
Maxillary edentulous patients who present with adequate vertical alveolar height but a relatively narrow alveolus can be treated with a complete-arch U-shaped alveolar split osteotomy, termed the alveolar split horseshoe osteotomy. This procedure has utility in those patients who desire a fixed implant-supported prosthesis that provides restoration of gingivoalveolar contours, thereby avoiding a fixed-detachable prosthesis in favor of a more natural appearing, gingiva emerging, fixed denture. To allow this alternative, the alveolus must be returned to orthoalveolar form so that the arch relation is in axial alignment, the facial alveolar contours are normalized, gingival display is appropriate, and lip support is obtained.1–3 In this setting, the facial alveolar plane is reestablished, and the alveolar interplate dimension is restored.4,5 In other words, the narrow, atrophic alveolus is returned to its pre–dental extraction width in preparation for ideal implant placement.6
Although vertical loss of facial alveolar bone is the most frequently observed finding in patients with alveolar atrophy, many patients will retain the palatal plate for an extended period of time so that it can be split midcre-stally and expanded, allowing recovery of a facial bone plate and therefore the alveolar plane on the facial side.7,8 The horseshoe-shaped alveolar split moves the entire maxillary residual facial plate of bone away from the palatal plate. The maxilla advances up to 5 mm anteriorly even as it expands in a transverse dimension by 10 mm or more. With this simple procedure, the maxillary alveolar bone mass doubles or even triples in size.
A complete-arch alveolar split osteotomy graft is designed as an extended book flap, an extended island flap (i-flap), or a combination of the two (also see chapter 6). The bone flap usually involves an extended book flap posteriorly but an i-flap anteriorly, which generally segments at the canine locations when mobilized into a more anterior position. The posterior zone book flap maintains osseous attachment yet still provides sufficient transalveolar access for simultaneous sinus floor intrusion using blunt osteotomes.
Creation of intraosseous space for grafting is the hallmark of the osteoperiosteal flap9 (also see chapter 7). The alveolar split horseshoe osteotomy combined with sinus floor elevation is perhaps the largest of all the alveolar osteoperiosteal flaps, and for this reason, it is a very appropriate site for the use of iliac bone graft or recombinant human bone morphogenetic protein 2 (rhBMP-2). The graft material is confined endosseously and, therefore, highly resistant to late-term resorption.10,11