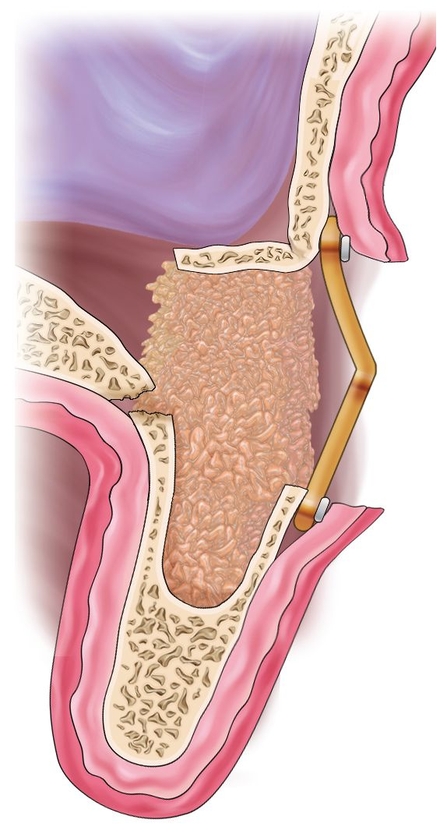 CHAPTER 13
Sinus Graft Combined with Osteoperiosteal Flaps
Originality is nothing but judicious imitation.
—Voltaire
The sinus graft, although of major benefit for gaining bone mass for osseointegration, does not in itself address deficient alveolar form.1 Although guided bone regeneration, block grafting, and alveolar split graft combined with sinus grafting have been used successfully, there are few reports in the literature describing a combination of sinus and alveolar grafting.2–4 The use of the sandwich osteotomy graft to raise the residual alveolus crestally in combination with sinus grafting is an additional technique for improving alveolar form for implant placement. This approach not only results in an increase in bone but also can lead to a relatively stable alveolar crest morphology when compared with alternative approaches.5–8
Though technically challenging, a sandwich osteotomy 9,10 can be performed from access through the lateral sinus osteotomy site.11 Similarly, an alveolar split graft (book flap) made over the sinus cavity provides access to the sinus floor from a transalveolar approach.12 Through these methods, an increase in both height and width can be obtained simultaneously. A third approach, the intra-alveolar split osteotomy, performed after the horizontal segment cut of the sandwich osteotomy, increases the height and width of the alveolar process. However, sufficient bone must be available to allow the intra-alveolar split, usually a minimum of 4 mm (see chapter 8).
Interpositional bone grafting, with all of these approaches, extends upward into the sinus floor beneath the previously elevated sinus membrane. Relatively modest intra-alveolar expansion and sinus membrane elevation create a large cavity that is particularly well suited to placement of a recombinant human bone morphogenetic protein 2 (rhBMP-2) graft.13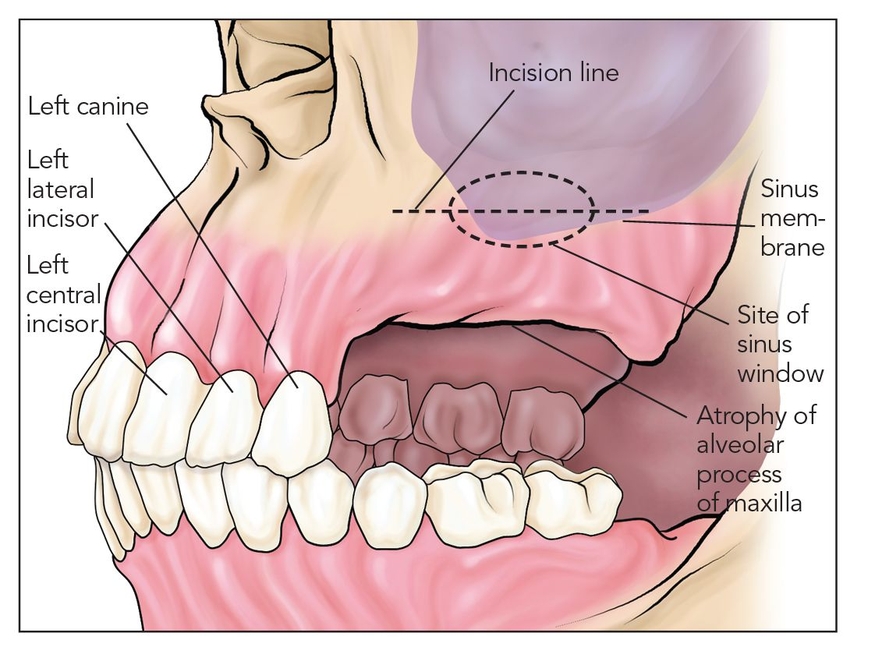 The great advantage of the sandwich osteotomy technique is that it provides a relatively stable alveolar crest and a considerable amount of bone mass for osseointegration. 8 Primary wound closure is usually easily obtained because the incision is made in the vestibule for the sandwich graft and palatocrestally for the split graft, sites that are both easily mobilized to obtain closure for modest gaps of 5 mm or less. Because these are vascularized osteoperiosteal flaps, incision sites heal well, and the alveolar reconstruction is less likely to break down.