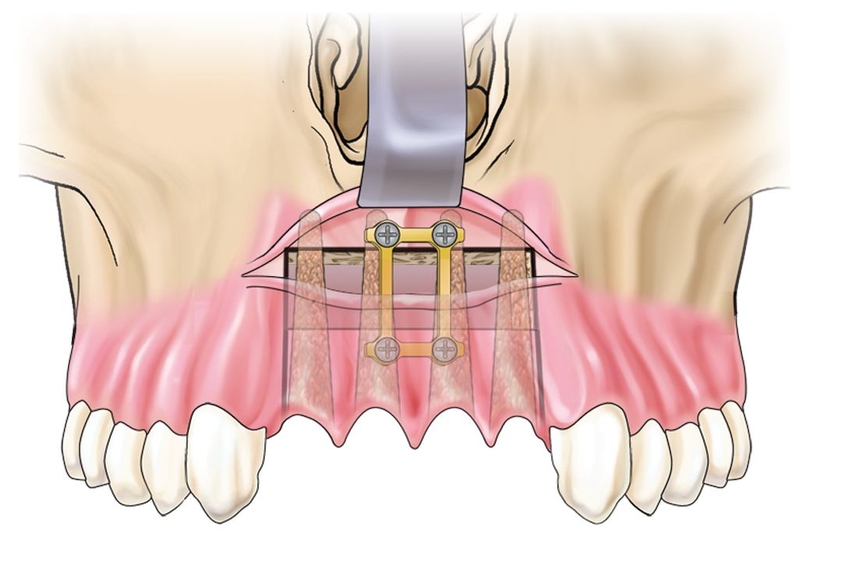 CHAPTER 10
Sandwich Osteotomy Combined with Extraction Socket Bone Graft
The threshold is the place to pause.
—Johann Wolfgang von Goethe
The surgical and prosthetic team may consider application of the sandwich osteotomy in the maxillary esthetic zone prior to dental extraction or even after implant placement in the provisional phase of treatment. These two settings are related to one another in that they arise from generalized bone loss that often exceeds 5 mm of vertical loss away from the alveolar plane. This situation is highly significant for esthetic management of the anterior maxilla, especially for the patient with a high smile line.1
Often, patients treated with immediate implantation end up with long prosthetic teeth because the clinician is unable to regain the osseous and soft tissue vertical dimension with traditional grafting techniques.2,3 The marginal bone, due to dehiscence, is simply not level with the alveolar plane. When implants are already in place, this defect becomes almost impossible to correct with soft tissue procedures.4,5 Therefore, it is best to address the issue prior to dental extraction by mobilizing a segmental osteotomy downward 5 mm or more and simultaneously back-preparing temporarily retained teeth and socket bone grafting extraction sites.6 This approach completely eliminates gross esthetic disharmony of the alveolar plane in the vast majority of cases.
The technique also does not disturb gingival architecture, preserving papillary form. Use of a provisional fixed partial denture at this stage is therefore optimal for developing postosteotomy soft tissue contours.