Fig. 3.1
Example of MIH with molar as well as incisor opacities. Notice the
white
demarcated opacity 11,
yellow
demarcated opacity 21.
Yellow brown
demarcated opacities erupting 46,
brown
demarcated opacities with occlusal buccal posteruptive enamel loss 36, as well as demarcated
yellow brown
opacities in erupting 16 and 26 (Courtesy of Dr. H. Pohlen, Alsdorf, Germany)
Fig. 3.2
Mild HSPM in the 85 while the erupting 46 shows already severe MIH (posteruptive enamel loss on both mesial cusps)
Diagnostic Criteria
In 2003, following a consensus meeting of the European Academy of Pediatric Dentistry (EAPD), criteria for epidemiological studies of MIH were developed including recognition of the potential for MIH-like hypomineralization defects to occur in second primary molars [
4
]. In 2009 in Helsinki, the EAPD updated these criteria [
6
] such that currently the criteria for MIH include demarcated opacities, posteruptive breakdown (or PEB) and both atypical restorations and extractions of the permanent molars and/or incisors. HSPM is defined similarly as hypomineralization of one to four second primary molars [
7
,
8
]. To diagnose HSPM, the same criteria are used as for MIH with "atypical caries" being included in addition to "atypical restorations." Especially in the primary dentition, cavities may not be restored in certain populations.
To arrive at a diagnosis of MIH, it is important to identify white, yellow or brown demarcated opacities on at least one first permanent molar. The greater the number of affected molars in an individual patient the greater the risk that the incisors will also be affected [
2
,
9
]. The presence of opacities on the permanent incisors is
not
mandatory for the diagnosis of MIH. However, opacities that
only
occur on permanent incisors do not lead to a diagnosis of MIH. This is because the etiology of opacities confined to permanent incisors is likely to be different to that of the more widespread MIH condition. Traumatic injuries (particularly intrusive ones) to primary incisors impact on the developing tooth germs and commonly lead to localized anomalies of the permanent successors [
2
,
4
,
10
].
Clinical Features
MIH is a hypomineralization defect affecting the quality (as opposed to the quantity) of the enamel. It is identified visually as an alteration in translucency of the enamel, with a sharp demarcation between the affected and sound enamel, known as a demarcated opacity. The color of the hypomineralized area is white, yellow or brown and the area has a dull (porous) or shiny surface appearance (Fig.
3.3
). MIH is not only variable in expression between patients but also within an individual patient. The number of affected first permanent molars per child can vary from one to four and the expression of the defects may vary from molar to molar. Within one patient, intact demarcated opacities can be found in one molar, while in another molar in the same patient, the porous enamel is already broken down (asymmetrical appearance). The porous brittle enamel can easily chip off under the masticatory forces very soon after eruption. This chipping off has been described in the literature as posteruptive enamel loss or PEB [
4
]. Sometimes the loss of enamel in PEB can occur so rapidly after eruption that it seems as if it was not formed initially (Fig.
3.4
). However, it is important that the clinician distinguishes between PEB and hypoplasia. Hypoplasia is a primary quantitative defect of the enamel that occurs during tooth development. The resulting enamel may be thin or actually missing and may be characterized as pits or grooves across the tooth surface. The color and location of the demarcated opacities in MIH-affected molars are indicative of the relative risk for PEB; brown, dull, and porous opacities on cuspal tips are thought to be weaker than white and shiny ones on smooth surfaces and therefore more vulnerable to chipping [
9
].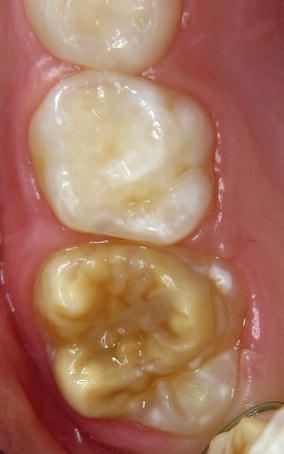 Fig. 3.3
Yellow
to
brown
demarcated opacity covering almost the entire occlusal surface of the recently erupted 16 (Courtesy of Dr. M. van Ulsen, Amsterdam, the Netherlands)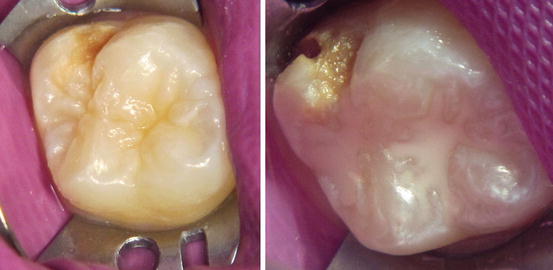 Fig. 3.4
Tooth 16 with posteruptive enamel loss and opacity on the palatal surface. The same tooth after 1 year posteruptive enamel loss with cavity formation
The clinical appearance of the location, size, and form of the HSPM- and MIH-related carious lesions and restorations often do not fit with normal caries distribution patterns. These lesions and restorations have been reported as atypical caries or atypical restorations in some epidemiological studies [
4
]. When the incisors also show opacities most commonly these remain intact because the chewing forces have less impact on incisors compared with molars (Fig.
3.5
).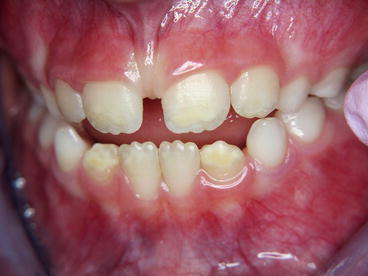 Fig. 3.5
Incisors with demarcated opacities in a child with severe MIH. Notice the
white
opacities in teeth 31 and 41, the
light yellow
/
white
opacities in teeth 11 and 21, and the
dark yellow
opacities in the 32 and 42
Both MIH and HSPM are very inconvenient for the child. The child may experience pain and sensitivity from the affected teeth particularly when exposed to hot and cold foods and drinks. Even if the (porous) hypomineralized enamel is intact, toothbrushing can cause sensitivity [
2
,
3
]. In the event of PEB caries can progress rapidly increasing the risk of toothache. Pain-free treatment, which can be challenging because the teeth are sensitive, is important to avoid behavioral management problems or the development of dental anxiety in the future [
11
].
Etiology of MIH
Etiology of HSPM
As with MIH, the etiology of HSPM appears to be multifactorial. Three studies have been published to date with the pre- and perinatal factors being reportedly more important in HSPM than in MIH [
46
–
48
]. Ninety-four percent of children with HSPM have been reported to have at least one medical problem: 24.5 % occurring prenatally, 45.3 % perinatally, and 9.4 % postnatally [
46
] with the greater the number of medical problems the greater the risk of HSPM. Furthermore, the ethnicity of the child, maternal alcohol consumption during pregnancy, low birth weight and fever episodes in the child's first year of life have been identified as risk factors for HSPM [
47
]. Conversely, use of medications during pregnancy (specifically antibiotics and antiasthmatic and anti-allergic medications) does not seem to influence the occurrence of HSPM [
47
,
48
].
Prevalence of MIH
The reported prevalence of MIH varies between 2.8 and 44 %. However despite the publication of recommended diagnostic criteria for [
4
,
6
], the lack of consensus surrounding examination protocols, choice of index and population characteristics means that it is still hard to make valid comparisons between the various epidemiological studies [
14
,
25
]. Table
3.2
summarizes the reported prevalence of MIH worldwide including the indices used in each study. In addition to differences in reported prevalence of MIH between countries, differences are also noted across birth year. For example, in the study of Koch et al. [
1
], the prevalence of MIH varied between 4.4 and 15.4 % across the different birth years with a peak in prevalence for those children born in 1970. These data were reproduced later by Jalevik et al. in Swedish children born in 1990 [
26
]. Most studies show an equal distribution of MIH between sexes [
26
,
55
,
71
] and, although Leppäniemi et al. [
55
] found a predisposition for MIH in the upper jaw, most studies fail to show any quadrant predilection for MIH defects [
9
,
26
,
68
,
71
].
Table 3.2
Overview of the prevalence studies on MIH
Country

Prevalence (%)

Score criteria

Reference

Australia

22

mDDE

Australia

44

mDDE

Bosnia and Herzegovina

12.3

EAPD 2003

Brazil

40.2

EAPD 2003

Brazil

19.8

EAPD 2003

da Costa-Silva et al. [

53

]

China/Hong Kong

2.8

EAPD 2003

Denmark

37.3

EAPD 2003

Finland

17

Alaluusua 1996

Finland

19.3

Alaluusua 1996

Germany

9.9

EAPD 2003

Greece

10.2

EAPD 2003

India

9.2