Fig. 9.1
Surface of a clinically intact MIH lesion viewed under a scanning electron microscope showing characteristic surface irregularities (×1000 mag)
For qualitative defects, improving physical and chemical properties to optimize preservation and improvement of hypomineralized enamel tissue is the primary goal. Most strategies utilized clinically for hypomineralized enamel defects are based on the standard caries disease model, such as minimization of caries risk. However, some of these cannot always be applied directly to developmentally defective tissues because of the defective structure [
2
,
9
]. Most particularly, in severe hypomineralization cases, intervention must be instituted as early as possible since significant damage can occur even before the crown is fully erupted (see Fig.
9.2
). Anterior teeth are less affected by PEB and are less likely to become carious after enamel loss. However, molar teeth with PEB are at risk and should be closely monitored [
10
].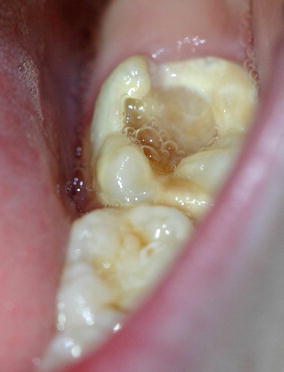 Fig. 9.2
MIH-affected tooth with severe loss of structure and caries before complete eruption
Prevention of Dental Caries and Erosion
Surface Sealing
Sealants
In more severe hypomineralization cases, preventive measures alone are often insufficient and some form of surface protection is indicated [
23
]. At its simplest this will be standard sealing and this is recommended prior to full emergence of the tooth [
24
]. A glass ionomer cement (GIC) material is therefore the best initial choice as it can tolerate the presence of some moisture and can provide a source of ions which appear to be advantageous to the underlying tooth in several ways. An incidental finding of an MIH characterization study suggested that deeper mineralization improvements occur under a GIC sealant compared with enamel surfaces exposed to the oral environment [
25
]. It has been reported that GIC materials also provide a "halo protection" effect, whereby healthy enamel immediately adjacent to a GIC material is less susceptible to demineralization, which may be further enhanced by the addition of CPP-ACP to the GIC [
26
]. Where PEB has already occurred, protective sealing may be extended over all the affected areas to decrease caries risk until such time that more definitive treatment can be undertaken. Where sealing cannot be achieved, full coverage options should be considered (Chaps.
10
and
11
). Once isolation can be established, there are more clinical options available (
Chap.​ 11
). However, resin-based sealants are not always recommended because of the difficulties in bonding to enamel that is hypomineralized and has a higher protein content (see
Chap.​ 6
). It is widely reported that enamel defects display atypical and often poor etch patterns (
Chap.​ 6
) with implications for bonding of resin materials including resin sealants [
27
–
30
]. Extended etching times for severely fluorotic enamel are recommended because of the increased resistance of fluorapatite to acidic dissolution [
27
]. There is some evidence to suggest that the higher organic content of defective enamel limits remineralization and reduces bond strengths. Techniques such as irrigation with NaOCl can remove protein and improve bonding and penetration of resin materials in MIH and AI [
29
,
31
–
33
]. It appears important that to increase bond strengths, the NaOCl should be used after etching, not before [
29
,
34
,
35
].