Chapter 9
Standards of Good Practice and Medicolegal Considerations
Aim
The aim of this chapter is to review the current UK recommendations relating to conscious sedation.
Outcome
After reading this chapter you should have an understanding of the principles of safe sedation practice as described by the General Dental Council (GDC) and the Department of Health.
Introduction
The practice of conscious sedation in the UK has been the subject of intense medicolegal interest since the publication of the Poswillo Report in 1990. There have been at least twelve original detailed reports, guidelines and recommendations published since Poswillo (Fig 9-1). This is far in excess of similar guidance for any other area of dental practice or, indeed, for the practice of conscious sedation in medical specialties. Many of these reports have simply reiterated or expanded upon the messages of earlier documents. Given the excellent safety record of conscious sedation for dentistry in the UK, the reader is left to speculate whether this intense scrutiny is necessary or helpful.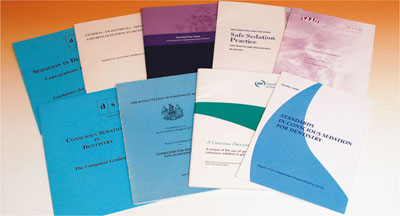 The medicolegal guidelines for sedation practice, shown in Table 9-1, are a summary of current UK recommendations available at the time of writing.
Table 9-1 Current UK guidelines for sedation in dentistry.

| | | |
| --- | --- | --- |
| 2000 | Department of Health | A Conscious Decision |
| 2000 | Independent Working Group | Standards in Conscious Sedation |
| 2001 | General Dental Council | Maintaining Standards |
| 2001 | UK Academy of Medical Royal Colleges | Safe Sedation Practice |
| 2003 | Department of Health | Guidelines for Conscious Sedation |
There is general recognition that the management of pain and anxiety is of fundamental importance for patients requiring dental care and that conscious sedation is effective and safe. The concept of the operator-sedationist – the practitioner who carries out the dental treatment and also administers the conscious sedation – is fully supported.
The GDC's Current Definition of Conscious Sedation

"A technique in which the use of a drug or drugs produces a state of depression of the central nervous system enabling treatment to be carried out, but during which verbal contact with the patient is maintained throughout the period of sedation. The drugs and techniques used to provide conscious sedation for dental treatment should carry a margin of safety wide enough to render loss of consciousness unlikely."
Note that the definition describes the state of conscious sedation, and does not attempt to prescribe how it is achieved. It is acknowledged that techniques involving the use of one or more drugs administered via different routes will fulfil this definition.
Training
All members of the dental team providing treatment under conscious sedation must receive appropriate and supervised theoretical, practical and clinical training before undertaking independent practice (Figs 9-2 and 9-3). Theoretical and non-clinical skills training should be completed before clinical training is commenced. This should include the management of sedation-related complications. Supervised hands-on clinical experience must be acquired by practitioners and the members of their dental team for each sedation technique to be used.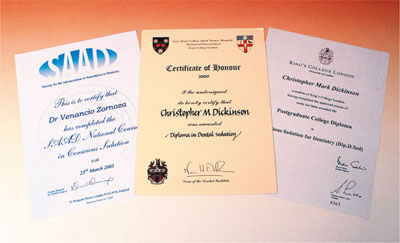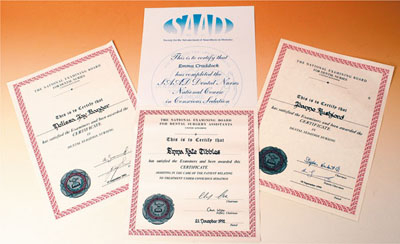 Guidance on clinical training for dentists has been provided by the Dental Sedation Teachers' Group (DSTG) in its document The Competent Graduate. Guidance for the training of dental nurses is provided by the National Examining Board for Dental Nurses. Both dentists and nurses should keep a log of their clinical experience (Figs 9-4 and 9-5).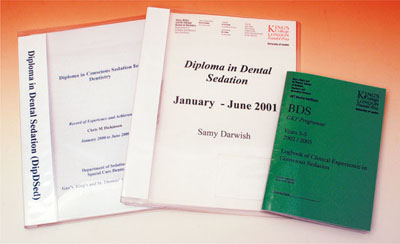 Undergraduate education and training
The undergraduate course presents a unique opportunity to ensure that all dental graduates are able to provide safe conscious sedation for patients who find dentistry distressing. The GDC's framework for undergraduate dental education (The First Five Years) states that the control of anxiety and pain is fundamental to the practice of dentistry and that dental graduates must have had clinical experience in the administration of both inhalation and intravenous conscious sedation. This statement should not be taken to mean that all dental students are competent sedationists on graduation because, unfortunately, not all UK dental schools are currently able to provide sufficient clinical training. New dental graduates should, therefore, recognise their limited experience in the use of conscious sedation and undertake supplementary postgraduate study as required.
The Dental Sedation Teachers' Group has suggested a standard of clinical experience which should enable the new graduate to provide unsupervised sedation for fit individuals needing uncomplicated dentistry. It is recommended that this minimum level of experience should be:
5 patient assessments.

10 inhalational sedation cases.

20 intravenous sedation cases.
Postgraduate education and training
There are a number of options open to dentists seeking postgraduate training in conscious sedation. These include:
short courses (1–3 days)

clinical experience programmes

diploma courses

master's degrees.
Short courses are offered by the postgraduate dental deaneries, by dental teaching hospitals and private organisations – for example />