CHAPTER 5
Three-Dimensional Imaging in Orthodontics
The advances of three-dimensional (3D) technology have accelerated at a tremendous pace over the last two decades with newer machines and advanced software support. This now means that applications for the clinical settings can be created and used in routine diagnosis, treatment planning, and patient education. Orthodontists will find that these advances will also impact the profession, and this chapter aims to give the reader the basic foundation on which to understand this interesting and exciting topic.
SURFACE IMAGING
Facial Growth
Significant investigations have been done in the past on hard tissue growth of the cranial skeleton. However, reported studies focusing on and analyzing soft tissue morphology and growth are comparatively small in relation to the general orthodontic literature.1 Yet the external profile is by far the most visible entity from which clinicians and lay people make perceptions and formulate judgments. In this current day and age, with a greater emphasis being placed on the balance between the hard and soft tissues, it is important to have reliable and readily available data on the external soft tissue profile. At present, there is a lack of emphasis on the longitudinal development of the soft tissues. Most of the available data on the changing soft tissue profile have been obtained from cephalometric data with an additional small number from limited 3D data. Soft tissue studies are difficult and the tissue structures are inevitably affected by movements and distortions. However, careful patient positioning and good technical detailing have allowed these images to be reproducible to a high level of clinical acceptability.
Early 3D imaging research has shown that the growth of facial structures broadly follows in line with gender and age. Growth is present in a number of facial structures and may be visualized as surface and volume changes (Fig. 5-1). Furthermore, the system is so sensitive that asymmetric growth is identified in 33% of 11- to 12-year-olds. In the vast majority of these cases, the asymmetrical growth levels out over 1 year of assessment. However, there are a small proportion of children who continue to grow asymmetrically (Fig. 5-2).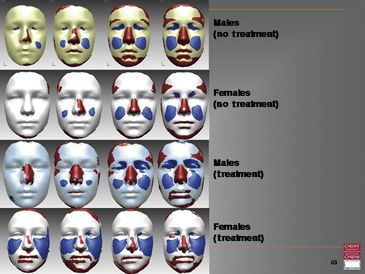 FIG 5-1 Facial growth as illustrated by average facial changes in males and females. Red areas indicate positive changes, whereas blue areas indicate negative changes.
Average Faces and Superimposition
Average faces of 3D images from a cohort of same-age individuals may also be created.2,3 This procedure involves pre-alignment of the images by determining their principal axes (based on computing the tensor of inertia of each 3D image) followed by best fit alignment of the images and then by averaging the image coordinates normally to the facial plane. For each point representing the obtained average facial plane, the standard deviations are calculated allowing construction of the "standard deviation" faces that indicate variation from the average face. The results obtained may be used for the identification of facial anomalies in patients (Fig. 5-3). The face examined is superimposed onto the average face using the best fit technique, and then a divergence map can be constructed showing the regions with abnormal deviations. The deviations can be identified and quantified in terms of linear, area, and volumetric measurements.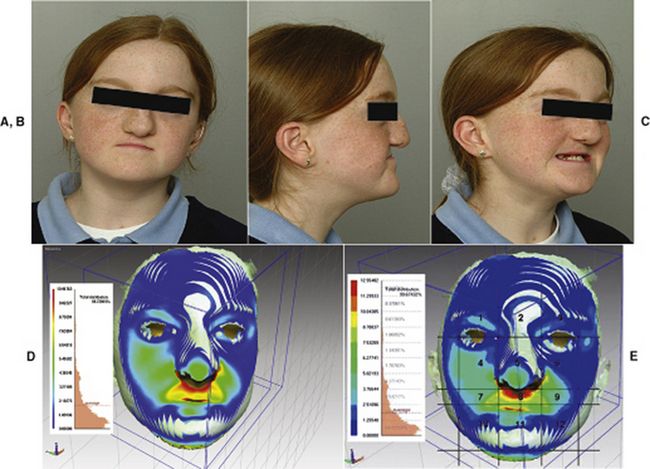 FIG 5-3 A-C, 11-year-old girl with right unilateral cleft lip and palate. D, Superimposition of patient on the average 11-year-old face; color map indicating the magnitude of deviation around the cleft region (red, 10.9 mm; green, 6.5 mm; cyan, 3.3 mm retrusive compared with the average face). E, Zona/>