CHAPTER 4
INFECTIOUS AND INFLAMMATORY DISEASES OF SALIVARY GLANDS
Most of these lesions are diagnosed clinically and would not be subject to fine needle aspiration biopsy (FNAB) sampling. However, sometimes they pose diagnostic challenges radiologically and clinically, and consequently in these occasions, FNAB will be used as an initial diagnostic tool. In these circumstances, the main goal is to exclude the presence of neoplastic processes. The list is large, and many entities currently are rare. Detailed clinical descriptions are best found in textbooks of otolaryngology and infectious diseases.
4.2 ACUTE SIALADENITIS/PAROTITIS
Acute bacterial parotitis is now considered an infrequent illness, but it is still observed in the elderly, as well as in dehydrated, malnourished, and intubated patients. It is more common in children than in adults. Typical organisms cultured from those patients include Staphylococcus aureus, oral cavity flora, Eikenella corrodens, Enterobacteriaceae, and other gram-negative bacilli. Usually, the clinical presentation of acute bacterial parotitis is sudden onset of pain and local swelling over the parotid gland. Trismus, dysphagia, high fever, and toxic appearance also are common features. Physical examination rarely yields fluctuance, but it is necessary to look for expressing pus through the Stensen duct using bimanual examination. This test might be painful, so preparing the patient will always help. In rare circumstances, the disease process may be complicated by pharyngeal obstruction, osteomyelitis, and sepsis. Obstruction from a stone in the ducts may lead to chronic sialadenitis. The diseases can present with enlargement of the gland, which can be focal or diffuse and can be either unilateral or bilateral. If FNAB is performed, usually it yields morphological features of an abscess in the form of numerous neutrophils, fibrin, crush artifacts, and sometimes evidence of necrosis (Figures 4.1 through 4.3). The fluid should be sent for culture and sensitivity. As the disease progresses, the aspirate smears will show more chronic inflammatory cells, such as lymphocytes, plasma cells, and rarely, granulation tissue formation. The diagnosis in the acute phase is straightforward, whereas the differential diagnosis in chronic and organizing phases includes lymphoepithelial lesions (lymphoepithelial sialadenitis [LES]) that may occur in HIV-positive patients (LES of AIDS [LESA]) or lymphoproliferative disorders. The former would be clear from the history, and the latter would need immunophenotypic analysis by flowcytometry on the aspirate or immunohistochemistry on cell block material.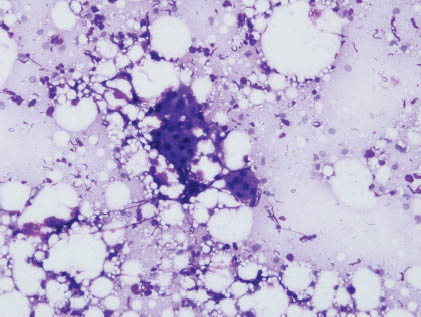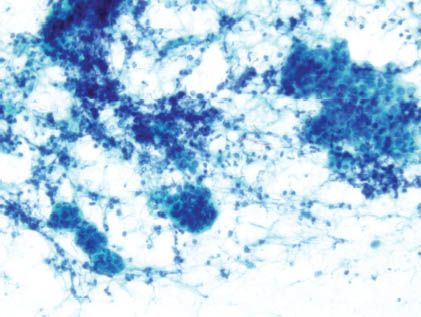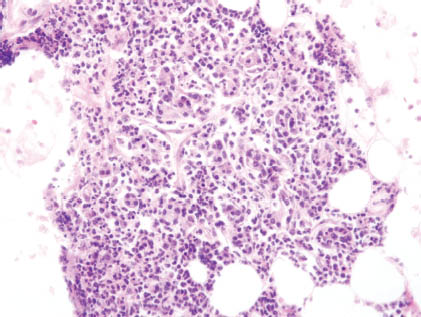 4.3 ACUTE SIALADENITIS/PAROTITIS OF THE NEONATE
Acute parotitis of the neonate is a rare form of parotitis, which occurs usually in a premature baby with unilateral parotid swelling and inflammation. It mostly occurs in male children with S. aureus as the most common isolate (more than 50% of the cases). Although it is extremely rare to aspirate such lesions, when performed, the aspirates contain normal salivary gland cells with increased numbers of neutrophils. Acute parotitis of the neonate is treated by systemic antibiotics, and surgery is indicated only if aggressive medical therapy fails.
4.4 CHRONIC BACTERIAL PAROTITIS
Chronic bacterial parotitis occurs in the presence of calculi, stenosis of the duct secondary to trauma, and/or in association with autoimmune processes with superimposed bacterial infection. These are rarely aspirated, but when they are, fragments of stones and chronic inflammatory cells might be observed. The differential diagnosis includes lymphoproliferative disorders in which the aspirates contain monotonous lymphoid cells, and an immunophenotypic analysis would be necessary to clarify the neoplastic nature of these lymphoid cells.
Chronic sialadenitis is more common in the submandibular glands and can be bilateral. It has been noted that pain increases with eating, and the disease process goes into cycles of remission alternating with exacerbation. Usually, the gland is diffusely enlarged and may resemble a neoplasm. It has been associated at times with bulimia and ductal obstruction with secondary inflammatory reaction. Fine needle aspiration usually produces bloody smears with few cells. However, occasionally the aspirates would be cellular where mucous, proteinaceous material may be observed in the background with occasional acini surrounded by chronic inflammatory cells and occasional atrophy and squamous metaplasia (Figures 4.4 and 4.5). If the gland is removed, then the histological sections will show similar features (Figure 4.6). The differential diagnosis includes mucocele and low-grade mucoepidermoid carcinoma. On the one hand, mucocele has a characteristic clinical picture, and the aspirates would be hypocellular and sometimes contain macrophages. On the other hand, low-grade mucoepidermoid carcinoma aspirate smears usually yield mucous cells and a mixture of intermediate and myoepithelial cells. Aspirates that contain many lymphoid cells, monotony, and lymphoid cells with atypia raise the possibility of lymphoproliferative disorders, which needs immunophenotypic analysis to make the distinction.