Chapter 23
Disorders of White Blood Cells
Disorders of white blood cells (WBCs) in the dental patient can greatly influence clinical decision making as well as the specifics of care, because WBCs provide the primary defense against microbial infections and are critical for mounting an immune response (< ?xml:namespace prefix = "mbp" />Box 23-1). Defects in WBCs can manifest as delayed healing, infection, or mucosal ulceration and, in some cases, may be fatal. To ensure the health of the patient, the dentist should be able to detect WBC abnormalities through history, clinical examination, and screening laboratory tests and should provide prompt referral to a physician for diagnosis and treatment before invasive dental procedures are performed. Patients with known life-threatening disorders who are under medical care should not receive dental care until after the dentist has consulted with the patient's physician.

Box 23-1 Classification and Features of White Blood Cell (WBC) Dyscrasias
Leukocytosis—increased number of circulating WBCs
Leukopenia—decreased number of circulating WBCs

Three groups of WBCs are found in the peripheral circulation: granulocytes, lymphocytes, and monocytes. Of the granulocyte population, 90% is composed of neutrophils; the remainder consists of eosinophils and basophils. Circulating lymphocytes are of three types: T lymphocytes (thymus mediated), B lymphocytes (bursa-derived), and natural killer (NK) cells. Lymphocytes are subdivided by the surface markers they exhibit and by the cytokines they produce.1,2
The primary function of neutrophils is to defend the body against certain infectious agents (primarily bacteria) through phagocytosis and enzymatic destruction. Eosinophils and basophils are involved in inflammatory allergic reactions and mediate these reactions through release of their cytoplasmic granules. Eosinophils also combat infection by parasites. T lymphocytes (T cells) are involved with the delayed, or cellular, immune reaction, whereas B lymphocytes (B cells) play an important role in the immediate, or humoral, immune system involving the production of plasma cells and immunoglobulins (IgA, IgD, IgE, IgG, and IgM). Monocytes have diverse functions that include phagocytosis, intracellular killing (especially of mycobacteria, fungi, and protozoa), and mediating of the immune and inflammatory response through the production of more than 100 substances, such as cytokines and growth factors, that increase the activity of lymphocytes. In addition, monocytes serve as antigen-presenting cells and migrate into tissues. In tissue, these antigen-presenting cells are known as dendritic cells (in lymph nodes) or Langerhans cells (in skin and mucosa). Monocytes in tissue that phagocytose microbes are known as macrophages.1,2
Most WBCs are produced primarily in the bone marrow (granulocytes and monocytes), and these cells form several "pools" in the marrow: (1) the mitotic pool, which consists of immature precursor cells; (2) a maturing pool, which consists of cells undergoing maturation; and (3) a storage pool of functional cells, which can be released as needed.
WBCs released by the bone marrow that circulate in the peripheral blood account for only 5% of the total WBC mass and form two pools of cells: a marginal one and a circulating one. Cells in the marginal pool adhere to vessel walls and are readily available. When infection threatens the body, the storage and marginal pools can be called on to help fight the invading organisms.
Growth-promoting substances called colony-stimulating factors (CSFs) are responsible for the growth of committed granulocyte-monocyte stem cells. The major function of CSFs is to amplify leukopoiesis rather than recruit new stem cells into the granulocyte-monocyte differentiation pathway. Thus, through the local release of CSFs, the bone marrow can increase the production of granulocytes and monocytes. This process occurs in response to infection.3
Lymphocytes localize primarily in three regions: lymph nodes, the spleen, and the mucosa-associated lymphoid tissue (MALT) lining the respiratory and gastrointestinal tracts. At these sites, microbial antigens are trapped and presented to B or T lymphocytes (cells). Antigens bind B cells through cell surface immunoglobulins, whereupon B cells are activated, proliferate, and produce large amounts of immunoglobulin to aid in opsonization. Antigens are presented to CD4+ (helper) T cells by major histocompatibility complex (MHC) class I molecules, and to CD8+ T cells by MHC class II molecules. CD4+ T cells activate B cells and macrophages by producing cytokines and through direct contact. CD8+ T cells kill virus-infected cells.
Leukocytosis and Leukopenia
The number of circulating WBCs normally ranges from 4400 to 11,000/µL in adults.4 The differential WBC count is an estimation of the percentage of each cell type per microliter of blood. A normal differential count consists of neutrophils, 50% to 60%; eosinophils, 1% to 3%; basophils, less than 1%; lymphocytes, 20% to 34%; and monocytes, 3% to 7%. The term leukocytosis is defined as an increase in the number of circulating WBCs (lymphocytes or granulocytes) to more than 11,000/µL, and leukopenia as a reduction in the number of circulating WBCs (usually to less than 4400/µL).
Many causes of leukocytosis are known. Exercise, pregnancy, and emotional stress can lead to increased numbers of WBCs in the peripheral circulation. Leukocytosis resulting from these causes is called physiologic leukocytosis. Pathologic leukocytosis can be caused by infection, neoplasia, or necrosis. Pyogenic infections induce a type of leukocytosis that is characterized by an increased number of neutrophils. If excessive numbers of immature neutrophils (stab cells) are released into the circulation in response to a bacterial infection, a shift to the left is said to have occurred. Tuberculosis, syphilis, and viral infections produce a type of leukocytosis that is characterized by increased numbers of lymphocytes. Protozoal infections often produce a type of leukocytosis that increases the numbers of monocytes. Allergies and parasitic infections caused by certain helminths increase the numbers of circulating eosinophils. Cellular necrosis increases the numbers of circulating neutrophils. Leukemia (cancer of the WBCs) is characterized by a great increase in the numbers of circulating immature leukocytes. Carcinoma of glandular tissues may cause an increase in the number of circulating neutrophils. Acute bleeding also can result in leukocytosis.2,4
Many causes of deficient numbers of leukocytes (less than 4400/µL) in the blood are evident. Leukopenia may occur in the early phase of leukemia and lymphoma as a result of bone marrow replacement through excessive proliferation of WBCs. Leukopenia also occurs during agranulocytosis (reduction of granulocytes) and pancytopenia (decreased WBCs and RBCs) that result from toxic effects of drugs and chemicals. Leukopenia is a common complication that results from the use of chemotherapeutic (anticancer) drugs.2,4
Cyclic Neutropenia
An important form of leukopenia involving the cyclic depression of circulating neutrophils is a disorder called cyclic neutropenia. It is associated with mutations located near the junction of exons 4 and 5 of the neutrophil elastase gene (ELA2).2 The estimated frequency of cyclic neutropenia is about 1 in 1 million.5 In this condition, patients have a periodic decrease (at least a 40% drop) in the number of neutrophils (about every 21 to 28 days). During the period in which few circulating neutrophils are present, the patient is susceptible to infection and oral manifestations (see under "Oral Complications and Manifestations" later on).2,6 Up to 10% of patients die from pneumonia, cellulitis, or peritonitis.2
Patients with leukocytosis or leukopenia may have bone marrow abnormalities that can cause thrombocytopenia. Examination of the patient's bone marrow aspirate is important for making the final diagnosis. Infectious diseases that can cause leukocytosis and leukopenia are discussed in Chapters 7, 13, and 18.
Leukemia and Lymphoma
The remainder of this chapter focuses on leukemia and malignancies of lymphoid cells (lymphoma and multiple myeloma). Leukemia and lymphoma account for about 8% of all new malignancies each year in the United States, which amounts to approximately 117,080 cases per year.7,8 These patients become gravely ill if they are not properly identified and do not receive appropriate medical care. In addition, patients are usually immunosuppressed as a result of the disease itself or because of the treatment used to control it. Hence, they are prone to develop serious infection and often bleed easily because of thrombocytopenia. A dental practice that manages 2000 patients is predicted to have 1 to 3 patients with leukemia or a malignancy of lymphoid cells.
Leukemia
Leukemia is cancer of the WBCs that affects the bone marrow and circulating blood. It involves exponential proliferation of a clonal myeloid or lymphoid cell and occurs in both acute and chronic forms. Acute leukemia is a rapidly progressive disease that results from accumulation of immature, functionless WBCs in the marrow and blood. Chronic leukemias have a slower onset, which allows production of larger numbers of more mature (terminally differentiated), functional cells. This section focuses on four types of leukemia: (1) acute lymphocytic leukemia (ALL), (2) acute myelogenous leukemia (AML), (3) chronic lymphocytic leukemia (CLL), and (4) chronic myelogenous leukemia (CML).
Leukemia occurs in all races, at any age, at an incidence of 12.3 per 100,000.8 Approximately 43,050 new cases were diagnosed in 2010 in the United States.7,8 The incidence of leukemia has remained somewhat stable in the United States since about 1956.9 In general, the likelihood of dying from most types of leukemia, lymphoma, or myeloma decreased from 1998 to 2007.8 All types of leukemia are somewhat more common in men. In 2010 the incidence of acute leukemia was 9740 cases in men and 7920 cases in women and the incidence of chronic leukemia was 11,670 in men and 8190 in women.7,8 In 2010, more cases of chronic leukemia (19,860) were reported than acute leukemia (17,860).7
Leukemia is much more common in adults than in children, with more than half of all cases occurring after age 65 years. The most common types of leukemia in adults are acute myelogenous leukemia, with an estimated 12,330 new cases in 2010, and chronic lymphocytic leukemia, with some 14,990 new cases in 2010.7 Chronic myelogenous leukemia is estimated to affect about 4870 persons in 2010.7 The most common form of leukemia among people younger than 19 years of age is acute lymphocytic leukemia. It accounted for about 5330 cases in 2010.7 Other unclassified forms of leukemia account for the remaining 5530 cases.7
The cause of leukemia remains unknown. Increased risk is associated with large doses of ionizing radiation, certain chemicals (benzene), and infection with specific viruses (e.g., Epstein-Barr virus [EBV], human lymphotropic virus [HTLV]-1). Cigarette smoking and exposure to electromagnetic fields also have been proposed to be causative.8–11
Acute Myelogenous Leukemia
Definition
AML is a neoplasm of myeloid (immature) WBCs, which demonstrate uncontrolled proliferation in the bone marrow space and subsequently appear in the peripheral blood.
Epidemiology
In 2010, AMLs accounted for 28.6% of all leukemias.7 AML is a disease of adults.11 Incidence increases with age and rises rapidly after the age of 50 years,11 reaching 22 per 100,000 by age 80. The mean age of persons with AML in the United States is 65 years.11
Etiology
AML arises de novo in younger adults or secondarily in elderly persons as a consequence of myelodysplasia. Environmental factors such as tobacco smoke, benzene-containing products, chemotherapies for cancer, and radiation exposure appear to be risk factors.11 It is estimated that 10% to 20% of all cases of AML are now therapy-related.11 Genetic factors (e.g., translocation and rearrangement of chromosomes) may cause cytogenetic abnormalities that affect transcriptional cascades of myeloid precursor cells and uncontrolled proliferation of these cells. Certain genetic disorders increase the risk for AML including Down syndrome, Klinefelter's syndrome, Fanconi's anemia, and von Recklinghausen disease.11
Pathophysiology and Complications
AML has a sudden onset and leads to death in 1 to 3 months if left untreated.12 It involves increased numbers of immature myeloid WBCs in the bone marrow space and peripheral circulation (Figure 23-1). As a result, patients are susceptible to excessive bleeding, anemia, poor healing, and infection after surgical procedures.12 Hemorrhage and infection, frequent complications of chemotherapy, are the chief causes of death.
Clinical Presentation
Signs and Symptoms
AML produces a leukemic infiltration of marrow and organs that causes cytopenia and diverse nonspecific signs and symptoms, including fatigue, easy bruising, and bone pain. Many patients complain of flulike symptoms for 4 to 6 weeks before the diagnosis. Anemia and thrombocytopenia usually manifest as malaise, pallor, dyspnea on exertion, and bleeding and small hemorrhage (petechiae, ecchymoses) in the skin and mucous membranes (Figure 23-2, A).10,11 Because of granulocytopenia, at least one third of patients have recurrent infections (nonhealing wounds), oral ulcerations, and fever. Enlargement of the tonsils, lymph nodes, spleen, and gingiva (see Figure 23-2, B) occurs as a result of leukemic infiltration of these tissues.11 Infiltration of the central nervous system (CNS) occurs in about 35% of the cases of AML with increased eosinophils (the M4Eo variant).11 Most of these patients are asymptomatic, but some will present with meningeal signs and symptoms and symptoms associated with increased intracranial pressure.11 Skin lesions consisting of collections of leukemic cells termed leukemic cutis, granulocytic sarcomas, and chloromas may occur.10
Laboratory Findings
The diagnosis of leukemia is made through examination of peripheral blood and bone marrow stained with Wright-Giemsa. Cytochemical staining, immunophenotyping, and cytogenetic analyses are used to characterize the type and subtype, to allow for specific treatment approaches, and to detect residual disease after therapy is provided. Granulocytopenia and thrombocytopenia are common.
The diagnosis of AML is made when myeloblasts are found in the bone marrow or peripheral blood at a rate of at least 20%. Myeloblasts stain positive for myeloperoxidase and are immunotype-positive for several of the following markers: CD13, CD33, CD34, CD65, and CD117.13 The French-American-British (FAB) classification categorizes AML into eight subtypes (Table 23-1). The WHO classification describes four subtypes that differ in terms of genetic abnormalities, evolution, and response to therapy.10,11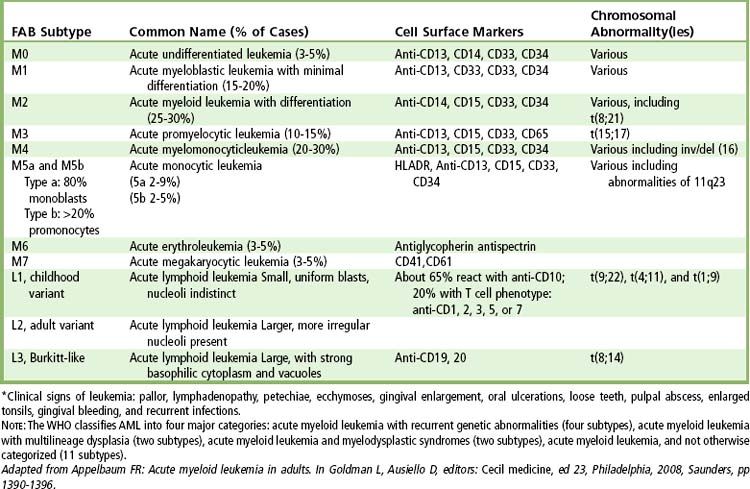 Chronic Lymphocytic Leukemia
Epidemiology
CLL is the most common type of leukemia in adults. In 2010 there were 14,990 cases of CLL reported in the United States. The incidence rate is 4 to 5.3 cases per 100,000.25,26 The median age at diagnosis is about 72 years. CLL is very uncommon before the age of 45 and infrequent in patients under 65 years of age. The 5-year survival rate is 75.9%, with more than 95,123 patients living with CLL.26 It is more common in men than in women; however, 5-year and 10-year survival rates are higher for women. It is more common in Jewish people from Russian or Eastern European ancestry. This disease is rare in Asia and in children throughout the world.26
Etiology
The etiology of CLL is unknown, and risk factors are more related to familial inheritance than to exposure to harmful environmental agents. Neoplastic B cells have various genetic aberrations, most commonly gene deletions (e.g., on chromosome 11, 12, or 17) that lead to loss of cell cycle control.22,26 The specific genetic defect dictates the course of the disease. Cytogenetic analysis shows the following abnormalities: 13q deletion (40-50%), 11q deletion (15-20%), trisomy 12 (15-20%), and 17p deletion (5-10%). In most cases, low levels of expression of monoclonal immunoglobulin are demonstrated on the cell surface, which includes CD19, CD20, CD21, CD23, CD24/>