The Motivationally or Financially Impaired Patient
Many patients are fatalistic about their teeth. They have serious doubts as to whether their teeth can or should be saved. They see the challenge of trying to rehabilitate their mouths as insurmountable and believe they do not have the time, energy, ability, or money to accomplish the task. These are all perceptions; sometimes they are realistic, and sometimes they are not. In many cases, significant improvements in oral health can be accomplished that are within the patient's financial means and capacity to handle treatment (Figure 17-1). For the treatment to be successful, however, the patient must become willing to accept responsibility for his or her own oral condition. Unfortunately, some patients are unwilling or unable to accept that responsibility at least initially. Herein lies one of the greatest challenges to the practicing dentist learning to discern how a new patient will respond to this challenge. Indeed, although some patients accept responsibility easily, some will do so only after much education and encouragement, and others never will.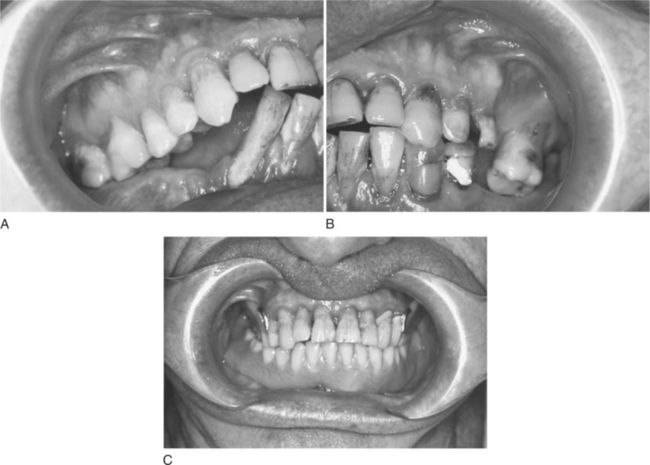 Figure 17-1 Motivationally and financially compromised patient before and after treatment. (Courtesy Dr. D. R. McArthur, Chapel Hill, NC.)
COMMON CLINICAL SCENARIOS
Several commonly encountered situations illustrate the kinds of beliefs and opinions that a motivationally impaired patient may hold. Each is an intellectual construct that can be expected to contain some truth and some fantasy. Listening carefully, the dentist will attempt to glean the real factors contributing to the patient's oral disease, being careful to avoid the temptation to immediately dispel myths and misunderstandings on the spot. Because a considerable amount of thought and energy will have been invested in the construct, the patient may resent the intrusiveness of a health care professional who quickly dismisses it out of hand. The careful listener allows the patient sufficient latitude to characterize his or her perceptions concerning oral disease. As rapport and trust build in the relationship, the dentist will find opportunities to add to the patient's knowledge base. Providing the patient with information to change and improve his or her own beliefs is a more effective strategy than trying to substitute entirely new ones. The latter approach often does not work at all, or if it does, acceptance is more often incomplete or short-lived, failing for two critical reasons. First, such a wholesale substitution invalidates the patient's own thought processes, and secondly, it ignores the essential psychological and emotional investment that the construct holds for the patient. Several beliefs commonly held by such patients are discussed in the following sections.
IDENTIFYING THE UNDERLYING PROBLEM
The patient history and clinical examination are indispensable, not only in determining the clinical condition, but also in helping reveal how the condition evolved. At the initial visit, the motivationally impaired patient often is apologetic about the condition of his or her mouth. It is not unusual for such a patient to express embarrassment and self-consciousness about gross caries, fractured or missing teeth, periodontally involved teeth, and halitosis. It is imperative that the dentist be nonjudgmental, assuring the patient that his or her oral condition is not unique, and that the dentist and staff will do their best to help correct the problems and eliminate disease. In many cases, it will have taken great courage for the patient simply to come to the appointment. Any comments, stringent office policies regarding payment, or body language by the dentist or staff that the patient interprets as patronizing, demeaning, or unsympathetic can be devastating to the person's self-esteem. Many motivationally impaired patients are extremely vulnerable at this point and may overreact to the smallest slight. On the positive side, if such patients are treated with respect and dignity and if their concerns are dealt with professionally and sensitively, they can become appreciative, cooperative, and loyal to the practice. As the history is taken and the examination conducted, the patient usually begins to open up and share concerns and perspectives. Box 17-1 includes useful questions to ask that will help to facilitate discussion with the patient.
As this process unfolds, specific causes for the compromised oral health will become apparent. The following are many of the common underlying causes for the patient's condition. It is noteworthy that there is rarely a single cause for the patient's lack of motivation to address oral problems. It is not unusual for the motivationally compromised patient to have a history that includes several of the following causes, and many of these patients may be affected by two or more of these factors at any moment in time.
EVALUATING THE POTENTIAL FOR CHANGE
Maslow's hierarchy is a model frequently used to explain an individual's value system and priorities at a particular point in life (Figure 17-7). This hierarchy is also an excellent tool to help assess the patient's potential to be motivated to change his or her dental condition. If, in fact, satisfaction of the person's needs is restricted to Level 1, Physiological (most basic human needs), then it is unlikely that efforts to convince the patient of the value of a healthy oral condition will be effective. By the same token, the patient who has all of his or her basic needs met and is now motivated by Level 5, Self-Actualization, is more likely to be amenable to a sophisticated intellectual rationale supporting the benefits of optimal oral health. This is not, however, a guarantee that those efforts will be successful because that same patient has complete freedom to accept or reject the rationale and may choose to do so on strictly intellectual grounds. The patient also may choose to reject it because other self-actualizing concepts are more appealing or take precedence. Therefore Maslow's hierarchy should not be viewed as an infallible tool, but simply as a useful method for attempting to determine whether a patient is likely to be amenable to change, and if so, what strategies are more likely to succeed.
Some factors contributing to the patient's motivational impairment cannot be altered, most notably those relating to heredity or physical and mental development. Some environmental factors, such as job stress, can be altered, whereas others realistically cannot. Behavioral factors are strongly influenced by the patient's psychological perspective and sense of self-worth. When psychological barriers to change are not significant and when the patient has a positive sense of self-worth, the potential for eliminating deleterious behaviors and promoting positive ones is good. The potential for eliminating or minimizing psychological barriers to change is highly variable and completely under the patient's control. The best the dentist can hope to accomplish is to raise the patient's consciousness to the recognition that the barriers do exist. With time, and a professional and supportive approach, these patients may accept the responsibility to change. Attempting to improve the patient's sense of self-worth is a similarly difficult undertaking with no guarantee of success. However, if early in the treatment the dentist can bring about a positive change in the patient's appearance, the person may be buoyed by an improved sense of self and begin to develop faith that the effort is worthwhile. When these issues are dealt with effectively, educating the patient about the benefits of dental treatment is much easier.
It is also important to evaluate the patient's potential for improving oral self care. The motivationally impaired patient often has poor oral home care, creating an unfavorable environment for the long-term success of any treatment. Most patients are receptive to some level of oral health instruction. How much they absorb and how effectively they implement that instruction varies, however. It is particularly important for the office staff to be attuned to the patient's dental history, knowledge base, and specific barriers to care. The dental staff, and the hygienist in particular, must have an understanding of the patient's individual needs and take those needs into account when crafting an instructional plan. With the motivationally impaired patient, a routine impersonal approach to oral physiotherapy instruction is unlikely to succeed. A compassionate, thoughtful, and patient-specific approach to educating the patient regarding effective oral self care is much more likely to produce the desired result. It can also result in other positive changes, such as giving the patient a greater appreciation for the benefits of comprehensive dental care.
MAKING A TREATMENT DECISION
Once a determination has been made as to whether the motivationally impaired patient wants to improve his or her oral health status, a plan of care must be developed and informed consent obtained. If the patient remains unmotivated or is unwilling to modify the circumstances and attitudes that led to the oral problems, then there may be no alternative but to recommend the extraction of questionable teeth and transition the patient to complete dentures. If the patient is receptive and motivated to change, however, then more comprehensive treatment can be suggested. Some of these treatment options are discussed later in this chapter.
The presentation of treatment options carries unique importance with the motivationally impaired patient. At the outset, such a patient is more likely to have an unusually pessimistic view of the treatment and its chances of success. The same patient may also have unrealistic expectations about how long or how demanding the dental treatment will be. Although candid, the discussion must not be coercive, threatening, or intimidating. The patient must feel comfortable enough with the provider to be able to share what are often deep-seated concerns and reservations.
For this patient, informed consent also carries greater than normal significance/>