Chapter 16
Indications for dental implant treatment
Patients often present with a desire to replace missing teeth or are faced with the need to have teeth extracted for a variety of reasons (< ?xml:namespace prefix = "mbp" />Figures 16.1 and 16.2). Replacement of teeth with fixed implant restorations or the use of implants to support and retain removable dentures are evidence-based treatment options with the potential for very high success rates. Often, alveolar bone and soft tissue also require replacement, so implant treatment frequently involves replacement of alveolar tissues using both biological and prosthetic means.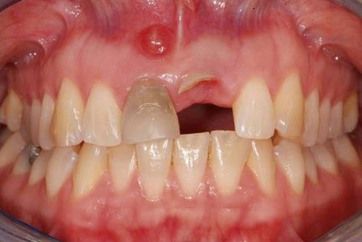 Fig 16.1 Both of the central incisors have suffered irreparable damage as a result of trauma. Periradicular infection at the upper right central incisor is manifest as a fluctuant swelling on the buccal mucosa.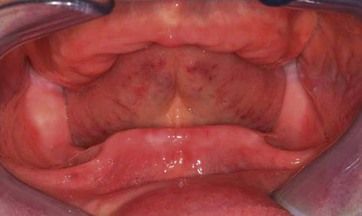 Fig 16.2 An edentulous patient with loose, uncomfortable dentures who wishes to discuss the possibility of using dental implants to improve the situation.
This chapter discusses indications for dental implants by considering the factors shown in Table 16.1.
• Why does the patient wish to replace missing teeth?
• What are the prosthodontic advantages of implant treatment?
• What is the problem with an existing fixed restoration or the natural teeth?
• Is there a denture-related problem the patient wishes to solve?
• Does the cause of missing or failing teeth have any influence on indication for implants?
• Does the timing of tooth loss have any influence on indication for implants?
• What are the main drawbacks of implant treatment?