evolve.elsevier.com/Haveles/pharmacology
Hormones are secreted by endocrine glands and transported by the blood to target organs, where they are biologically active. Endocrine glands include the pituitary, thyroid, parathyroids, pancreas, adrenals, gonads, and placenta (Figure 22-1). They help maintain homeostasis by regulating body functions and are controlled themselves by feedback systems. In most of these systems, the hormone released has a negative feedback effect on the secretion of the hormone-stimulating substance. Patients being treated in the dental office may be taking these hormones to treat various diseases.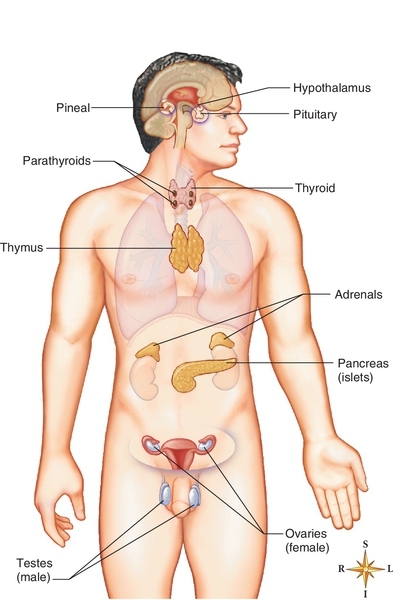 Drugs that affect the endocrine system include the hormones secreted by the endocrine glands, synthetic hormone agonists and antagonists, and substances that influence the synthesis and secretion of hormones. The most important clinical application of these drugs is their use in replacement therapy, such as in the treatment of diabetes mellitus (DM) (insulin) (see Chapter 21) and hypothyroidism (levothyroxine). Additional applications include diagnostic procedures, contraception, and the treatment of glandular hyperfunction, cancer, and other systemic disorders.
Pituitary hormones
The pituitary gland (hypophysis) is a small endocrine organ located at the base of the brain. It has been called the master gland because of its regulatory effect on other endocrine glands and organs of the body. It secretes peptide hormones that regulate the thyroid, adrenal, and sex glands; the kidney and uterus; and growth.
In addition to their regulatory effect, the pituitary hormones have a trophic effect that is necessary for the maintenance of many systems. For example, without the gonadotropins, the entire reproductive system fails; without growth hormone and thyrotropin, normal growth and development are impossible.
The secretion of pituitary hormones is influenced by peripheral endocrine glands via hormonal feedback mechanisms and by neurohumoral substances from the hypothalamus. When the hypothalamus releases specific hormone-releasing substances, the specific pituitary hormone is released.
Pituitary deficiency (hypopituitarism) can produce a loss of secondary sex characteristics, decreased metabolism, dwarfism, diabetes insipidus, hypothyroidism, Addison's disease, loss of pigmentation, thinning and softening of the skin, decreased libido, and retarded dental development. Hypersecretion of pituitary hormones can produce sexual precocity, goiter, Cushing's disease, acromegaly, and giantism. There are two parts to the pituitary gland: the anterior lobe (adenohypophysis) and the posterior lobe (neurohypophysis).
Anterior Pituitary
The anterior lobe of the pituitary gland secretes growth hormone, or somatotropin; luteinizing hormone (LH); follicle-stimulating hormone (FSH); thyroid-stimulating hormone (TSH), or thyrotropin; adrenocorticotropic hormone (ACTH), or corticotropin; and prolactin (Figure 22-2). β-Lipotropin, secreted by the pituitary, is a precursor to β-endorphin (see Chapter 6).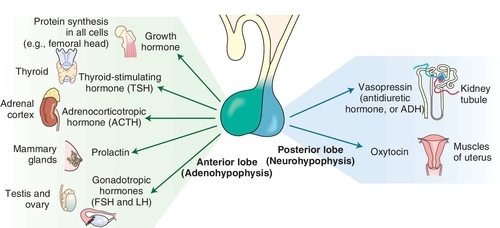 Genetic engineering has been able to produce human growth hormone since 1987. Human growth hormone is used medically to treat children who lack it and illicitly by body builders and weight lifters to develop muscles. (Some say that in athletic events at which the contestant's urine is tested, for example, the Olympics, growth hormone cannot be detected as easily as the androgenic steroids.)
Pharmaceutical gonadotropin-releasing hormone (GnRH) is a synthetic analog. One example, leuprolide, stimulates the pituitary function and is used to treat infertility. GnRH agonists are used to treat prostate cancer and endometriosis. The secretions from the anterior pituitary that stimulate other glands are used to test the function of the stimulated glands.
FSH-like products, which stimulate follicle growth, and LH-like products, which induce ovulation, are used in the treatment of infertility. Although LH itself is not available, human chorionic gonadotropin (hCG), which is almost identical in structure, can be used as an LH substitute for deficiency. Human menopausal gonadotropin (hMG) contains FSH and LH and is commercially available as menotropin (Pergonal). This preparation is used in infertility to stimulate development of ovarian follicles. When follicular maturation has occurred, the hMG is discontinued and hCG is given to induce ovulation.
Bromocriptine
Bromocriptine (broe-moe-KRIP-teen) (Parlodel), an ergot derivative, inhibits pituitary function. Although not a hormone, it is a dopamine agonist that suppresses prolactin levels. Bromocriptine is used to treat prolactin-secreting adenomas (hyperprolactinemia), acromegaly, and Parkinson's disease.
Related Posts