Fig. 4.1
Soluble vascular endothelial growth factor (sVEGFR1) levels in all groups studied. (From [
50
], ©2007 Informa Healthcare. Reproduced with permission)
Furthermore to test the hypothesis that in patients with ONJ there may be endothelial-cell interference by BPs, Allegra et al. used flow cytometry to evaluate the number of circulating endothelial cells (CECs). They characterized circulating endothelial progenitor cells (EPCs), which represent more immature cells, expressing the phenotype CD34+133+VEGFR2+. They also identified the more mature CECs, which lose CD133 and start to differentiate into mature endothelial cells. The phenotype of CECs thus is CD34+133-VEGFR2+. EPCs and CECs were found to be higher in MM patients than in either controls or ONJ patients. Moreover, ONJ patients had fewer EPCs than control subjects [
51
]. Analogous results were obtained by Ziebart et al., who showed that human umbilical vein endothelial cells and EPCs were significantly influenced by BPs at different concentrations compared with the non-treated control cells [
52
]. Taken together, these data suggest that in patients with ONJ, there is a suppressive effect of BPs on angiogenesis through an action on CECs. This finding is of potential interest because it is well known that in MM angiogenesis governs disease progression and that CECs are increased and vary in parallel with the clinical indicators of disease activity [
53
,
54
].
Finally, an increase in endothelial cell apoptosis was demonstrated in MM patients after BP administration and in patients with ONJ (Fig.
4.2
), with a correlation between the number of apoptotic cells and the duration of BP treatment in the latter group [
55
].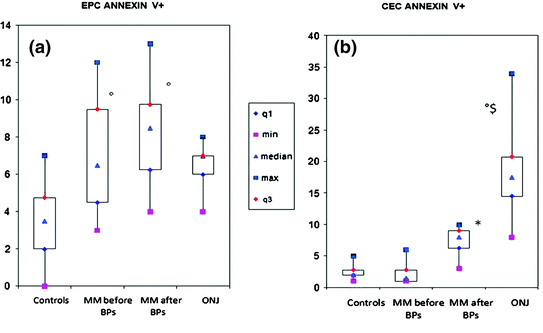 Fig. 4.2
Evaluation of endothelial progenitor cells (EPC) and annexin V+ circulating endothelial cells (CEC) cells in all groups.
a
#
p
< 0.05 vs. controls. Patients with osteonecrosis of the jaw (ONJ) had a higher percentage of EPC/annexin V+ cells (83%).
b
*
p
< 0.05 vs. controls and multiple myeloma (MM) patients before bisphosphonates (BPs); ° p < 0.01 vs. controls and MM patients before BPs; $
p
< 0.05 vs. MM patients after BPs. (From [
55
] with permission by S. Karger AG, Basel)
A recent case of bevacizumab-related ONJ highlights the potential of anti-angiogenic action to contribute to oral mucosal breakdown and suggests a cumulative toxicity between BPs and the anti-angiogenic agents commonly used in MM patients, such as thalidomide and lenalidomide [
56
,
57
].
However, ONJ could be caused by a combination of environmental and genetic risk factors [
58
]. Sarasquete et al. explored the potential role of genetics in the development of ONJ in MM patients under BP therapy. A genome-wide association study was performed analyzing 500,568 single nucleotide polymorphisms (SNPs) in two series of homogeneously treated MM patients, one with and the other without ONJ. Four SNPs that mapped within the cytochrome P450-2C gene (CYP2C8) showed a different distribution between cases and controls, with statistically significant differences. SNP rs1934951 was significantly associated with a higher risk of ONJ development. Genotyping results identified an overrepresentation of the T allele in cases compared with controls (48 vs. 12%). Thus, individuals homozygous for the T allele had an increased likelihood of developing ONJ [
59
]. CYP2C8 is responsible for the metabolism of several drugs [
60
], and recent reports have shown that variability in genes encoding CYP2C8 may affect drug pharmacokinetics [
61
]. Since BPs do not undergo any physicochemical modifications in the body, CYP2C8 polymorphisms would not play a role in their metabolism; however, CYP2C8 gene polymorphisms may affect several biological pathways possibly involved in the development of ONJ in patients treated with BPs [
62
–
64
].
4.3

The Use of Bisphosphonates in Multiple Myeloma

BPs should be given for 2 years and after that at the physician's discretion, with therapy resumed upon relapse. While the administration of BPs beyond 2 years is not recommended, a subgroup of patients might still benefit from longer treatment. As an alternative to stopping BPs after 2 years, some panel members prefer to continue BP therapy at either a reduced dose or a reduced schedule.
4.4

Bisphosphonates and Hematology: Not Only Multiple Myeloma
4.4.1

Bisphosphonates and Hematopoietic Cell Transplantation

Although BPs are frequently used in the treatment of MM patients, there are other hematologic conditions in which BPS might be used.

Long-term survivors of hematopoietic cell transplantation (HCT) are at risk for loss of bone mineral density (BMD) and subsequent osteoporosis. Bone loss occurs predominantly within the first 6–12 months after autologous and allogeneic HCT. Recovery first occurs in the lumbar spine and is followed by a slower recovery of BMD in the femoral neck. BMD may not return to baseline levels in patients with continuing exposure to corticosteroids and calcineurin inhibitors. There is a lack of clear guidelines for the screening, prevention, and treatment of bone loss after HCT. However, general interventions to reduce fracture risk, including adequate intake of calcium and vitamin D, are advised for all HCT recipients; where indicated, BPs can be used for the prevention or treatment of osteoporosis in adult HCT recipients [

95

].

Grade 2–4 acute graft versus host disease (GVHD) is associated with bone loss at 1 year after stem cell transplantation, whereas extensive chronic GVHD and steroid use are unfavorable prognostic factors in terms of osteopenia/osteoporosis at 2 years post-transplantation. The use of ZOL significantly prevented bone loss in the femoral neck and in the spine [

96

].
4.4.2

Bisphosphonate and Hypercalcemia

Hypercalcemia is a common metabolic complication of malignant disease and often requires emergency intervention. Although it is more frequently associated with solid tumors, malignancy-associated hypercalcemia (MAH) is seen in a significant number of patients with blood diseases, and its association with myeloma and adult T-cell leukemia/lymphoma is well recognized. BPs have revolutionized the management of MAH over the last 20 years [

97

]. They are also safely used in treating childhood hypercalcemia, secondary to acute lymphocytic leukemia [

98

,

99

].
4.5

Anti-tumor Effects of Bisphosphonates in Multiple Myeloma
4.6

Conclusions

The positive impact of BPs on the management of millions of patients with bone disorders has been enormous. These drugs have a pivotal role in the treatment of patients with malignant diseases involving bone, and thus a potentially enormous impact on the cost of disease treatment. In the USA, the national cost burden for patients with metastatic bone disease in 2004 dollars was estimated at $12.6 billion in total direct medical costs. In a recent study, 5.3% of cancer patients in the USA were projected to have metastatic bone disease. Hematologic disease was the leading cause, with MM accounting for 28.8% of these cases [

110

].

Currently, MM patients cannot be successfully managed without BPs. The recognition of ONJ as a late toxicity complication of BP treatment and the recent advances in basic and clinical research regarding the effects of BP therapy in the pathobiology of MM warrant an update in therapeutic strategies to redefine the balance between the risks and benefits of this class of drugs.