Fig. 6.1
Glass-ionomer sealant (Fuji IX GP Extra, GC Corp, Tokyo, Japan) on first permanent molar (Courtesy of A/Prof J. Lucas)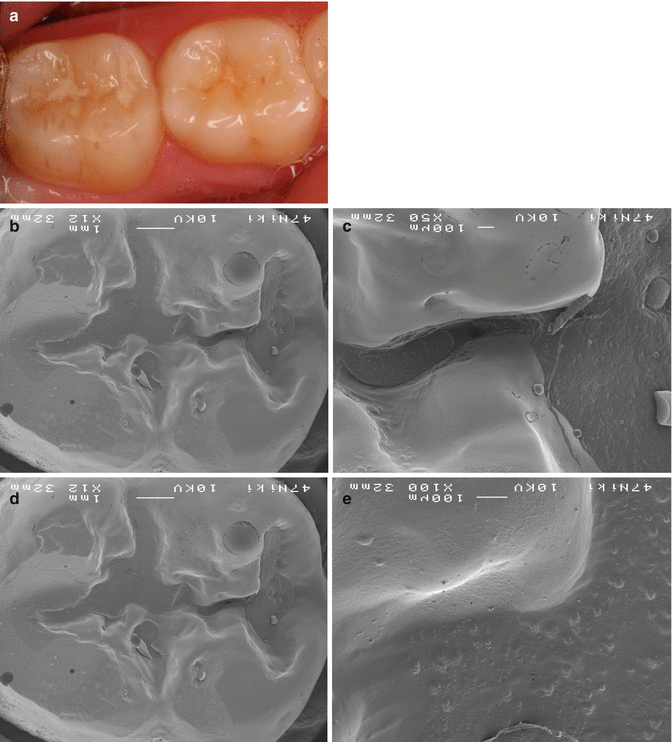 Fig. 6.2
Glass-ionomer cement (Fuji IX, GC Corp) sealant placed on tooth 46 (13 years previously) and tooth 47 (12 years previously). (
a
) Clinical image of GIC sealant. (
b
) SEM of resin replica of remnant GIC in 47 fissure (area highlighted in Fig.
6.2a
is highlighted here) (×12). (
c
) SEM of resin replica of remnant GIC in 47 fissure: higher magnification of area outlined in Figs.
6.2a, b
(×50). (
d
) SEM of close surface adaptation of GIC in 47 fissure (×12). (
e
) SEM of close surface adaptation of GIC in 47 fissure: higher magnification of area outlined in Fig.
6.2d
(×100) (Courtesy of Prof J. Frencken)
Whilst resin-based sealants have higher retention rates, this does not necessarily equate to higher rates of caries prevention (Ulusu et al.
2012
). Much of the evidence regarding both resin and GIC sealants may be affected by selection and publication bias (Simonsen
1996
). The literature does not suggest that there is any difference between the caries-preventive effects of GIC and resin-based fissure sealants (Mickenautsch and Yengopal
2011
). When GIC sealants clinically appear partially or totally lost, often the base of the fissures still remains sealed (Mickenautsch et al.
2011
). There is evidence to suggest that whilst the bulk of the GIC sealant material placed may be lost within 2–3 years post-placement, newly erupted teeth that are sealed with GIC show a significantly lower dentine caries rate than those that were not sealed (Taifour et al.
2003
).
Glass-ionomer sealants have the added benefit that they may be placed outside the traditional 'dental environment', as they can be placed with limited dental instrumentation and infrastructure. This may have added benefits in developing countries or for school-based sealant programmes, especially as they can be hand mixed, negating the need for electricity for a triturator or suction and a light-curing unit required for resin-based sealants. However, this is not to suggest that GIC sealants can be placed in an environment heavily contaminated by saliva, as this will reduce the sealing capability and retention rate, although nowhere near the effect contamination has on resin-based sealants – environmental control is still important for GIC sealants (Kulczyk et al.
2005
; Farmer et al.
2014
).
6.3

Effects on Approximal Surfaces

GIC sealants may have some benefit in promoting remineralisation and inhibiting demineralisation in approximal surfaces. They were shown to be effective as a sealant of approximal white spot lesions after the teeth had been separated to obtain direct access (Trairatvorakul et al.

2011

). There is evidence to suggest that fluoride-containing glass-ionomer sealants also provide protection to teeth immediately adjacent to the sealed tooth (Cagetti et al.

2014

). It has been reported that the distal surfaces of second primary molars next to first permanent molars sealed with a glass-ionomer have significantly lower levels of carious lesion development than those approximating a first permanent molar sealed with a resin-based material (Cagetti et al.

2014

).
6.4

Restorative Care

The atraumatic restorative treatment or ART technique, developed by Frencken and Holmgren, was first published in 1994 (Frencken et al.

1994

). This technique allows a carious lesion to be prepared using hand instruments for carious tissue removal and restored using an adhesive material such as GIC. This technique is more often than not carried out without local anaesthetic. The ART technique should be used with careful case selection and is not a gold standard alternative to conventional tooth preparation and restoration where this is available.

This technique may be useful in populations where access to conventional dentistry is not available or in young and uncooperative children where access to general anaesthesia may be limited. A definitive diagnosis must be made before considering whether ART is an appropriate treatment; teeth with signs and symptoms of irreversible pulpitis, or those with lesions that extend to the pulp on radiographs, are not appropriate for this mode of treatment. The extent of the lesion must also be assessed as ART has higher success rates in teeth with single surface lesions compared to multiple surfaces (Frencken et al.

2007

). The site of the lesion also has some influence, with survival rates after 6.4 years of non-occlusal posterior restorations reported to be 80.2 %, as compared to 64.8 % for occlusal posterior restorations (Frencken et al.

2007

).

Glass-ionomer cement is an ideal material for this treatment as it is relatively cheap and adheres well to the tooth structure and can be hand mixed if necessary, although some would consider the quality of capsule-mixed GIC to be higher than hand mixed. As ART is usually carried out in environments with limited dental infrastructure or in pre-cooperative or uncooperative children, obtaining a retentive cavity preparation or ideal moisture control may be difficult; therefore, GIC becomes a more favourable material compared to resin composite and silver amalgam. However, the clinician should not ignore the effect of good moisture control on the success of GIC restorations. In hot and humid areas, care taken over maintaining 'normal' temperatures of the materials should be considered, as setting times and handling characteristics can vary greatly, often to the detriment of the success of the procedure.
6.5

'Contemporary' Carious Tissue Removal

Glass-ionomer cements may be used as a conventional restorative material in carefully selected cases. There are several factors that should be considered when selecting a restorative material for the primary dentition. The age of the child and caries risk are the first factors that should be considered, in conjunction with the size of the lesion. Caries risk is often thought of as a static factor; however, it can vary throughout life, so consistent assessment is necessary to allow the clinician to make informed decisions regarding the most appropriate preventive and restorative care of the child. The estimated time until tooth exfoliation is another important factor that varies with tooth type. Location of the lesion to be restored with respect to functional load also influences material selection, and the use of GIC in areas of high loading or in poorly supported multi-surface lesions is often inappropriate.

Cavity design is based around removal of soft demineralised necrotic dentine and establishment of a sound perimeter or margin. Currently, there is a lack of evidence-based definitions that relate to the treatment of carious lesions, such as what is 'hard' dentine, what is necrotic dentine, how does the clinician identify these conditions and also what a sound margin actually is? Fortunately, the recently established International Caries Consensus Collaboration (ICCC) is establishing guidelines for these often subjective definitions.