Adaptations and improvements in maxillofacial osteotomies have changed the spectrum of skull base surgery. Imaging, endoscopic and open techniques, embolization, navigation, focused radiation therapy, and infection control have all improved the outcomes in surgery of the skull base. Certain tumors require an open approach. The expertise of maxillofacial surgeons in trauma, corrective, cosmetic, and reconstructive surgery of the craniofacial complex allows for expanded options in providing wide field exposure for skull base surgery. Many tumors of the skull base cross anatomic boundaries, as is seen with invasion of the orbit, frontal, ethmoid, and sphenoid sinuses. Creative planning and surgical exposure are imperative. The goals of treatment are to remove the tumor safely and to provide reconstructive options for the complex residual deformity. Endoscopic and minimum incision access can limit exposure for large, complex lesions in difficult anatomic locations. Common osteotomy techniques for maxillofacial procedures can easily be used for wide field cranial base access. ( Figure 49-1 ) These access osteotomies are related procedures that use the same instrumentation and can be used for multiple purposes, even in combination. ( Fig 49-2 )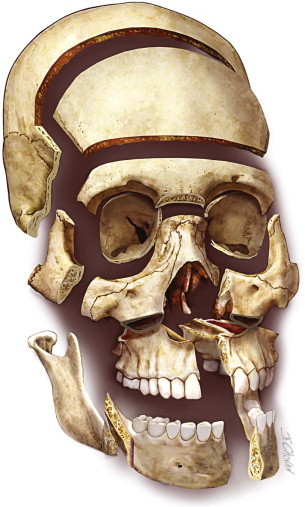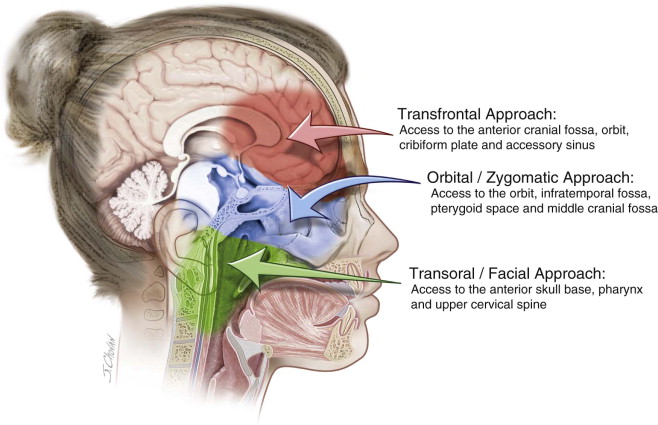 Transfrontal Approach: Access to the Anterior Cranial Fossa, Orbit, Cribriform Plate, and Accessory Sinuses
Orbital/Zygomatic Approach: Access to the Orbit, Infratemporal Fossa, Pterygoid Space, and Middle Cranial Fossa
History of the Procedure
The orbital/zygomatic osteotomy is a versatile procedure that has been used for decompression of orbital proptosis and access to the infratemporal fossa. The disarticulation of the lateral orbit and zygoma replicates a fracture of the zygomaticomaxillary complex and is familiar to the maxillofacial surgeon. This procedure maintains the origin of the masseter muscle rather than using en bloc removal of the zygomatic complex.
Indications for the Use of the Procedure
Wide field exposure is beneficial for tumors of the infratemporal fossa and orbit. Also, when combined with a frontal temporal craniotomy, it allows minimal retraction of the temporal lobe for conditions of the floor of the middle cranial fossa and sphenoid wing ( Figure 49-5, A, B ).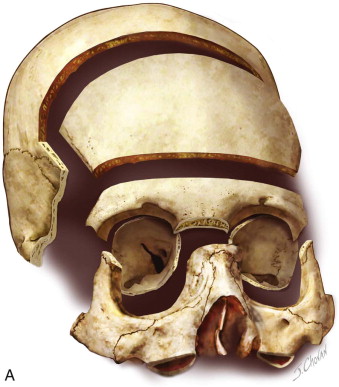 The most common pathologic conditions are :
•

Meningioma

•

Pituitary tumors

•

Craniopharyngioma

•

Chondrosarcoma

•

Endochondroma

•

Cavernous sinus pathology

•

Cholesteatoma

•

Temporal bone tumors
Limitations and Contraindications
Previous radiation therapy or compromised tissue may be contraindications to this procedure.