Dentin comprises the main portion of the tooth. It is a mineralized connective tissue secreted by the odontoblasts, which are specialized cells located at the periphery of the dental pulp. The thickness of dentinal layer increases with age due to the deposition of secondary and tertiary (reparative) dentin, reducing the volume of the pulp chamber and the root canals [
2
]. It has been shown that the presence of dentin is essential for the differentiation of inner dental epithelial cells into ameloblasts [
3
]. Ameloblasts start to produce and secrete specific enamel matrix proteins, and soon after tooth eruption in the oral cavity, they completely disappear. During that time, tooth root develops, accompanied by cementum deposition and periodontium formation [
4
]. The cementum is a mineralized tissue covering the root of the tooth and produced by the cementoblasts . The main role of cementum is to serve as a medium by which the periodontal ligament can attach to the tooth for stability. At the cementum-enamel junction, the cementum is acellular. This acellular type of cementum covers about two-third of the root; the apical portion of the root, that is more permeable, is covered by cellular cementum [
5
]. The periodontal ligament anchors the tooth to the alveolar bone, which is the bone in which teeth are encased. The outside wall of the alveolar bone is compact bone; the trabecular bone is inside and contains bone marrow. The number and the size of the trabeculae in this bone are determined by the function activity of the organ.
Dental pulp is the soft connective tissue of the tooth. It is located in its central cavity and is surrounded by the hard structures of enamel, dentin and cement. The dental pulp contains four layers. The external layer (
odontoblast layer
) is made up of odontoblasts producing dentin; the second layer (
cell-free zone
) is poor in cells and rich in collagen fibers; the third layer (
cell-rich zone
) contains fibroblasts and undifferentiated mesenchymal cells. From this layer, undifferentiated cells migrate to various districts where they can differentiate under different stimuli and make new differentiated cells and tissues. The innermost layer (
core of the pulp)
comprises blood vessels and nerves that enter the tooth mostly through the apical foramen. Other cells in the pulp include fibrocytes, macrophages, and lymphocytes [
6
].
Dental Stem Cells (DSCs)
Unlike other tissues such as bone, which have the ability to repair and remodel throughout life, human teeth have a very limited capacity to regenerate upon injury or disease [
7
]. Of all the dental components, the acellular enamel is incapable of regenerating its original structure, whereas the remaining dental tissues possess that capacity in varying degrees, dependent on multiple factors [
8
]. Stem cells have been opening a promising future in regenerative medicine because of their two remarkable features known as self-renewal and multilineage differentiation. Stem cells reside in a dynamic and specialized microenvironment denoted to as niche, which is composed of heterogeneous cell types, extracellular matrix (ECM), and soluble factors [
9
]. The niche regulates stem cells behavior, by maintaining a balance between quiescence, self-renewal, and differentiation [
10
]. Based on their origin, stem cells can be generally classified in Embryonic Stem Cells (ESCs) , which differentiate into all cell types found in the human body, and Adult Stem Cells (ASCs) , whose differentiation potential is restricted to certain cell lineages. ASCs have been identified in almost every adult tissues from both epithelial and mesenchymal origin, including skin [
11
], bone marrow [
12
], adipose tissue [
13
], peripheral blood [
14
], cartilage [
15
], intestine [
16
], and periosteum [
17
]. For this reason, ASCs are also referred to as postnatal stem cells. ASCs are more applicable than ESCs in stem cell-mediated therapies and regenerative medicine because these cells lack ethical concerns. In addition, they have low immunogenicity and less tumorigenic potency than their embryonic counterparts, being promising candidates for regenerative therapies [
18
].
Several populations of ASCs have been identified also in various dental tissues, and they are collectively referred to as Dental Stem Cells (DSCs) [
19
]. DSCs are considered a promising source of ASCs since they are easily accessible by tooth extraction with a local anesthetic or when a primary tooth is replaced. More interestingly, DSCs can also be harvested from inflamed or diseased dental tissues, and their properties are similar to those of DSCs obtained from healthy tissues [
20
–
22
]. Therefore, it is believed that DSCs could retain, at least to some extent, the stem cell properties and tissue regeneration potential, making them an important tool for future developments in regenerative medicine. Another advantage of teeth as a source of stem cells is that, due to their ectomesenchymal origins, DSCs may display characteristics of both mesoderm and ectoderm [
23
]. This fact is very important because the association of mesenchymal (that will form odontoblasts, cementoblasts, osteoblasts, and fibroblasts) and epithelial (that will form ameloblasts) stem cells it is necessary for regenerating or building a new tooth.
Classification and Properties of DSCs
To date, seven different human dental stem/progenitor cells have been isolated and characterized: Dental Pulp Stem Cells (DPSCs) [
7
]; Stem cells from Human Exfoliated Deciduous teeth (SHED) [
24
]; Periodontal Ligament Stem Cells (PDLSCs) [
25
]; Dental Follicle Progenitor Cells (DFPCs) [
26
]; and Stem Cells from Apical Papilla (SCAP) [
27
]. DPSCs, SHED, and SCAP are generally referred to as dental pulp-related stem cells, PDLSCs and DFPCs as periodontium-related stem cells [
28
]. Other dental-related stem cells have been identified later. These are Gingival Mesenchymal Stem Cells (GMSCs) [
29
], and human Natal Dental Pulp Stem Cells (NDP-SCs) [
30
].
In this section, each type of DSCs will be described following the chronological order of their discovery (Fig.
2
). Different biological aspects of DSCs will be discussed, starting from their first identification, the anatomical localization in the tooth (Fig.
3
), the methods for their isolation, the peculiar expression of surface markers, and the differentiation potential in vitro and in vivo. The main biological properties of DSCs are summarized in Table
1
.

Fig. 2
Timeline in the history of identification of the different DSCs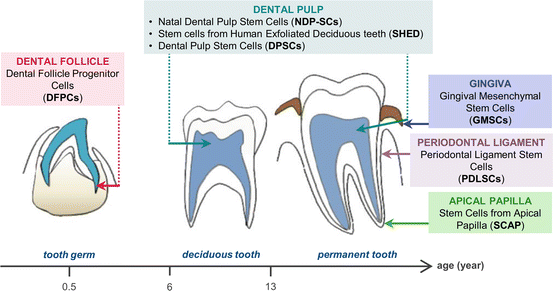 Fig. 3
Tooth developmental stages showing the anatomical localization of the different DSCs. (Reproduced from [
31
])
Table 1
Properties of DSCs
Type of DSCs

Location

Cell surface markers

Differentiation potential

References

Positive

Negative

In vitro

In vivo

DPSCs

Dental pulp of permanent tooth

CD9, CD10, CD13, CD29, CD44, CD59, CD73, CD90, CD105, CD106, CD146, CD166, STRO-1, Nanog, Oct-4, Sox-2

CD14, CD34, CD45, HLA-DR

Odontogenic

Osteogenic

Neurogenic

Adipogenic

Myogenic

Chondrogenic

Dentin/pulp-like complex

SHED

Dental pulp of deciduous tooth

CD13, CD29, CD44, CD73, CD90, CD105, CD106, CD146, CD166, STRO-1, Nanog, Oct-4, SSEA-3, SSEA-4, TRA-1-60, TRA-1-81

CD14, CD34, CD45, HLA-DR

Odontogenic

Osteogenic

Neurogenic

Adipogenic

Myogenic

Chondrogenic

Dentin formation

New bone formation by recruiting host murine cells

PDLSCs

Periodontal ligament

CD9, CD10, CD13, CD26, CD29, CD44, CD59, CD73, CD90, CD105, CD106, CD146, CD166, STRO-1, Nanog, Oct-4, Sox-2, Rex-1, SSEA-1, SSEA-3, SSEA-4, TRA-1-60, TRA-1-81

CD14, CD34, CD45, HLA-DR

Osteogenic

Cementogenic

Adipogenic

Chondrogenic

Insulin-producing cells

Cementum/periodontal ligament structure

DFPCs

Dental follicle of developing tooth

CD9, CD10, CD13, CD29, CD44, CD53, CD59, CD73, CD90, CD105, CD106, CD146, CD166, STRO-1, Nanog, Oct-4

CD34, CD45, CD117, HLA-DR

Osteogenic

Adipogenic

Neurogenic

Chondrogenic

Mineralized tissue structure

SCAP

Apical papilla of developing tooth

CD13, CD24, CD29, CD44, CD73, CD90, CD105, CD106, CD146, CD166, STRO-1, Nanog, Oct-4

CD18, CD34, CD45, CD150

Odontogenic

Osteogenic

Adipogenic

Chondrogenic

Neurogenic

Dentin/pulp-like complex

GMSCs

Gingiva

CD13, CD29, CD44, CD73, CD90, CD105, CD146, STRO-1, Oct-4, SSEA-4

CD14, CD34, CD45, HLA-DR

Osteogenic

Adipogenic

Chondrogenic

Neurogenic

Endothelial

Connective-like tissue

NDP-SCs

Dental pulp of newborn

CD13, CD29, CD44, CD73, CD90, CD146, CD166, Nanog, Oct-4, Sox-2, Rex-1, FoxD3

CD14, CD34, CD45, HLA-DR

Osteogenic

Adipogenic

Chondrogenic

Myogenic

Neurogenic
Dental Pulp Stem Cells (DPSCs)
DPSCs Identification, Isolation, and Characterization
Differentiation Potential of DPSCs
DPSCs are considered similar to MSCs not only because they share a fibroblastic morphology with selective adherence to solid surfaces and good proliferative potential, but also for their ability to differentiate into multiple cell lineages in vitro. After their original characterization, DPSCs have been differentiated into odontogenic, osteogenic, neurogenic, adipogenic, myogenic, and chondrogenic tissues.
Stem cells from Human Exfoliated Deciduous teeth (SHED)
SHED Identification, Isolation, and Characterization
Deciduous teeth is the formal name for what most people call
baby teeth
or, more colloquially,
milk teeth
. Children normally develop a set of 20 deciduous teeth, which appear after 6 months of life and generally are replaced, one tooth at a time, between age 6 and 13. The remaining crown of exfoliated deciduous teeth contains a living pulp remnant comprised of a normal dental pulp including connective tissue, blood vessels, and odontoblasts. Miura and colleagues were the first to identify in 2003 SHED from the remnant pulp in the crown of deciduous incisors of 7–8 years old children [
24
]. They isolated these clonogenic, proliferative cells using a technique very similar to the one Gronthos and co-workers used to isolate DPSCs [
7
]. When cultured under a neuronal differentiation medium, SHED formed sphere-like clusters in which highly proliferative cells aggregated together in clusters that either adhered to the culture dish or floated freely in the culture medium [
24
]. The dissociation of these sphere-like clusters allowed cells to grow as individual fibroblastic cells. This phenomenon suggested a high proliferative capacity analogous to that of neural stem cells. In effect, SHED are characterized by a higher proliferation rate and increased cell population doublings, which are faster than those of Bone Marrow MSCs (BM-MSCs) [
24
].
SHED can be isolated using the same procedures described for DPSCs. These stem cells offer attractive advantages over other postnatal DSCs, as they are derived from a source which is non-invasive, readily accessible, naturally being disposed, and with very limited ethical or legal concerns [
71
]. Bakopoulou and colleagues compared the morphology, growth, immunophenotype, and in vitro osteo/odontogenic differentiation characteristics of SHED obtained using the two isolation methods of ED and OG [
67
]. They found that the enzymatically digested cells displayed a significant heterogeneity comprising different cell sizes and morphologies even within the same colonies; on the contrary, SHED isolated with the OG method showed a uniform fibroblast-like morphology. The two types of cultures showed differences also in the immunophenotypic profiles and in the mineralization rate, which was lower in SHED obtained with the OG method compared to the digested SHED. Despite these observations, no differences could be detected in the growth rates of SHED isolated using the two methods.
Similarly to DPSCs, SHED express the two early MSCs surface markers STRO-1 and CD146. Cells positive to STRO-1 and CD146 were found to be located around blood vessels of the remnant pulp, implying that SHED may originate from a perivascular microenvironment [
24
]. SHED have also been identified as Immature Dental Pulp Stem Cells (IDPSCs) by Kerkis and co-workers [
40
]. Besides confirming the findings reported above, the authors established that IDPSCs express the ESCs markers Oct-4, Nanog, stage specific embryonic antigens (SSEA-3, SSEA-4), and tumorigenic recognition antigens (TRA-1-60, TRA-1-81). Further characterization revealed that SHED were uniformly positive for CD13, CD29, CD44, CD73, CD90, CD105, and CD166; and negative for CD14, CD34, CD45, and HLA-DR [
41
]. SHED were also found positive to several neural and glial markers, such as nestin, βIII-tubulin, glutamic acid decarboxylase (GAD), neuronal nuclei (NeuN), glial fibrillary acidic protein (GFAP), neurofilament M (NFM), and 2′,3′-cyclic nucleotide-3′-phosphodiesterase (CNPase), possibly due to the neural-crest cell origin of dental pulp [
72
].
Differentiation Potential of SHED
All these observations suggest that deciduous teeth could represent an ideal source of stem cells for repairing damaged tooth structures, inducing bone regeneration, and possibly treating neurodegenerative diseases.
Periodontal Ligament Stem Cells (PDLSCs)
PDLSCs Identification, Isolation, and Characterization
Differentiation Potential of PDLSCs
PDLSCs were shown to be multipotent, having the ability to differentiate into osteoblasts, cementoblast-like cells, adipocytes, chondrocytes, and collagen-forming cells [
25
].
The osteogenic potential of PDLSCs was demonstrated through their ability to form a mineralized matrix containing calcium deposits after 14 days of exposure to osteogenic differentiation medium [
47
]. However, unlike BM-MSCs and DPSCs, these deposits were sparsely distributed in the culture. Under osteogenic induction medium, PDLSCs showed increased protein expression of the osteoblastic/cementoblastic markers ALP, BSP, OCN, and TGFβ receptor I. Despite the expression of these osteogenic/cementoblastic markers in vitro, PDLSCs were unable to form dentin or bone in vivo [
25
]. Nevertheless, PDLSCs loaded onto a HA/TCP-scaffold could give rise to a cementum/periodontal ligament structure when transplanted into immunocompromised mice and rats [
25
]. In particular, a thin layer of cementum-like tissue was formed along with condensed collagen fibers with sparse cells resembling periodontal ligament structure. In 2012, Song and co-workers compared stem cells derived from the periodontal ligament of permanent teeth (pPDLSCs) to those obtained from deciduous teeth (dPDLSCs) [
79
]. There were no significant differences in the proliferation rate, expression of stem cell markers, or in vitro differentiation between the two cell populations. Nevertheless, pPDLSCs generated more cementum/periodontal ligament-like structures in vivo than dPDLSCs , becoming better candidates for use in periodontium regeneration. In a recent work of Park and colleagues, PDLSCs from human healthy and inflamed periodontal ligament tissues were isolated and compared for their regenerative potential [
22
]. The proliferative potential did not differ between the two cell populations, and both of them were successfully able to differentiate under osteogenic/cementogenic and adipogenic culture conditions. Both cell types exhibited new cementum-like tissue and related periodontal ligament fiber regeneration after in vivo transplantation.