(1)
Canberra, ACT, Australia
Summary
Rubber dam is recommended for all nonsurgical endodontic procedures. The literature suggests that rubber dam is not routine practice for many dentists, and many unfounded reasons have been cited.
Clinical Relevance
Rubber dam is essential not only for providing an aseptic technique, which is the premise of root canal treatment, but also from a safety and medicolegal perspective. Failure to use rubber dam has been shown to indirectly affect outcome by choice of irrigant used. Numerous case reports have been described in the literature demonstrating ingestion or inhalation of instruments when dam has not been used. From a medicolegal standpoint when root canal treatment is undertaken and mishap occurs, the case is indefensible when rubber dam has not been used as a preventive measure. If rubber dam cannot be placed or tolerated by the patient, then perhaps other alternative treatments should be provided.
14.1

Overview of Rubber Dam Usage in Endodontics
14.2

Rubber Dam Armamentarium

Rubber dam

Various rubber dams are available in pre-cut squares of various colours (green, black and purple) and thickness (such as light, medium, heavy and extra heavy). Thin rubber dam (light) is much easier to apply but is more subject to tearing. Conversely thicker dam (heavier) is more difficult to pass through interproximal contacts but more resistant to tearing. The rubber dam should be stored in a cool dry environment to retain its elasticity, preventing the possibility of tearing when stretched.

Rubber dam clamps

The rubber dam clamp helps anchor the rubber dam to the tooth. Numerous rubber dam clamps are available depending on the manufacturer. Essentially clamps can be classified as either winged or wingless, consisting of a set of jaws (serrated or non-serrated) connected to a bow. Clamps come in various sizes and are selected according to tooth selection (anterior, canine/premolar and molar), operator preference and application technique to be employed (clamp first, bow first or anterior tooth). The selected clamp should have a four-point contact on the tooth, avoiding the gingivae if possible, thereby minimising trauma (Figs.

14.2

and

14.3

).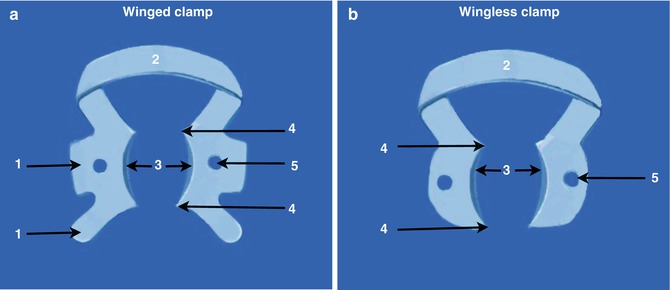 Fig. 14.2
Diagrams representing anatomy of a (
a
) winged and (
b
) wingless rubber dam clamp. Note (
1
) clasp arm consisting of lingual and buccal wings, (
2
) distal bow, (
3
) jaws, (
4
) contact points and (
5
) perforation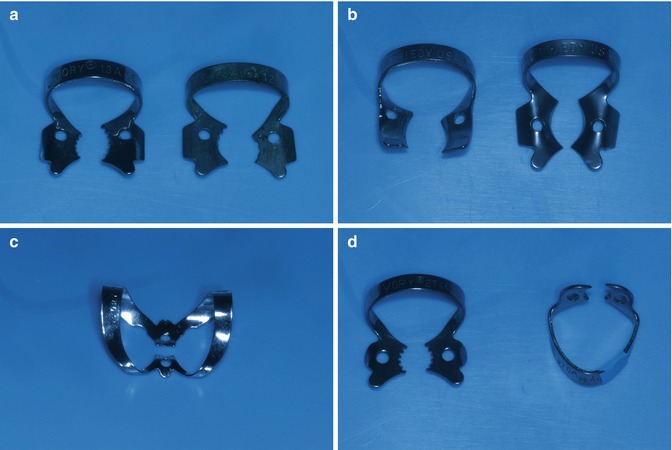 Fig. 14.3
Clinical photographs showing various clamps used for (
a
,
b
) the posterior teeth, (
c
) anterior teeth and (
d
) premolars and canines
Rubber dam napkin