(1)
Canberra, ACT, Australia
Summary
Severe odontogenic infections in endodontics can be a serious potentially life-threatening illness that can, on many occasions, respond favourably to appropriate management. Delayed or inappropriate treatment may result in sepsis or airway embarrassment requiring a surgical airway (tracheostomy), inotropic support and close monitoring, on an intensive care unit. The anatomical basis of the spread of these infections and techniques relevant to their management will be discussed.
Clinical Relevance
Endodontic infections arising locally from an infected tooth can potentially spread along the route of least resistance along fascial planes extensively and are rapidly potentially becoming fatal. Prompt pharmacological and surgical interventions including incision and drainage procedures are discussed in an attempt to control the spread of infection. The general dentist should be aware of the potential sites of spread based on anatomy and the relevant rationale for management including referral to hospital when indicated.
6.1

Overview of Infections of Endodontic Origin and Management Thereof
6.2

Facial and Neck Space Infections

Most odontogenic infections are a sequel to pulp necrosis resulting in an inflammatory process at the peri-apex of the tooth. If left untreated, the inflammatory process can result in either facial cellulitis (defined as an acute and oedematous spread of an inflammatory process through the facial planes of the soft tissues) or an abscess (collection of pus).

Established pus may form a fistulous pathway eroding through the cancellous alveolar bone, perforating the cortical plate and periosteum and spreading into the surrounding soft tissues eventually discharging into the mouth with suppuration. The spread of odontogenic infections is dictated primarily by the thickness of overlying bone and location of the infected tooth in relation to muscle attachments as well as host defences taking the least path of resistance. Infections of endodontic origin often present as intra-oral pustules or rarely extra-oral, small, elevated, circumscribed, suppuration-containing lesions of either the skin or oral mucosa. Placing a gutta-percha cone into the overlying fistula tract and taking an intra-oral radiograph will often establish the source of the established pathway confirming the diagnosis (Fig.

6.2

).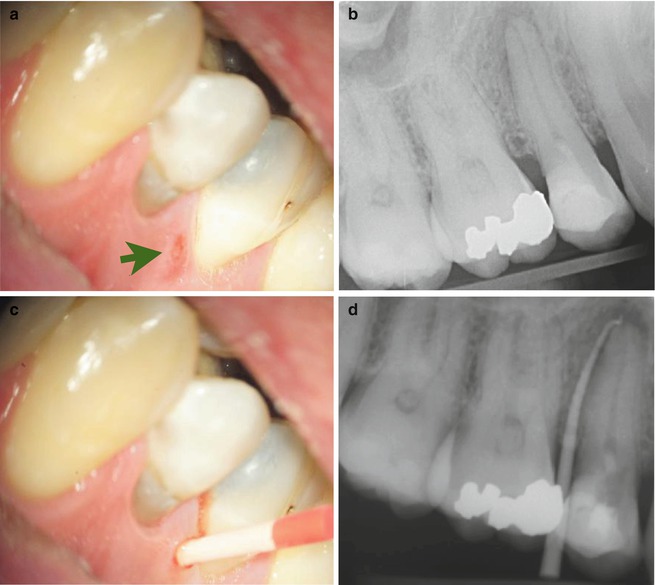 Fig. 6.2
Clinical photographs and radiographs demonstrating (
a
) draining cutaneous fistula in relation to tooth 15 (
green arrow
), (
b
) preoperative film demonstrating peri-apical lesion in relation to 15, (
c
) gutta-percha placed in sinus tract and (
d
) gutta-percha sinus tracing radiograph confirming tooth 15 is responsible for draining sinus
Cellulitis of the face and neck will result in pain, tenderness and redness and diffuse oedema of the soft tissue spaces causing a large firm swelling with accompanying pyrexia, regional lymph node enlargement and possible spasm of adjacent muscles and trismus. Infections will spread either locally along fascial spaces or by lymphatics to regional lymph nodes and rarely by the bloodstream (haematogenous) leading to thrombophlebitis, bacteraemia or septicaemia. The fascial spaces most commonly affected include the sublingual, submandibular, pterygomandibular and buccal spaces. Others such as the temporal, masseteric, parotid, lateral pharyngeal and retropharyngeal spaces are less frequently involved (Figs.
6.3
and
6.4
).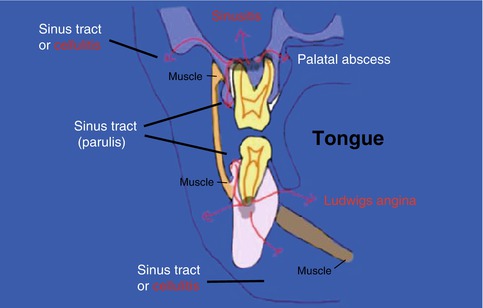 Fig. 6.3
Diagrammatic representation of possible pathways of infection arising from maxillary and mandibular molars. The most common and least dangerous path is for the infection to tract through the gingivae or mucosa (sinus tract)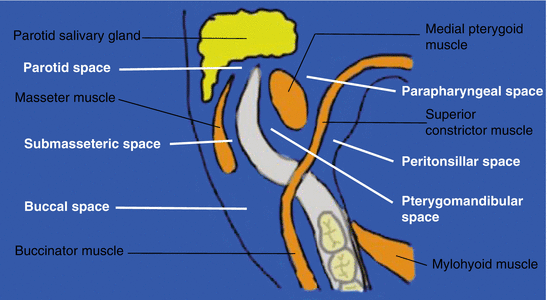 Fig. 6.4
Diagram highlighting the potential tissue spaces around the posterior mandible