(1)
Canberra, ACT, Australia
Summary
Successful tooth movement requires a sound knowledge base of the interrelationships between the tooth and periodontium. Prior insults to the tooth and its supporting structures may affect its response and the outcome of treatment. The need for a thorough history, examination and baseline measurements is essential for the medical record, treatment planning and informed consent process. The interrelationships between dental specialities and timely intervention are paramount to achieving a successful outcome.
Clinical Relevance
Orthodontic movement of the teeth will induce some degree of pulpal inflammation. Poorly controlled heavy forces on the teeth, previous history of trauma or ongoing insults such as caries may result in loss of pulp vitality. Combined endodontic–orthodontic treatment planning can benefit the overall tooth prognosis by ensuring optimal endodontic treatment has been undertaken. Endodontically treated teeth can be moved orthodontically just as readily as vital teeth. Traumatised teeth and in particular intrusive luxation injuries may be at greater risk of moderate to severe root resorption. The general dentist, endodontist and orthodontic professional need to ensure from history taking to execution of treatment that sound methodological principles are followed to fulfil treatment objectives ensuring a successful outcome.
17.1

Orthodontic Tooth Movement and Vital Teeth

Orthodontic forces will evoke a biological response within the dental pulp, resulting in some degree of transient pulpal inflammation [

1

]. What is of clinical significance is whether the response evoked could lead to long-term changes to the vitality of the tooth. The survival of the dental pulp is dependent on the blood vessels that access the interior of the tooth through the apical foramen. Any changes in pulpal blood flow or vascular tissue may have implications to the health of the dental pulp. Use of light forces is thought to reduce damage to the pulp and allow time for repair [

2

]. In contrast, rapid orthodontic tooth movement and heavy continuous forces are thought to increase the risk of pulpal injury, as undermining resorption allows increasingly large increments of change, leading to alterations in the blood vessels at the peri-apex of the tooth and those entering the tooth apically [

3

].

Human studies have demonstrated pulp necrosis after various tooth movements such as intrusion [

4

] and extrusion [

5

] due to circulatory disturbances in dental pulp. It is generally assumed that pulpal changes and their consequences appear to be more severe with larger orthodontic forces [

6

], but sound scientific data to support this assumption are lacking. One study found a higher prevalence of loss of pulp vitality and root resorption on previously traumatised teeth undergoing tipping orthodontic movements; however, the sample size was small and heterogenous [

7

]. With the available evidence, it is not possible to conclude that orthodontic tooth movement of traumatised teeth increases the risk of pulp necrosis. A systematic review was performed to investigate the relationship between orthodontic force level and pulp reaction in human teeth [

8

]. This relationship, which would seem to be of utmost clinical importance, remains yet to be elucidated.
17.2

Orthodontic Tooth Movement of Endodontically Treated Teeth

A retrospective study examining 45 orthodontic patient records treated with various orthodontic techniques found those teeth that have undergone root canal treatment, including 4 teeth that had undergone peri-radicular surgery, moved as readily as teeth with vital pulps [

9

]. This presumes that there are no factors that may prevent tooth movement, such as replacement resorption (ankylosis) or injury to the apical periodontal ligament that may limit its remodelling [

10

].

There are mixed reports of root resorption in endodontically treated teeth subjected to orthodontic tooth movement. Some authors have found increased rates [

9

] and others have found reduced rates of root resorption [

11

]. A recent retrospective study, where the adjacent maxillary incisor acted as a control, found no statistical difference between the vital control tooth compared to the root-treated tooth [

12

].
17.3

Factors Affecting Root Resorption During Orthodontic Tooth Movement
17.4

Management of Endodontic Procedures During Orthodontic Treatment

Endodontic procedures needed during orthodontic treatment may prove a challenge from diagnosis to execution of the definitive obturation. Presenting symptoms may be attributable to tooth movement or due to a necrotic pulp. Orthodontic bands and attachments may obscure detection of caries clinically and radiographically as well as prevent an accurate response with electrical and thermal pulp testers. Radiographically changes in response to tooth movement may be misinterpreted as originating from pulpal demise. Coronal access may be hindered in cases with lingual attachments, an increasingly popular appliance with an increasing adult demographic. Apical resorption may hinder working length determination due to destruction of the apical constriction at the cemento-dentinal junction. Electronic apex locators will not be accurate in such cases. Obturation filling material may also extend beyond the tooth where the apical constriction has been lost.
17.5

Orthodontics and Its Role in Trauma

In the event of trauma, management will vary depending on the type of traumatic injury and the stage of root development of the affected tooth.

In conclusion, orthodontic repositioning is useful in the immediate management of traumatically displaced teeth. Orthodontic tooth movement is possible on previously traumatised teeth. Certain injuries such as intrusive luxation and avulsion may be at higher risk of negative sequelae, such as inflammatory root resorption and ankylosis. Good clinical and radiographic records are essential to obtain informed consent as well as a lengthy discussion with the patient and family regarding the possible outcomes.
17.6

Effect of Orthognathic Surgery on Pulp Vitality

Orthognathic surgery is used to alter the underlying skeletal pattern in individuals with dento-facial deformity or malocclusions resulting from trauma to the maxillo-mandibular complex. An adequate blood supply to mobilised dento-osseous segments is crucial for the success of any orthognathic intervention. Furthermore, this blood supply is vital for the preservation of a healthy pulp and periodontium [

61

–

63

].

The laser Doppler flowmeter (LDF) has been used to evaluate changes in blood flow through non-invasive measurement methods and to investigate vascular changes associated with orthognathic surgery [

64

,

65

]. The Le Fort I osteotomy technique is frequently employed for altering the maxillary spatial position. During this procedure, the posterior superior alveolar vessels are transected with the palatal pedicle then becoming the primary source of blood supply to the maxilla [

61

,

63

]. Studies have suggested that ischaemic episodes in mobilised maxillary segments may occur for a brief period after surgery. This ischaemic period is thought to be responsible for potential negative sequelae, such as degenerative pulpal changes [

66

]. A bilateral, sagittal split osteotomy does not interfere with the collateral blood supply and risk of severing the inferior alveolar artery is small. Consequently, pulpal changes may be less likely in mandibular osteotomies compared to maxillary procedures [

62

].

Human studies using LDF have demonstrated a pulpal hypervascular period occurring immediately after a Le Fort I osteotomy. This is then followed by a statistically significant reduction in the perfusion of the pulp, which has still not recovered 4–6 months after surgery. However, a high variability of individual blood flow patterns was found [

67

,

68

]. Literature looking at segmental osteotomies has found similar findings [

69

].

A hypervascular episode may be of significance to the dental pulp because of its enclosure in a rigid shell of hard tissues, leading to a possible increase in tissue pressure and ultimately pulpal injury or death. During the informed consent process, it may be beneficial to inform patients planned for a Le Fort I osteotomy that there may be a small risk of loss of vitality and discolouration of the maxillary incisor teeth resulting in a need for root canal therapy.
17.7

Orthodontics to Aid Restorative Procedures

Orthodontic extrusion or forced eruption of a tooth is based on sound orthodontic and osteophysiologic principles [

70

,

71

]. Ingber demonstrated that the teeth could be erupted for crown lengthening, altering gingival margins and levelling osseous defects. As teeth are extruded using light forces, both the bone and gingiva migrate coronally [

72

,

73

]. Eruptive tooth movements result in stretching of the gingival and periodontal ligament fibres with a consequent coronal shift of the bone at the base of the defect as the tooth moves occlusally [

74

,

75

].

Teeth with deep carious margins requiring endodontic treatment, fractured tooth margins below crestal bone, isolated vertical periodontal defects, lateral root perforation and unusual coronal access are some situations that may benefit from forced eruption [

76

]. The benefits of extrusion are to allow a sound tissue margin for restoration and ensure the maintenance of the biological width. In extruding the tooth for subsequent restoration, it is important to ensure sufficient root length remains within the bone, leaving a minimum 1:1 crown–root ratio. Forced eruption is increasingly been used for implant site development in teeth with poor prognosis with associated periodontal and osseous defects, enhancing both hard and soft tissue defects [

77

–

79

]. Dento-alveolar ankylosis is a frequent complication after replantation and may not be amenable to orthodontic extrusion. Decoronation of ankylosed teeth in infra-position has been clinically proven to preserve alveolar width and rebuild lost vertical bone of the alveolar ridge in growing individuals, re-establishing ideal alveolar conditions prior to implant insertion once growth has stopped. The predictable success of decoronation also strongly supports the indication for replantation of avulsed teeth in children even when the extra-alveolar conditions indicate that healing might be compromised by ankylosis [

80

–

82

].
17.8

Clinical Cases
17.8.1

Avulsion: Immediate Replantation Adult

A 25-year-old soldier was referred for management of his class 2 division 1 occlusion. There was a history of trauma to the upper left central incisor, resulting in an uncomplicated crown fracture, which was restored. The upper right central incisor (tooth 11) was avulsed following the initial orthodontic assessment appointment during a physical training session. This tooth was stored in milk and replanted within 30 min and underwent root canal treatment 3 days later.

On examination there was a severe skeletal 2 pattern, an incompetent lip pattern, a 12-mm overjet and class 2 buccal segments.

The patient was counselled on the possibility of ankylosis of the upper right central incisor (tooth 11). The treatment plan involved combined orthodontics and orthognathic surgery to address the dental and skeletal pattern. The patient commenced pre-surgical orthodontics and tooth 11 was bypassed initially. Active tooth movement of tooth 11 was commenced 6 months after replantation following establishment of periodontal healing, similar to management of transplanted teeth [

59

]. This was in contrast to best practice which recommends a 12-month monitoring period [

36

]. The patient had no clinical symptoms, and the immediate replantation and endodontic therapy indicated a more favourable prognosis for this tooth. Good movement of tooth 11 was achieved with no associated pathology evident (Fig.

17.3

).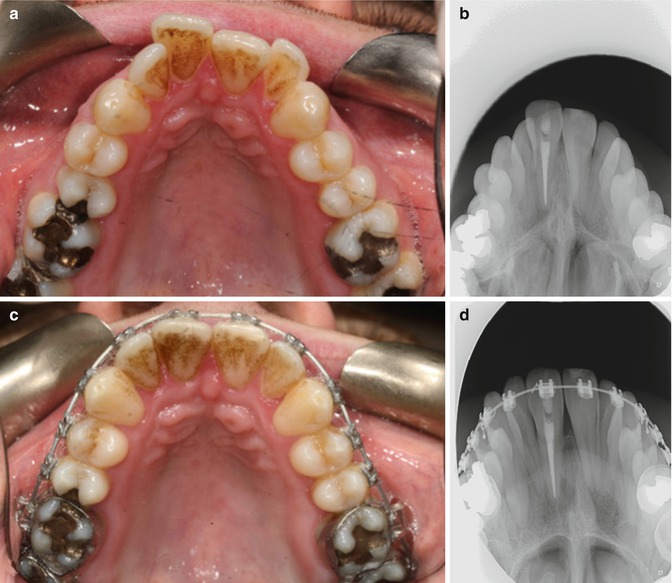 Fig. 17.3
Clinical photographs and radiographs showing (
a
) pre-treatment intra-oral view and (
b
) occlusal radiograph demonstrating no pre-existing peri-apical pathosis associated with tooth 11. (
c
,
d
) Six months post commencement of pre-surgical orthodontics
17.8.2

Avulsion: Immediate Replantation Adult

A 26-year-old naval sailor was referred for management of his class 2 division 1 occlusion. There was a history of trauma to both upper central incisors 4 years previously, resulting in avulsion of the upper left central incisor (tooth 21) and subluxation and a complicated crown fracture of the upper right central incisor (tooth 11). The avulsed tooth was stored in saliva and replanted within 60 min. Both upper central incisors underwent root canal treatment within a few days.