Fig. 15.1
(
a
) Nonretracted frontal view of patient's anterior teeth. (
b
) Retracted view showing enamel fluorosis in all teeth. (
c
) Close-up view of maxillary incisors. (
d
) Lateral close-up view of anterior teeth
Out of the six maxillary anterior teeth, only tooth #8 (FDI 1.1) would fall into TSIF score 6 as per Horowitz et al. (
1984
), and TF index score 5, as per Thylstrup and Fejerskov (
1978
). The other five maxillary anterior teeth would fall into TSIF score 7 (Horowitz et al.
1984
) and TF index score 6 (Thylstrup and Fejerskov (
1978
).
Clinical and radiographic exams did not disclose any problem with soft tissues, pulp vitality, and periodontal health. Esthetically, the shape of the anterior teeth was not harmonious. The lateral incisors looked too short while the central incisors were square shaped. A waxed-up model was prepared to reflect longer clinical crowns with a more pleasant proportion. This model was used to explain to patient how a change in the size of the clinical crowns might enhance her smile.
The following treatment plan was agreed with the patient:
1.

Direct resin-based composite veneers to mask the discolorations as an immediate solution to improve the patient's self-confidence (Fig.

15.2

). Patient was informed that the aspect of her smile would improve considerably but she might still notice a few areas of discoloration.

Fig. 15.2

Clinical aspect after direct resin-based composite was bonded to the slightly roughened enamel, using a two-step etch-and-rinse adhesive

2.

A second phase of the treatment included a gingivoplasty procedure to recontour the tissue (Fig.

15.3

) and lengthen the clinical crowns. After soft tissue healing, minimally invasive preparations for porcelain crowns were carried out, followed by thin porcelain restorations bonded to enamel to restore function and esthetics (Figs.

15.4

and

15.5

).

Fig. 15.3

Gingivoplasty to recontour the gingival tissue

Fig. 15.4

IPS e.max Press (Ivoclar Vivadent) lithium disilicate restorations as received from the dental laboratory

Fig. 15.5

(

a

) Clinical aspect immediately after bonding the ceramic restorations with a two-step etch-and-rinse adhesive (Adper Single Bond Plus, 3M ESPE) and a dual-cured resin-based luting composite material (RelyX ARC, 3M ESPE). (

b

) Patient's smile 2 days after the restorations were bonded
15.2

Dental Fluorosis Treated with At-Home Whitening and Porcelain Veneers

The major complaint of this 19-year-old female patient was related to the color of her front teeth (Figs.

15.6

,

15.7

,

15.8

,

15.9

, and

15.10

). She described major social difficulties at school because of her "unpleasant smile." She had no medical conditions and no history in her family related to alterations in the appearance of teeth. The clinical exam revealed that the periodontal condition was excellent. Radiographically, there were no structural areas of concern in the periodontal and periapical areas.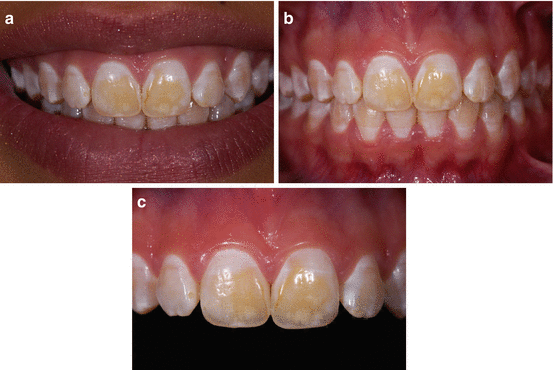 Fig. 15.6
(
a
) Nonretracted frontal view showing the wide yellowish discoloration on teeth #8 (FDI 1.1) and #9 (FDI 2.1) and white spot areas in other teeth. Some teeth display single pitted enamel areas. (
b
) Retracted view. The lower incisors also have yellowish discolorations along the perikymata. (
c
) Close-up view of the maxillary incisors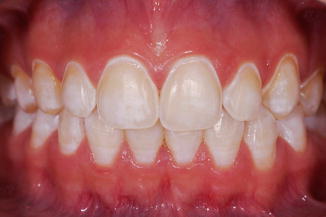 Fig. 15.7
Preparation of maxillary teeth for porcelain veneers. Patient was not anesthetized because the preparation was limited to enamel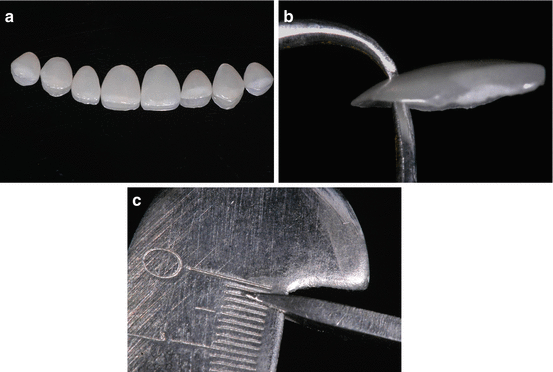 Fig. 15.8
(
a
) Porcelain veneers fabricated with IPS e.max Press (Ivoclar Vivadent) lithium disilicate. (
b
,
c
) The thickness of the veneers ranged from 0.2 mm to 0.3 mm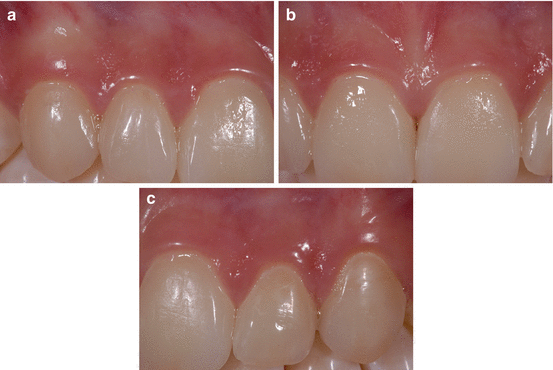 Fig. 15.9
The veneers were cemented with a two-step etch-and-rinse adhesive system (Adper Single Bond Plus, 3M ESPE) and a light-cure resin-based luting composite material (RelyX Veneer, 3M ESPE) (
a
–
c
). One week after the luting procedure, the integration of the porcelain restorations with the gingival tissue was excellent
Premium Wordpress Themes by UFO Themes
WordPress theme by UFO themes