Figure 8-1 Dental caries prevalence by age. (Data from the National Health and Nutrition Examination Survey [NHANES]: Beltran-Aguilar ED, Barker LK, Canto MT, Dye BA, Gooch BF, Griffin SO, et al.: Surveillance for dental caries, dental sealants, tooth retention, edentulism, and enamel fluorosis – United States, 1988–1994 and 1999–2002. In MMWR CDC Surveill. Volume 54. Atlanta, GA: US Department of Health and Human Services, Centers for Disease Control and Prevention; 1-44, 2005.)
Taking an oral swab and placing it in an ampule containing luciferin and luciferase (the firefly enzyme), the following reaction occurs:
Specifically unique are their ability to survive at low pH and metabolize simple sugars to form acid byproducts. During the process, extracellular polysaccharides are produced, which aid in adhesion within the plaque biofilms.
The critical pH for enamel (hydroxyapatite) is 5.3 to 5.5; for fluorapatite, it is 4.5. Carbonated beverages (e.g., Coke, Pepsi) have a pH of about 3.5.
Enamel caries is primarily an acidogenic or physiochemical progression of tooth mineral dissolution, whereas dentinal caries involves acid decalcification followed by proteolytic or enzymatic degeneration of the organic matrix.
There are two distinct layers.
Caries may be detected by a combination of techniques. The most commonly accepted criteria for identifying infected tooth structure are the following: (1) discolored, softened tooth structure; (2) frank cavitation; and (3) areas of radiolucency on radiographs. Direct visual inspection of pits and fissures, root surfaces, and interfaces of restorations and tooth with a sharp explorer and air-drying with the use of magnification are the first steps of the examination. This procedure is supplemented by evaluating properly angulated bitewing and periapical radiographs. Finally, the use of transillumination from a visible light curing wand can reveal shadowing and discoloration on occlusal and interproximal tooth surfaces.
Caries detector solutions are usually a colored dye (red, green, blue) in a propylene glycol base; they help distinguish between infected and affected dentin. The dye bonds to the denatured collagen in the infected dentin that is part of the decay process. The affected dentin, which may be slightly softer than sound dentin, is not infused with bacteria and is not stained, but still may show a dye-stained haze (pink haze with red dye). This dentin should not be removed. The caries detector solution is applied for 10 seconds and then rinsed off. Any deeply stained tooth structure is then removed. The materials also help identify cracks in tooth structure (e.g., Seek [Ultradent], Snoop [Pulpdent]).
Some current thought reflects the goal of cleaning a preparation before bonding or placing a restoration with the addition of a bactericidal agent to reduce sensitivity and bacterial growth under a restoration. It is thought that bacteria reaching the pulp may contribute to sensitivity. Current products contain benzalkonium chloride and EDTA or 2% chlorhexidine gluconate.
Acidulated fluoride (APF) solutions and topical 0.4% stannous gels (Gel-Kam, Colgate) remove the glaze from porcelain, glass ionomer, and composite restorations. It is best to use neutral pH supplements if these restorations are present. Always check the product specifications.
The medical model attempts to shift the caries balance toward no caries by using medical and behavioral components. The key elements are:
Caries may be detected by a combination of techniques. The most commonly accepted criteria for identifying infected tooth structure are the following: (1) discolored softened tooth structure; (2) frank cavitation; and (3) areas of radiolucency on radiographs. Direct visual inspection of pits and fissures, root surfaces, and interfaces of restorations and tooth, along with additional tactile information from a sharp explorer and air-drying with the use of magnification, are the first steps of examination. This procedure is supplemented by evaluating properly angulated radiographs. Finally, laser fluorescence and fiberoptic devices can be used in diagnosing carious lesions.
Patients who exhibit high caries incidence, root caries, or cervical caries and who might fit into one or more of the following groups:
Attrition is the physiologic wear of tooth structure resulting from normal tooth to tooth contact over time.
Erosion is the loss of tooth structure by a chemical process that does not involve bacterial action. It is generally caused by the consumption of foods that contain phosphoric or citric acid, such as fruits, fruit juices, and carbonated or acidic beverages. Excessive exposure to gastric acids because of vomiting is also a contributing factor.
The classic cavity preparations, according to Black's principles, are generally not needed for contemporary bonded retained composite and amalgam restorations. Dovetails, retention grooves, and extension into uninvolved occlusal grooves are generally not needed. Maximizing tooth structure dominates design, with sealants replacing groove extensions.
The Black approach to operative dentistry tends toward the destruction of healthy tooth structure to remove smaller amounts of unhealthy tooth structure (extension for prevention). The concept of microdentistry seeks to diagnose unsound tooth structure that is a threat to the tooth and remove that threat, with minimal encroachment on the surrounding healthy tooth structure.
A fissurotomy involves the conservative preparation of occlusal pits and fissures using air abrasion or special burs designed for this purpose; the fissurotomy kit (Ivoclar Vivadent) is one example. This procedure is used to treat pits and fissures with incipient decay. Preparations are typically narrow, long, and irregularly deep, so they are often restored with flowable composites. Hybrid composites, although stronger and more wear-resistant than flowables, may be clinically more difficult to place into such preparations without the incorporation of voids.
It is often difficult to determine caries activity in pits and fissures, particularly with conventional means. Concerns arise about the placement of sealants over undiagnosed caries. Questionable occlusal grooves covered with a sealant, particularly in fluoridated communities, may mask more extensive subsurface caries activity. The fissurotomy offers better access and is a conservative technique for maximizing the retention of healthy tooth structure while ensuring certain removal of all decay.
The tunnel preparation is a conservative approach to restoring class II caries in teeth with relatively small interproximal lesions. It conserves the proximal marginal enamel by using only occlusal, buccal, or lingual access and then angulating mesially or distally until the external tooth enamel is perforated. Usually, application of a matrix band beforehand protects the adjacent tooth wall. The tooth cavity is then packed from the access dimension.
Any narrow access to reach interproximal caries can be called a slot preparation. The access may be buccal or lingual, as in a class III lesion, or from the occlusal aspect. The ideal is to conserve tooth structure by removing only caries and a minimal amount of tooth structure.
Air abrasion is based on kinetic energy. Abrasive particles, typically 27- to 50-μm aluminum oxide, are propelled at high velocity to remove tooth structure. By varying the speed of the particles, the length of time to remove tooth structure and often the level of sensitivity can be controlled.
Depending on the type of unit and manufacturer, the propellant can range from compressed air or nitrogen to operatory-compressed air lines or units with built-in air compressors.
All classes of cavity preparation may be performed with air abrasion. Some operators may use a high-speed hand piece to gain initial access to deep grooves, pits, marginal ridges, and hard-to-reach areas. Although air abrasion units have the ability to remove dental amalgam, some questions remain about the amount of mercury released by air abrasion versus removal with conventional, high-speed hand pieces.
Dental Adhesives
69. What are dental adhesives?
Dental adhesives are products that allow the predictable adhesion of restorative material to dentin and enamel. They are based on using a number of agents to prepare the surface, bond to the tooth surface, and act as a substrate to which the restorative material bonds. In general, they are technique-sensitive and constantly evolving in the marketplace.
70. What are the goals of dental bonding?
•
Eliminate or minimize the contraction gap of composite polymerization.
•
Sustain thermal expansion and contraction cycles.
•
Create 20- to 30-MPa bond strengths to enamel and dentin.
•
Eliminate microleakage.
71. What are signs of microleakage?
They are stains, sensitivity and pulpal symptoms, recurrent caries, and bond failures.
72. What are the components of adhesive systems?
Most current systems are combinations of components. Some are multicomponent, depending on whether they are self-cure, light-cure, or both, whereas others have a single component. Unlike early-generation systems, all the new bonding agents are hydrophilic to allow compatibility to dentin bonding. The basic components are an acid etchant solution, hydrophilic primer, and resin.
73. What types of adhesive systems are available?
Type 1.
Etchant applied, washed off to remove smear layer; primer and adhesive resin applied separately as two solutions. Type 1 systems are all-purpose types. They generally bond to light-, dual-, and self-cured composites.
Table 8-2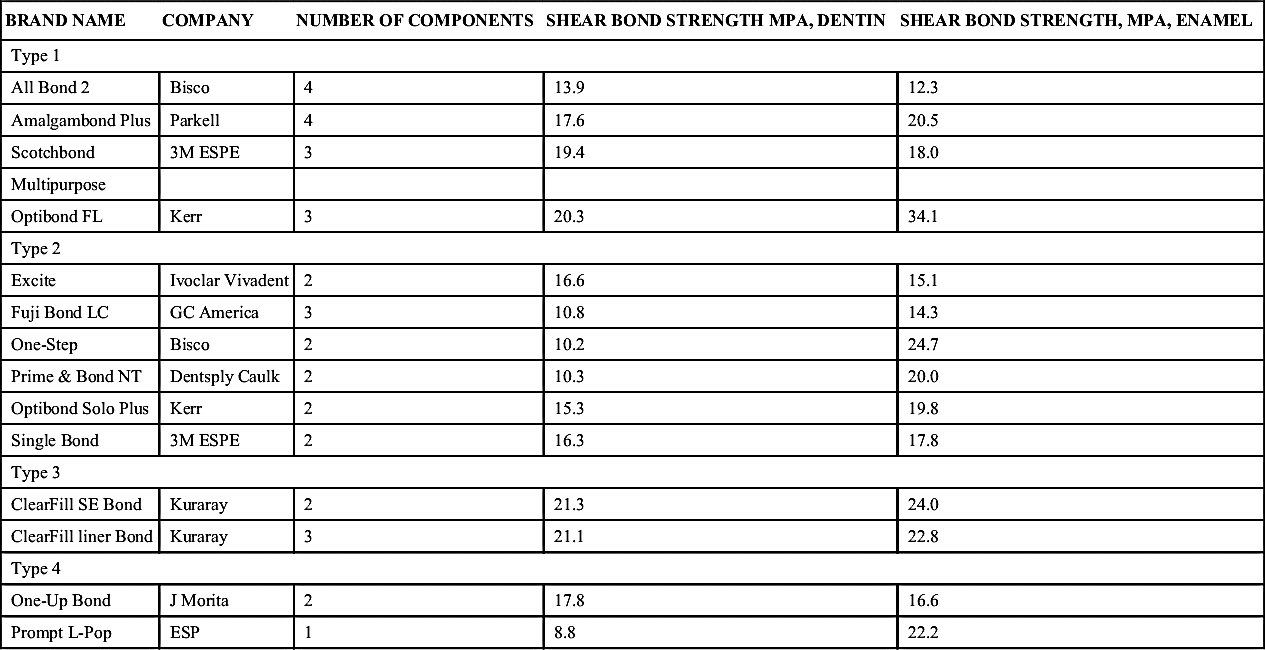 From Clinical Research Associates Newsletter, 24(11):1, 2000. A publication of CR Foundation, www.CliniciansReport.org.
Type 3.
Self-etching primer (SEP) is applied to dissolve smear layer and not washed off; adhesive is applied separately.
Type 4.
Self-etching primer and adhesive are applied as a single solution to dissolve and treat the smear layer simultaneously (
Table 8-2
).
74. What types of adhesive systems are currently used in clinical practice?
Many variables, including timing, rinsing, drying, rewetting dentin, and maintaining a controlled operative field are important in the placement of dental adhesives. Over time, manufacturers focused research efforts on the development of simplifying these systems to reduce the potential for inconsistencies in treatment by reducing the number of steps required for application. Classification systems became confusing as generational models advanced. Bonding systems that required phosphoric acid etching with rinsing were referred to as total etch whereas those that did not require the additional step were called self-etch. The sixth- and seventh-generation systems were self-etching models. In current practice, adhesives can be classified as total etch (TE) and self-etch (SE;
Table 8-3
).
75. What is the hybrid layer?
The hybrid layer is a multilayered zone of composite resin, and dentin and collagen. After removing the organic and inorganic debris of the smear layer by etching and reducing some hydroxyapatite from the intertubular dentin down to 2 to 5 μm, a plate of moist collagen
remains on the dentin floor. Priming agents penetrate this moist collagen substrate and migrate into the tubules, lateral canals, and all areas of peritubular dentin. This becomes the hybridization process as the dentin, both collagen and hydroxyapatite crystals, become totally impregnated with bonding resin. The resin further penetrates into the dentin tubules. Light curing produces a mechanically and chemically bonded surface that can polymerize to composite restoratives.
76. What is essential for successful hybrid layer formation?
Supersaturating of the dentin substrate with primer or wetting agent is essential. If the etchant time is 15 seconds, the wash should be at least as long. The water is then dispersed to leave the dentin moist. Multiple coats of priming agent are applied to achieve a glossy surface on air dispersion. Resin is then applied and cured.
77. How is enamel bonding achieved?
Bonding to enamel is micromechanical; a low-viscosity resin penetrates the microporosity created by acid etching on the enamel surface. Once the resin is cured, it strongly adheres to the enamel and forms the suitable substrate for composite bonding. Although previously done under dry conditions, contemporary adhesive systems use a wet bond to enamel. If one is bonding only to enamel, it is necessary to use only an unfilled resin without the primer application.
78. How is bonding to dentin achieved?
Dentin is largely composed of organic materials, mostly collagen and water. (Enamel is 86% mineralized, whereas dentin is 45%.) Bonding to dentin can require removal of preparation debris
(smear layer)
and demineralization of the dentin surface by acid etchant. This leaves a lattice of unsupported collagen as long as the surface stays moist. Hydrophilic primers and resins (applied in solvents of acetone or alcohol) can then penetrate this matrix, infusing a micromechanical lock similar to enamel. When cured, this resin-reinforced dentin complex forms the
hybrid layer,
and is a suitable substrate for composite bonding. With newer self-etch primer adhesives (SEPs), the etchant and primer are applied and not washed off; the smear layer remains. An adhesive is applied separately. The dentin with these latter systems is never denuded, and there may be less technique sensitivity because the process of leaving dentin to damp-dry is eliminated.
79. How long should you etch?
Etching dentin demineralizes its surface to a depth of 1 to 10 μm. If you etch too long, you may create a depth of demineralized collage that is too deep for adhesives to penetrate, thus weakening the bond or denaturing the remaining collagen. The total etch of a tooth preparation with 32% to 40% phosphoric acid gels should be a
maximum of 15 seconds,
which also works for enamel.
80. Why must the dentin surface be kept wet?
When using types 1 and 2 adhesive systems, the etching step leaves the dentin collagen lattice largely unsupported. If this layer dehydrates, it will collapse and the applied adhesives will not be able to infuse through the collage. The surface should be left moist by only the slightest application of air to eliminate puddles of water—or, even better, blotted with a sponge or gauze. Some adhesive systems rehydrate the demineralized zone, even if it is overdried.
81. What potential problem may cause an incomplete seal of dentin tubules?
Incomplete placement of the bonding reagents may result in an increase in postoperative pulpal sensitivity. There may be incomplete wetting on application of the primer agent or incomplete curing of the bonding agent. One must be sure to place incremental layers of wetting agent until a glossy appearance is observed on gentle air dispersion, and a well-calibrated curing light must be used for sufficient exposure times.
82. What factors contribute to increased pulpal sensitivity, even with proper technique?
If the dentin is dried too completely, air emboli may enter the dentin tubules and the dentin bonding layer may overseal the layer of air. There is thus a potential for mechanical masticatory stresses and a resultant sensitivity on biting on the tooth restoration unit. To avoid this problem, leave the dentin moist by gentle air dispersion; do
not
use drying. Then the hydrophilic primers will follow fluid down the tubules and fill intertubular dentin and tubules with resin.
83. How long should you apply the adhesive?
The adhesive must penetrate through the demineralized dentin to form the hybrid layer for maximal bond strength. Some systems are faster than others; thus, following the manufacturer's instructions is important. In general, after applying the adhesive, 15 to 20 seconds should be allowed for penetration. Air evaporation of the solvent (acetone or alcohol) is followed by curing (generally, visible light-cured). This should leave a shiny dentin surface. If this goal is not achieved, reapplication of the adhesive should be performed until a shiny layer appears.
84. Describe the composition of contemporary primers in adhesive systems.
Primers are bifunctional molecules. One end is hydrophobic to bind to the adhesive, and the other end is hydrophilic. The hydrophilic end permeates conditioned dentin and chases the water of the moist surface, assisted by solvents (acetone or alcohol). After this penetration, the solvents need to be evaporated by air drying. Examples of primers are HEMA (2-hydroxyethyl methacrylate), 4-META (4-methacryloyloxyethy trimellitate anhydride), and PENTA (dipentaerythritol penta-acrylate monophosphate). Generally, they do not have any light-curing capabilities.
85. Describe the bonding resin adhesive.
Bonding resins are unfilled bis-GMA (bisphenol A glycidyl methacrylate) or UDMA (urethane dimethacrylate). They may be visible light-cured (VLC), autocured, or dual-cured. The later generation of adhesive systems consolidated the primer and adhesive into premixed applications, which leads to a time savings. There has been a trend to add fillers to the adhesive bonding agents to enhance their physical properties.
86. What enhancement do fillers contribute to newer adhesive bonding resins?
•
Increase the bond strength at the hybrid layer
•
Improve stress absorption at the tooth restoration interface, enabling better retention
•
Have a lower modulus of elasticity to impart added flexibility and thus relieve contraction stress caused by polymerization shrinkage; adhesive absorbs within itself some of the contraction stress
•
Help adhesive cover the dentin in one application rather than multiple applications
87. What are the seventh-generation adhesive systems?
The latest systems combine applications of conditioning, priming, and adhesive resin all in one bottle. They are referred to as "single-component, one-step, self-etch adhesives" or "all-in-one adhesives." Examples include Clearfil S
3
Bond (Kuraray Dental), G-Bond (GC America), iBond (Heraeus Kulzer), and Xeno IV (Dentsply Caulk).
88. Can you use any adhesive with any composite?
Generally, any light-cured composite should bond to any light-cured adhesive. However, self-cured composites such as core pastes are not compatible with most single-component adhesives. Dual-component or self-cure adhesives must be used with self-cure composites.
89. Outline the adhesive procedures for bonding composites and amalgam to tooth structure.
1. For composite materials
To enamel: Clean surface with pumice, wash, etch 15 seconds, wash, air-dry, and apply unfilled VLC resin only.
To dentin and enamel: Clean surface, etch 15 seconds, wash, leave moist, use VLC adhesive components in layers before composite, and consider filled adhesives.
2. For amalgam (bonding to dentin only): Clean surface, etch 15 seconds, wash, use VLC primer to seal tubules, self-cure resin adhesive (two-component system), and pack amalgam before resin sets.
Composites
90. What are the components of composite resins?
•
Monomers: Bis-GMA, UDMA
•
Diluent monomers: TEGDMA (tetraethyleneglycol dimethacrylate), MMA (methyl methacrylate)
•
Inorganic fillers: quartz, glass, zirconium
•
Organic fillers: silica
•
Coupling agents: silane
•
Initiators: tertiary amines, camphorquinone (CMP), phenyl propanedione (PPD), benzoyl peroxide
•
Inhibitors: ether of hydroquinone
•
Ultraviolet absorbers: benzophenone
91. Describe the function of each monomer component.
Principal monomers
are high-molecular-weight compounds that can undergo free radical addition polymerization to create rigid, cross-linked polymers. The most common monomer is Bis-GMA (an aromatic dimethacrylate that is the addition product of bisphenol A and glycidal methacrylate [GMA]). An alternative monomer is urethane dimethacrylate.
Diluent monomers
are low-molecular-weight compounds used to reduce the viscosity of the unpolymerized resins to improve physical properties and handling. There are two types, monofunctional (MMA) and difunctional (ethylene glycol dimethacrylate or triethylene glycol). The latter are used most often because they form harder and stronger cross-linked composite structures because of a lower coefficient of thermal expansion. They also have less polymerization shrinkage, are less volatile, and have less water absorption.
92. What are filler particles?
Inorganic filler particles used in composite resins include quartz, glass, and colloidal silica, along with additions of lithium, barium, or strontium to enhance optical properties. These fillers are coated with a silane coupling agent (organosilane) to bond adhesively to the organic resin matrix. Silane bonds to the quartz, glass, and silica particles, whereas the organic end bonds to the resin matrix.
93. Describe the mechanism of silane coupling.
During free radical polymerization of the organic Bis-GMA, covalent bonds are formed between this polymer matrix and the silane coupling agent, commonly gamma-methacryloxypropyltrimethoxy silane. The coupling agent that coats the filler particles at the silane end thus holds the inorganic and organic phases together, which prevents further water absorption.