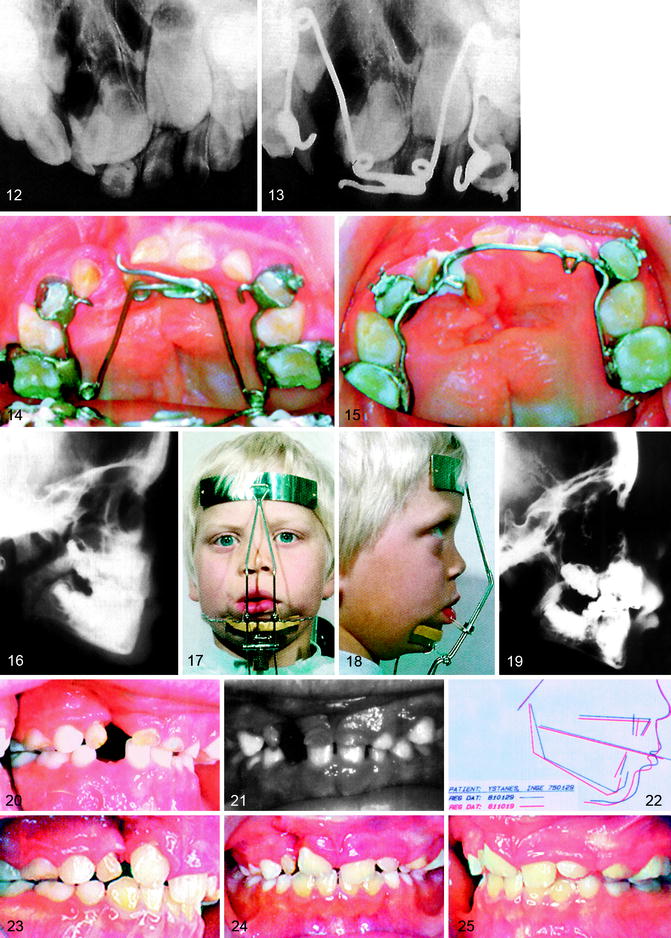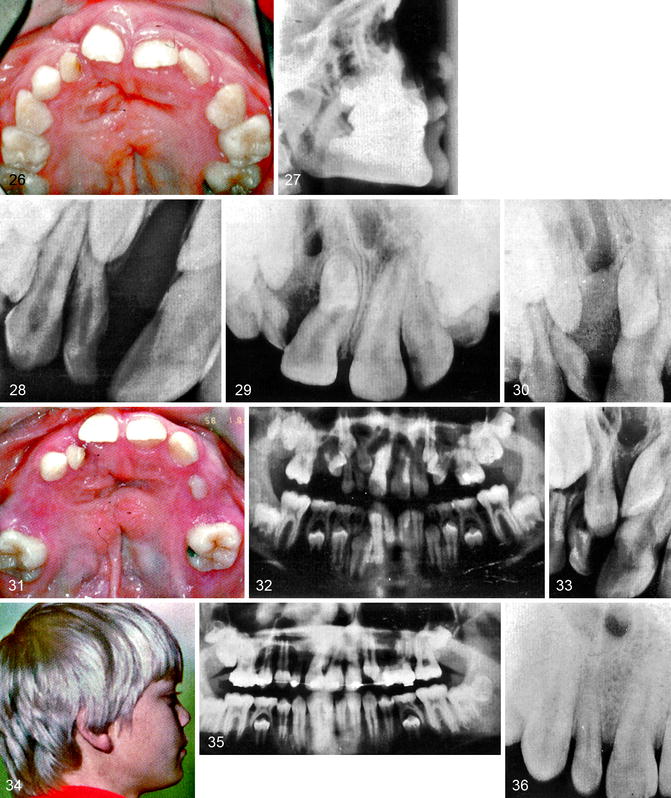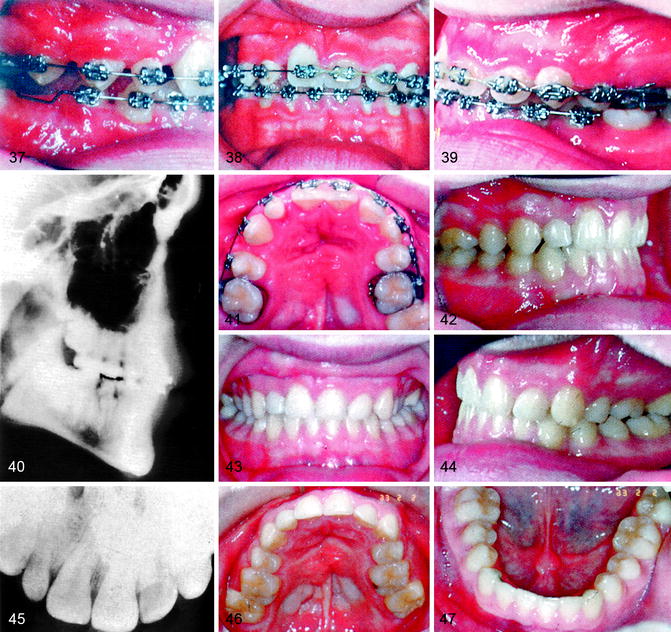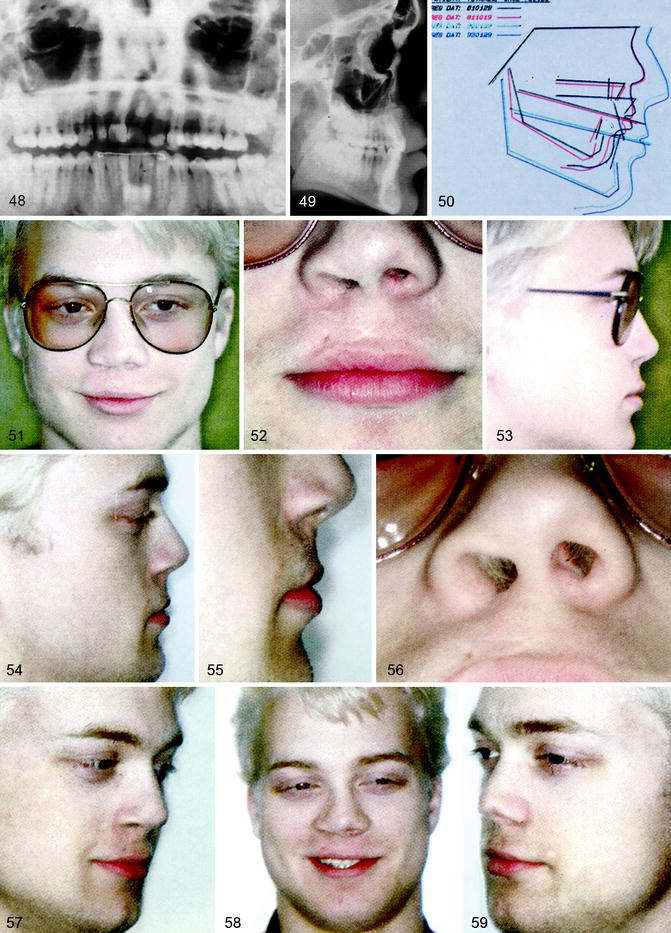 Fig. 23.1
Complete UCLP, category 2A. (1–2) At birth, January 1975; (3–4) after presurgical orthopedics; (5–6) lip closure at age 3 months; (7–12) at 6 years moderate anterior and unilateral posterior crossbites with a slight concave profile; (13–27) interceptive orthopedics from age 6 years includes transverse expansion for 3 months using a quad-helix, (14) followed by protraction for 6 months using a facial mask, (17–18) and retention using a fixed palatal archwire (15) to encourage spontaneous eruption of upper permanent incisors into normal position. A nice dental smile was achieved without early orthodontic alignment of the upper incisors (28–33). Alveolar bone grafting at 10.5 years. Two right upper lateral permanent incisors erupted into the cleft area; (34) facial profile at 12 years (35–41); conventional orthodontics at 13.5 years lasting for 18 months. The two upper second bicuspids were missing, and the supernumerary right upper lateral permanent incisor was removed; (42–48) dental occlusion at 18.5 years; (49–50) cephalometric graphic analysis at 6, after interceptive orthopedics at 15 and at 18 years; (51–53) facial appearance at 15 years; (54–59) and facial appearance at 18.5 years
Eliminate anterior crossbite

Eliminate posterior crossbite

Create optimal space to permit spontaneous ­eruption of the incisors

Improve nasal respiration

Improve tongue placement
23.3.1.3

Alignment of Maxillary Incisors

In spite of achieving optimal dental space after transverse expansion, the permanent incisors often erupt rotated and retruded, tipped, or retroclined, placing them in crossbite. After transverse expansion, alignment of the permanent incisors is easily performed, giving the child a nice dental smile equal to that of his or her classmates (Fig.

23.2

; in Fig.

23.1

, incisor alignment was not needed):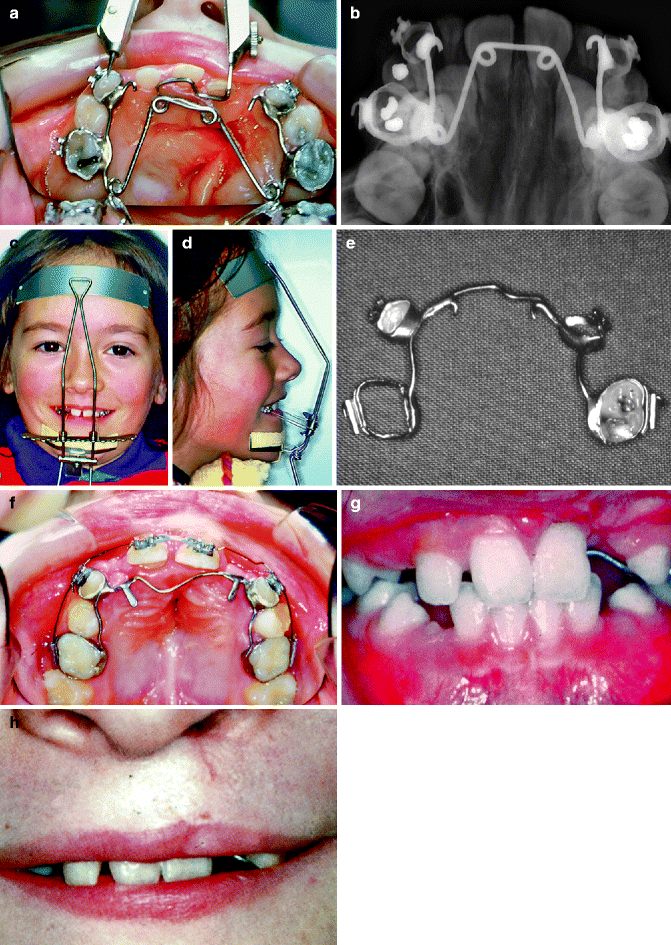 Fig. 23.2
(
a
–
h
) Interceptive orthopedics (Bergen ­rationale). (
a
,
b
) Transverse maxillary widening using a modified quad-helix appliance. (
c
,
d
) Followed by maxillary protraction with a facial mask (Delaire type). (
e
,
f
) Correction retained with a fixed palatal arch with brackets and tubes for early alignment of the upper incisors. Retention is utilized until deciduous anchor teeth are shed. (
g
,
h
) A nice dental smile as early as possible
Straightening of malpositioned incisors

Creating an optimal aesthetic incisor relationship to the facial midline
23.3.1.4

Secondary Alveolar Bone Grafting

The use of primary periosteoplasty at age 3 months was rejected after introduction of secondary bone grafting (Bergland et al.

1986

). It is usually performed between 8 and 11 years of age with the orthodontist selecting the appropriate age:
Eliminate remaining bony clefts and improve bony support of contiguous teeth

Enhance orthodontic closure of the missing incisor space in the cleft area

Stabilize of separated jaw segments

Close oronasal fistulas

Provide bony support to alar base in cases with nasal asymmetry

Eliminating mucosal recesses
23.3.1.5

Conventional Orthodontics in the Permanent Dentition

The orthodontic treatment goals are similar to those for nonclefts, using the same general orthodontic principles utilized for noncleft patients: To establish ideal dental function, facial aesthetics, and speech. Extraction of mandibular teeth to compensate for a hypoplastic upper jaw is usually not indicated until after the critical mandibular growth period has passed. In CLP patients, a bonded palatal fixed retainer is often necessary after treatment involving arch expansion to avoid relapse of the corrected palatal arch form:
Improve the relationship of the lips

Achieve harmonious balance of the dentition in the opposing jaws

Achieve favorable skeletal maxillomandibular jaw relationship

Achieve normal incisor overjet and overbite

Correct dental axial inclinations

Avoid the use of artificial teeth

Achieve functional dental occlusion

Achieve optimal nasal breathing
23.3.1.6

Dental Adjustments at Ages 16–17 Years for Girls and 18–19 Years for Boys

In cases with major skeletal jaw discrepancies, orthognathic surgery may be needed to normalize the skeletal jaw relationship and achieve a well-balanced facial appearance with stable dental occlusion. If two or more teeth are absent in the same dental segment, a small bridge is normally needed. However, dental implants are likely to become an important aspect of future prosthetic replacements.
23.4

Outline of CLP Treatment Procedures in Bergen

To appreciate our treatment philosophy, a brief summary of the treatment approach and concepts of the Bergen Cleft Palate Center will be presented. Along with the Oslo CP Center, it serves a population of five million. Due to demographic distribution, many patients must travel distances up to 2,000 km to either center. Hardships are compounded by the need to travel in very cold weather during winter; therefore, the planning and coordination of health services are crucial for optimal utilization of available resources. Treatment costs and travel expenditures are covered by the government's social security program. The Bergen CLP Team treats about 55 newborn babies yearly. Treatment procedures are coordinated between the Department of Plastic and Reconstructive Surgery, University Hospital of Bergen; the CLP Center at the Department of Orthodontics and Facial Orthopedics, Faculty of Medicine and Dentistry, University of Bergen; and the Eikelund Center for Speech Pathology.
23.4.1

Plastic Surgery

Since 1986, in complete clefts of the lip and palate, a Millard lip closure is performed at 3 months combined with a single-layer vomerplasty for closure of the anterior part of the palate. The soft palate and isolated palatal clefts are closed at 12 months using a von Langenbeck technique. Alveolar bone clefts are left open until secondary bone grafting at 8–11 years of age. Between 1971 and 1986, the lip closure was combined with a periosteoplasty of the cleft alveolar process (Schjelderup and Johnson

1983

).
23.4.2

Interceptive Orthopedics