Fig. 11.1
Of 61 patients with obstructive events, 25 required tracheostomy, of which 11 were syndromic (Stickler syndrome (a group of genetic disorders affecting connective tissue), Treacher Collins (congenital craniofacial syndrome), and others) and other 14 patients had isolated Robin sequence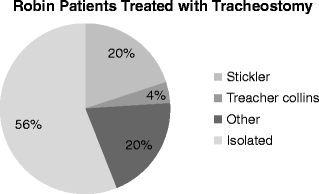 Fig. 11.2
Of 25 patients treated with tracheostomy, 44 % (11 cases) were syndromic, of which 45 % (5 cases) was either Stickler or other syndromes and 10 % (1 case) was Treacher Collins and the other 56 % (14 cases) had isolated RS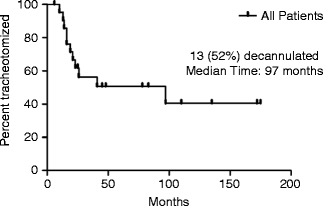 Fig. 11.3
Of 25 infants treated with tracheostomy, 13 infants (52 %) were eventually decannulated with median time to decannulation of 97 months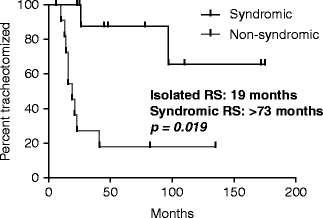 Fig. 11.4
Patients with syndromic RS had a median time to decannulation of >73 months versus patients with isolated RS had a median time to decannulation of 19 months,
p
 =  0.019
At mean follow-up of 4 years, the rate of tracheostomy-specific complications (e.g., cannula obstruction or accidental decannulation, delays in speech and language development, tracheomalacia (flaccidity of the tracheal support cartilage)/­tracheitis, pneumonia) was 52 % and tracheostomy-specific mortality was 8 %. Patients with syndromic RS stayed in the hospital significantly longer than patients with isolated RS (50 versus 28 days, respectively). There was one death in each group; however, patients with syndromic RS had significantly more events of end-organ dysfunction (neurogenic, gastrointestinal, and/or cardiopulmonary) per patient than patients with isolated RS (2.08 versus 0.69,
p
 =  0.005).
11.5

Summary and Conclusion

Airway management in patients with RS and severe airway obstruction remains controversial. The benefits of various surgical airway procedures, as well as indications for intervention, are unclear and based upon imperfect data. Our experience with these complex patients has documented some factors associated with the need for surgical intervention, but these criteria await validation in a randomized prospective trial. We have also found that although tracheostomy was intended to be a temporary airway for these patients, the time to natural decannulation was longer than expected. This may be partially explained by the mandible's inability to "catch up" in growth, especially in syndromic patients. We are planning further study into these issues by means of a prospective trial that will incorporate serial lateral cephalograms to document mandibular growth as well as offer mandibular distraction as a surgical modality to patients with severe airway obstruction. Based on our experience, we believe that all potential treatment options should be exhausted before offering tracheostomy to syndromic patients with Robin sequence.
Financial Disclosure Information
The authors have no financial or commercial interests to disclose.
None
References
Bhat RY, Hannam S, Pressler R, Rafferty GF, Peacock JL, Greenough A (2006) Effect of prone and supine position on sleep, apneas, and arousal in preterm infants. Pediatrics 118(1):101–107. doi:
118/1/101
[pii]
10.1542/peds.2005-1873
PubMed
CrossRef
Bijnen CL, Don Griot PJ, Mulder WJ, Haumann TJ, Van Hagen AJ (2009) Tongue-lip adhesion in the treatment of Pierre Robin sequence. J Craniofac Surg 20(2):315–320. doi:
10.1097/SCS.0b013e31819ba5ce
PubMed