Treatment for patients with craniofacial anomalies always presents a great challenge to orthodontists. Treatment usually requires both comprehensive orthodontic treatment and orthognathic surgery. In this article, we report on a patient with Pfeiffer's syndrome treated by midfacial distraction and comprehensive orthodontics.
Pfeiffer's syndrome is a rare autosomal dominantly inherited disorder that is associated with midfacial retrusion, craniosynostosis, broad thumbs and large toes, and partial syndactyly. Hydrocephaly is also found occasionally, along with severe ocular proptosis, ankylosed elbows, abnormal viscera, slow development, significant upper airway compromise, and obstructive sleep apnea. Dental characteristics of the syndrome are similar to those of Apert's syndrome, Crouzon's syndrome, and other craniofacial synostoses. General dental characteristics are maxillary hypoplasia, Class III malocclusion, anterior and posterior crossbites, anterior open bite, and severe crowding of the maxillary arch due to hypoplasia. However, Alvarez et al reported Pfeiffer's syndrome patients with natal teeth. The incidence of Pfeiffer's syndrome is 1 in 100,000 persons.
In addition to these medical and dental problems, patients with craniofacial synostosis are likely to have psychosocial problems because of their appearance. Physical appearance is significantly related to psychosocial well-being in children and young adolescents. Children with craniofacial anomalies are reported to have fewer social activities, problematic peer relationships, and psychological adjustment problems. It is also believed that, if correction of the deformities could occur at a younger age, there would be fewer psychosocial problems. Distraction osteogenesis has become a popular treatment of choice to correct severe skeletal discrepancies in the maxillofacial region over the past decade. This technique has been applied to treat severe midfacial hypoplasia related to cleft lip and palate or other syndromes.
Diagnosis and etiology
The patient was referred to Children's Medical Center of Dallas, Texas, at the age of 2 with a chief complaint of facial abnormalities. She had marked midfacial hypoplasia, mild hypertelorism, broad thumbs, and large toes ( Fig 1 ). After a thorough examination, she was diagnosed with Pfeiffer's syndrome. The physical examination showed no signs of neurologic problems or increased intracranial pressure. Neither were there signs or symptoms of upper airway constriction or obstructive sleep apnea. Therefore, no treatment was deemed necessary at that time. At the age of 4, orbital hypertelorism was corrected by a craniofacial surgeon ( Fig 2 ). The patient recovered well from the surgery and continued to be followed by the craniofacial team annually.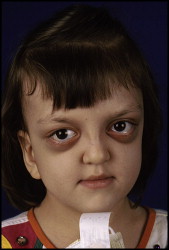 At the age of 11 years, the patient began complaining of both masticatory and psychosocial problems because of severe midfacial retrusion. Therefore, a surgical- orthodontic plan was developed to address these problems. The facial examination showed a severely concave profile, decreased lower facial height, and deficient incisal display on full smile. Dentally, she was in the late mixed dentition. She exhibited Class III molar and canine relationships, a negative overjet of –10 mm, an overbite of 50%, and severe maxillary and mandibular anterior crowding. Cephalometrically, she had a retrusive maxilla with an ANB angle of –1°, a flat mandibular plane angle, a relatively normal anteroposterior position of the mandible, and proclined mandibular incisors ( Figs 3 and 4 , Table ).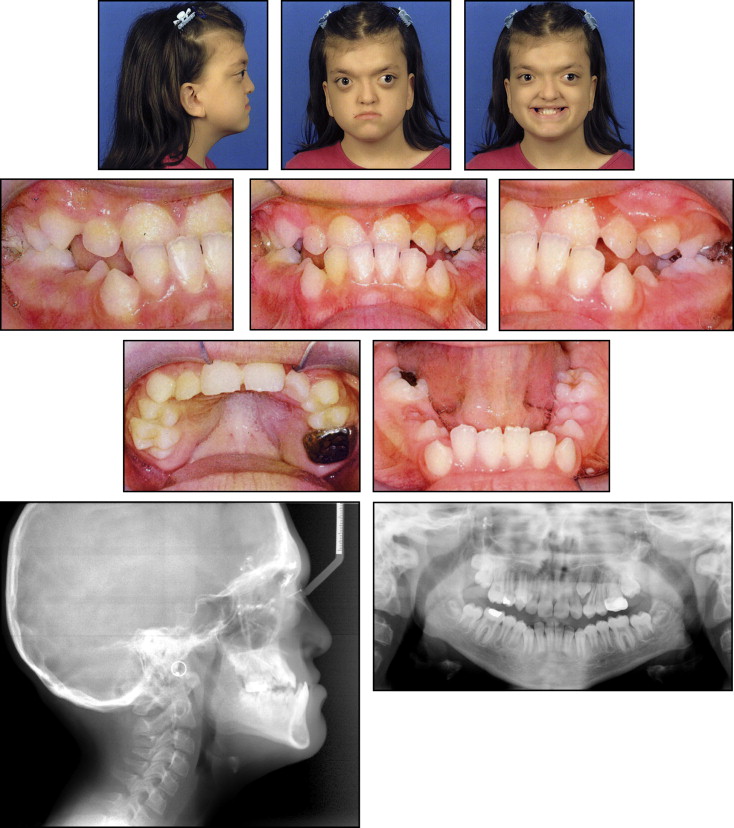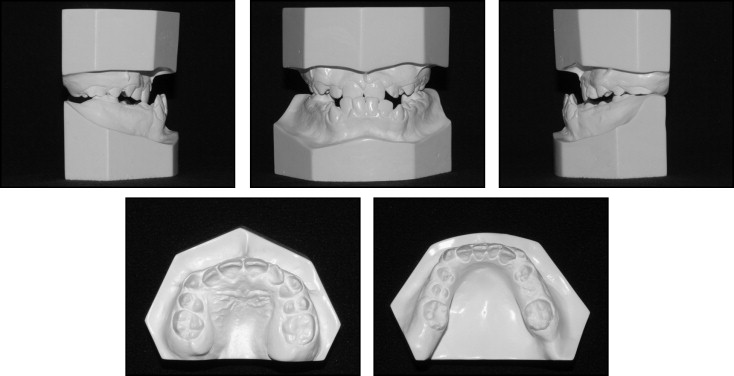 Table
Pretreatement
Postdistraction
Final
Norm
Value
SD
Value
SD
Value
SD
Skeletal measurements
N-A-Pg
5.5
−22.6
4.5
−0.9
4.5
−7
4.5
A-B ‖ OP (mm)
−0.5
−2.1
2
4.2
2
−3.4
2
SNA
82
69.1
3
79.5
3
79.7
3
SNB
80
79.9
4
78.2
4
81.5
4
ANB
2
−10.8
1.5
1.3
1.5
−1.8
1.5
OP-HP
9
−8.1
2.5
0
2.5
3.9
2.5
PP-HP
0.5
3.7
3
6.5
3
7.1
3
MP-HP
25
20.5
5
20.5
5
18.7
5
Y-axis (SGn-FH)
60
57.2
3
55.5
3
55.9
3
UFH (N-ANS/[N-ANS+ANS-Me]) (%)
43
43.5
100
45.6
100
45.5
100
LFH (ANS-Me/[N-ANS+ANS-Me]) (%)
57
56.5
100
54.4
100
54.5
100
Ba-S-N
130
122.4
100
120.8
100
116.6
100
Dental measurements
1/ (HP)
110
112.5
6.5
116.3
6.5
118.3
6.5
/1 (HP)
60
68.4
4.5
69
4.5
70.9
4.5
1/-(UL) (mm)
2.5
0.4
1
−0.6
1
−0.5
1
1/1
130
135.9
8
132.7
8
132.6
8
/1 (MP)
90
91.1
5
90.5
5
90.4
5
/1 (A-Pg) (mm)
2.5
8.7
2
0.6
2
3.1
2
/1 (N-Pg) (mm)
3.5
1.6
2.5
0.3
2.5
0.8
2.5
Soft-tissue measurements
Facial convexity (G'-Sn-Po')
13.5
−8.2
5.5
16.2
5.5
8.5
5.5
UL protrusion (UL-SnPg') (mm)
3.5
2.5
1.8
4.8
1.8
5.3
1.8
LL protrusion (LL-SnPg') (mm)
2.8
4.6
1.7
1.5
1.7
2.1
1.7
Upper lip to E-plane (mm)
−3
−6.4
2
−2.3
2
−5.2
2
Lower lip to E-plane (mm)
−2.5
−1.1
2.5
−3.2
2.5
−4.3
2.5
Premium Wordpress Themes by UFO Themes
WordPress theme by UFO themes