Fig. 14.1
Phases in wound healing. The wound healing process can be divided into three partly overlapping phases. Wound contraction is an early phenomenon, while scar formation is a late phenomenon in wound healing (
arrows
)
In intraoral wounds, the wound healing process is generally faster than in skin and generates less scar tissue. Therefore, intraoral wounds are sometimes considered to be more similar to fetal wounds (Okazaki et al.
2002
). This may be related to the presence of lower levels of pro-inflammatory and pro-fibrotic cytokines in mucosal wounds (Szpaderska et al.
2003
). The intraoral wound healing process is also influenced by the presence of saliva and large numbers of bacteria (Zelles et al.
1995
). Saliva contains many growth factors such as epidermal growth factor (EGF). In addition, phenotypic differences between skin and mucosal fibroblasts may be involved (Lepekhin et al.
2002
). These considerations, however, mainly apply to buccal mucosa, which has a quite different morphology than the palatal mucosa (Fig.
14.2
).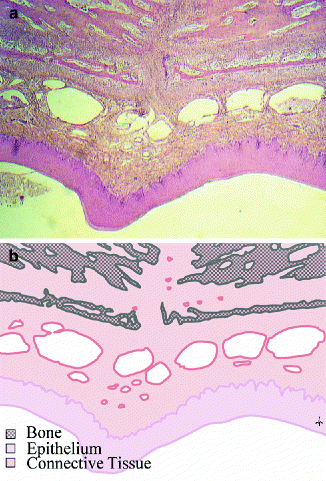 Fig. 14.2
(
a
,
b
) The palatal mucoperiosteum. The mucoperiosteum of the palate contains an epithelium and a submucosal connective tissue and is firmly attached to the palatal bone
In contrast to buccal mucosa, the palatal mucosa is a mucoperiosteum, which means that mucosa and periosteum are merged and attached to the palatal bone (Squier and Finkelstein
2003
). The palatal mucoperiosteum is also much stiffer than buccal mucosa, and it contains less elastin fibers, as was also shown for the gingival mucoperiosteum (Bourke et al.
2000
). Furthermore, the epithelium of palatal mucosa is generally thicker than in the buccal areas, and it is keratinized. All this implies that the physiological and mechanical characteristics of this tissue are quite different from buccal mucosa, which might explain differences in the outcome of the wound healing process.
Nevertheless, the general outline of both the palatal and the buccal wound healing process is similar to that of skin, which is described below (Clark
1996
). It is important to stress that the phases of wound healing described here are not discrete episodes but they overlap in time (Fig.
14.1
). In addition, the progress of healing in the outer wound area is more advanced than in the center, which means that subsequent phases of the wound healing process may be found in adjacent areas. This, of course, concerns only open wounds with a tissue defect in which healing takes place by second intention.
14.2.2

Phases in Wound Healing
14.2.3

Contraction and Scarring
14.3

Effects of Palatal Repair on Growth

Apart from embryonic distortions and intrinsic growth deficiencies, facial growth in cleft lip and palate patients may be affected by surgical repair, orthodontic treatment, and functional adaptations (Kuijpers-Jagtman and Long

2000

; Ross

1987a

,

b

,

c

,

d

,

e

,

f

,

g

; Rygh and Tindlund

1982

; Semb and Shaw

1996

). Since the landmark studies of Graber (

1949

) and Dahl (

1970

), numerous descriptive cephalometric studies have been published (for an overview, see Semb and Shaw

1996

). It is reasonably well established that cleft surgery, in particular lip and palate repair, can disturb normal growth and development of the maxilla in cleft patients (Berkowitz

1977

; Kuijpers-Jagtman and Long

2000

). However, the possible growth effects of surgery should be evaluated in relation to the intrinsic abnormalities of craniofacial growth in cleft palate patients. This requires that unoperated cleft lip and palate patients should be studied as well (Capelozza Filho et al.

1996

; Derijcke et al.

1994

; Lambrecht et al.

2000

; Mars and Houston

1990

).

Of all surgical procedures that are used in cleft lip and palate patients, palatal surgery has attracted the greatest amount of attention. The reason is that during this procedure, mucoperiosteal flaps are created on the palate to close the cleft, leaving areas of denuded bone. The scar tissue that is formed during healing might be a potential inhibitor of subsequent maxillary growth and dental arch development. Many studies over the past 50 years have focused on the effects of specific techniques of primary palate repair on midfacial growth and development. The effects of palatal closure seem to be mainly confined to the maxillary base and arch (Kuijpers-Jagtman and Long

2000

; Semb and Shaw

1998

). The maxilla is shown to be narrower, shorter, and displaced posteriorly relative to the cranial base. The dentoalveolar processes are often deflected to the median, resulting in anterior and transverse cross bites. However, since both lip and palatal surgery are generally performed, it is difficult to distinguish between the effects of the two types of surgery.

A problem with the evaluation of the literature on this subject is that the majority of the publications suffer from major methodological drawbacks, which minimizes their value (Ross

1987f

; Kuijpers-Jagtman and Long

2000

). Hardly, any studies are available that directly compare two types of treatment in a prospective research design. In contrast, there is a vast amount of retrospective studies available that all attempted to relate specific maxillary growth effects to particular surgical procedures. The most comprehensive study of this type is the multicenter study by Ross (

1987a

,

b

,

c

,

d

,

e

,

f

,

g

). By comparing lateral cephalometric radiographs collected from 15 cleft palate centers from around the world, they concluded that it was difficult to isolate the effects of individual palate repair techniques. However, an inhibition of anterior growth and translation of the maxilla was a common finding. Another problem that is only addressed by few is that not only the surgical technique but in particular the skills of the surgeon are very important for the long-term outcome in terms of growth and development (Kuijpers-Jagtman and Long

2000

; Shaw et al.

2000

).

In conclusion, strong consensus exists that primary surgery is a major factor in the impairment of dentomaxillary growth. The extent of growth impairment may be influenced by the specific techniques, the timing and sequence of operations, the use of orthopedic appliances, and possibly the most important of all, the skills of the surgeon. No particular technique has been shown to produce consistently better growth results than any other. Assuming that scar tissue is a primary etiological factor in maxillofacial growth disturbances, most contemporary repair techniques attempt to minimize scarring. Animal experiments are very well suited to determine the exact effects of specific surgical procedures. For a better understanding of the biological mechanisms in wound healing, and for the goal-directed modulation of healing, experimental studies are of major importance. Results of such studies are discussed in the next section.
14.4

Experimental Research

Extensive research in animal models has been performed to evaluate the effects of cleft surgery on growth and development of the maxilla and to study the wound healing process. Animal models are also used to develop new surgical techniques that may reduce the unfavorable effects of surgery. Tissue-engineered constructs are being developed to prevent attachment of scar tissue to the bone or as a substitute for the lacking mucosal tissue. A lot of in vitro research is also aimed at the elucidation of aspects of the oral wound healing process.
14.4.1

Effects of Surgery on Growth
14.4.2

Modification of Surgical Techniques

Several researchers have tried to modify cleft palate surgery in order to avoid the appearance of denuded bone areas and the subsequent growth impairment. Perko was the first to use a mobilized mucosal split flap for palatal closure (Perko

1974

). The disadvantage of his technique was the high risk of necrosis because the flap was only pedicled at the dorsal side. This technique has been modified by Leenstra et al. to obtain a flap that is pedicled both at the dorsal and the ventral side (Leenstra et al.

1995a

,

1996

). They used a partially split flap, leaving the lateral bone covered with the osteogenic layer of the mucoperiosteum, without impairment of the major neurovascular bundles (Leenstra et al.

1995a

). In dogs, this technique was promising, since it led to less attachment of the mucoperiosteum to the underlying bone, and an improved transversal growth and development of the dentition (Leenstra et al.

1995a

,

b

), and also in a clinical setting, the results were promising (Leenstra et al.

1996

).

The denuded bone can also be covered with a biomaterial, which can either be applied as such or supplemented with cultured cells. This type of approach belongs to the field of tissue engineering.
14.4.3

Tissue Engineering

Tissue engineering has been defined in the late 1980s as "the application of principles and methods of engineering and life sciences toward fundamental understanding of structure-function relationships in normal and pathological mammalian tissues and the development of biological substitutes to restore, maintain or improve tissue functions" (Skalak and Fox

1988

).

With respect to cleft palate surgery, a variety of approaches have been chosen to improve the outcome of the wound healing process. Firstly, biocompatible membranes have been used to prevent attachment of the scar tissue to the palatal bone or to reduce contraction and scar formation. A second approach is the engineering of mucosal substitutes to replenish the tissue defects. To this end, thin layers of keratinocytes have been cultured that can be used as epithelial grafts. Alternatively, keratinocytes have been cultured on top of a dermal substrate to produce a bilayered or composite graft, which is a substitute for the entire mucosa. The dermal substrate may consist of a collagenous matrix without cells or a matrix with cultured fibroblasts.
14.4.3.1

Biocompatible Membranes

Biocompatible synthetic membranes have been used to inhibit the attachment of scar tissue to the palatal bone by covering the denuded bone areas after surgery. Initially, the principles of guided tissue regeneration were used by inserting membranes in the mucoperiosteal defects (In de Braekt et al.

1992

). These membranes were supposed to cover the palatal bone, inhibit osteogenic processes, and thereby prevent the formation of Sharpey's fibers. Bio-resorbable Poly-L-lactic acid membranes and non-resorbable polymer membranes yielded unsatisfactory results. This was caused by an uncontrollable degradation of the lactic acid membranes and exfoliation or incomplete coverage of the bone by the non-resorbable membranes (Leenstra et al.

1998

).

Next to synthetic membranes, collagen-based membranes have been used for intraoral surgery. Atelocollagen membranes have been successfully used to improve gingival healing in a rat model (Minabe et al.

1989

). Similar membranes were used later in a model for cleft palate repair in young rabbits (Fujioka and Fujii

1997

). In a split-mouth design, the membranes were implanted on the denuded palatal bone at the experimental side, while the control side was left open. The authors report that implantation reduced contraction and allowed more favorable growth of the palatal bone and normal development of the dentition.