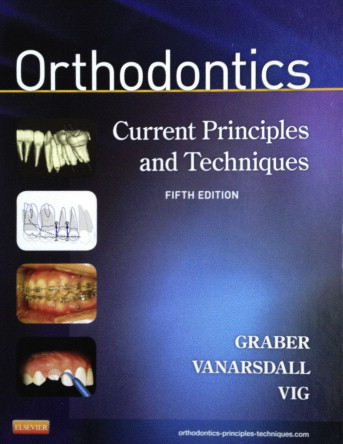 The editors of this volume are renowned authors, academicians, and practitioners. Dr Lee W. Graber served as past president of the American Association of Orthodontists and the World Federation of Orthodontists, Dr Robert L. Vanarsdall is a professor and former chair of the Department of Orthodontics at the University of Pennsylvania, and Dr Katherine W. L. Vig is a professor emeritus and former chair of orthodontics at the Ohio State University.
Forty-six authors contributed to the fifth edition's 30 chapters. The initial chapters focus on comprehensive orthodontic diagnosis and treatment planning, followed by chapters discussing growth and development, and the biology and mechanics of tooth movement. Mixed dentition diagnosis and treatment, the Tweed-Merrifield philosophy, and self-ligating brackets are next explored. The remaining chapters discuss specialized treatment considerations such as adult orthodontics and craniofacial abnormities, retention, orthodontic bonding, and materials. Proprietary systems such as SureSmile, Incognito, and Invisalign are also covered in separate chapters.
I read this book with great interest. Its contents cover most of the important orthodontic topics with current and relevant information, including contemporary technologies that are integrated into orthodontics. It is structured systematically. The authors of all chapters are knowledgeable, and some are experts in their topics. For the most part, the text is well written, and the references are up to date. The quality of most figures, clinical photos, and other illustrations is excellent.
Although this edition offers a plethora of information on many topics, some areas could be strengthened. For example, the contents of Andrews' "Six Keys to Normal Occlusion" and the rationale and prescriptions of the straight-wire appliance are lacking. The use of alveolar corticotomies to enhance molar distalization is demonstrated in this book, yet the principles and a more in-depth discussion of accelerated osteogenic orthodontics, including contemporary techniques and new methods, are not included. The chapter on craniofacial abnormalities could be expanded to include the most common syndromes, even if only a more in-depth reference list is provided for the reader's further exploration. Pertinent statistical analyses could be added to the chapter on evidence-based practice. Finally, more comprehensive discussions of contemporary functional appliances, including a more detailed elaboration of the oral appliance's role in sleep apnea therapy, would be welcome.
Overall, this is an excellent book. It is well worth its purchase price and is a desirable textbook for orthodontic residents and practitioners.