Fig. 12.1
Traditional classification of orthodontic implants (Courtesy T. Lietz)
Nomenclature
There is no general agreement on the nomenclature for this type of anchorage device. The names are based either on size (mini and micro), design (screw and plate), site of location (palatal and retromolar), or combinations thereof. Screw-shaped implants especially are named in more as 30 variations including mini-implant, mini-screw, micro-implant, and micro-screw [
20
]. The most used term is mini-implant. The term "micro" is not appropriate because the size of the screws is in the range of millimeters. These devices could be referred to as "mini" particularly compared to prosthodontic restorative implants as the diameter usually does not exceed 2 mm. The term "implant" is discussed in the light of different regulatory guidelines regarding classification of medical devices. These differences are important to consider when launching a product. Because the orthodontic implants are removed after use, they are not considered as "implants" according to the general ISO implant body definition (2.150, ISO 1942:2010 Dentistry – vocabulary): "[an implant] . . . …primary single component or portion of a dental implant which is intended to remain within the tissues." However, the term orthodontic implant is included in the standard. Moreover, according to the Food and Drug Administration (FDA) in the USA and the European medical device regulatory within EU, an implant is "a device that is placed into a surgically or naturally formed cavity of the human body and is intended to remain there for a period of more than 30 days". Because orthodontic implants always are used more than 30 days, they are according to this definition considered as "implants."
Another frequently and popular term used for the various kinds of orthodontic implants are "temporary anchorage device." This term, however, could be misleading because it is not accurate enough. Traditional anchorage appliances, including EOT and lingual arches, could also be referred to as temporary anchorage devices (TADs). Furthermore, and as discussed earlier temporary means less than 30 days, so the designation as such is not appropriate. Moreover, for nonspecialists, "palatal implants" could be mixed up with mini-implants placed in the palate medially or para-medially. These concerns and the fact that companies and scientists want to launch unique products with unique brand names will most probably make it difficult to agree on nomenclature. However, the suggested correct term for all these devices are orthodontic implants; subsequently, they can be classified according to design (plates, screws, or discs) and position. The nomenclature, however, needs to be further discussed. In this chapter, the most common terms for the orthodontic implants will be used (Fig.
12.1
).
Palatal implant – placed mainly on the anterior palate

Onplant – placed only on the anterior palate

Mini-implant – placed inter-radicular in the mandible and maxilla and also in the palate

Mini-plate – placed on the body of the mandible or maxilla
Applications
The popularity of orthodontic implants, especially the mini-implants, stems from their ease of use with minimally invasive surgery as well as a high level of patient comfort and relatively low treatment costs. During treatment, they are supposed to provide stationary anchorage (i.e., remain rigid and resistant to load and momentum) and be easy to remove. The limited possibilities to find enough bone volume with sufficient cortical thickness and inter-radicular distance on the vestibular side of the jaws have made the palatal side and para-medial an attractive alternative. The mini-implants placed para-medially, however, sometimes require an additional laboratory construction. This step complicates and prolongs the clinical procedure and increases the cost compared to mini-implants on the vestibular site. However, those mini-implants have the advantage over traditional palatal implants in that they do not require healing time before loading and surgical removal. Palatal implants comparable with prosthodontic implants recommends loading after an appropriate healing period. Immediate loading has, however, been demonstrated to be successful [
21
]. The insertion and removable of palatal implants is more invasive because of their dimension and surface character. Lately however, devices have been presented that allows for removal of the palatal implants by an unscrewing technique making a second invasive surgical intervention unnecessary (Hänggi M, results not yet published).
The most invasive surgical procedure is needed for the mini-plates. Both palatal implants and mini-plates have though demonstrated higher success rates compared to mini-implants. The described three kinds of orthodontic implant types can be used depending on the clinical situation (i.e., orthodontic movement) and on the force required (i.e., direction and magnitude). The system of preference is also a matter of training, experience, and availability. The most commonly used systems today are mini-implants used both inter-radicular on the vestibular site and para-medial in the palate.
All three orthodontic implant types can be used for direct anchorage and indirect anchorage. Direct anchorage means pull or push directly to the active unit tooth or teeth to be moved, whereas indirect means that the reactive a group of teeth that are pushed or pulled against are supported and stabilized. Indications could be movements of teeth such as distalization, mesialization, intrusion and extrusion of tooth segments for space closure, uprighting of molars, impacted teeth, transversal expansions of palates, and protraction and retraction of the entire maxilla and mandible (Fig.
12.2
).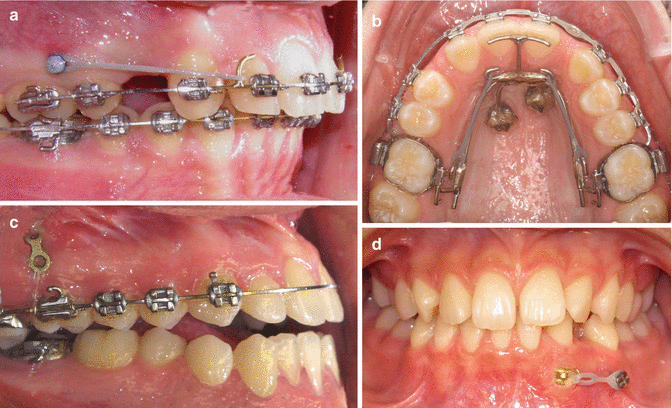 Fig. 12.2
Example of clinical applications. (
a
) Overbite reduction by distalization using mini-implant anchorage (Courtesy A. Ödman). (
b
) Space closure in a case with lateral agenesis using mini-implant anchorage. (
c
) Intrusion in an open bite using mini-plate anchorage (Courtesy M. Möller). (
d
) Extrusion of impacted canine using mini-implant anchorage
Stability