Fig. 5.1
Pictorial descriptions of different types of polymeric nanoparticles and their respective functionalities. Surface modifiers, targeting molecules (ligands) and incorporated agents are shown
5.2.3

Liposomes

Nano-sized liposomes can be prepared using the rehydration technique, followed by extrusion. Generally, known amounts of lipids, with and without cholesterol, are dissolved in a low-boiling organic solvent such as ethanol at 60 °C. Using a rotary evaporator, the organic solvent is evaporated off to form a thin film. This is then hydrated with an aqueous solution containing the drug or protein. Rehydration leads usually to the formation of multilamellar vesicles (MLV), which have sizes in the range of 0.5–5 μm. These are downsized to about 70–500 nm (unilamellar vesicle, or ULV) by extrusion through membrane filters at high pressures [

9

] to produce liposomes with incorporated drugs. In the above example, the drug is incorporated by the 'passive' loading method. For more hydrophilic drugs, an 'active' loading method is required to incorporate therapeutically meaningful quantities. For passive loading, a lipophilic drug is dissolved in the organic phase, while a hydrophilic drug is dissolved in the aqueous phase. An example of an active method is the use of a pH gradient [

10

] or an electrochemical gradient [

11

,

12

] for different drug types.
5.2.4

Dendrimers

Dendrimers are essentially hyperbranched polymer structures that can potentially 'encapsulate' drugs or proteins. The control of release is exerted primarily through diffusion and in some cases by degradation. These hyperbranched structures (polymers) are prepared by a very specific reaction sequence, usually starting with an amine-terminated molecule. Such a molecule is reacted with an acrylate ester and then subsequently with ethylene diamine to yield a 'full-generation' dendrimer [

13

]. Repetition of the above reactions yields a highly branched structure with internal 'cavities' that may hold metal atoms or other guest molecules by virtue of the presence of amine groups. Molecules may be conjugated to the 'interior' groups as well as the 'surface' groups, and these molecules may be a drug, peptide, antibody or PEG. Conjugation generally opens up possibilities for selective targeting of tissue but seldom for sustained release applications.
5.3

Clinical Applications
5.3.1

Cancer Chemotherapy

We now review the applications of the above classes of nanoparticulate carriers in different therapies. By far, the greatest attention has been paid to targeting tumour tissue as nanoparticles have the ability to traverse easily out of blood vessels into tumour tissue in comparison to their microparticulate cousins. In addition, surface modification of nanoparticles for evasion of the reticuloendothelial system (RES) as well as for penetration of selected tissue is no less feasible for nanoparticles. So in what follows, we discuss the relative successes of the different particle types in targeting tumour tissue.
5.3.2

Ocular Applications

Sustained delivery of therapeutic agents is desirable for many ocular diseases, including glaucoma and macular degeneration, both chronic conditions without any known cures. However, the impermeability of the corneal epithelium and rapid clearance by tears preclude the use of topical eye drops for sustained delivery in spite of several years of research. Drugs applied via eye drops penetrate the barriers in the front of the eye at the best by about 5 % of dose; the dosing lasts for about 20–30 min on average. For the diseases to be discussed below, longer-duration drug action is highly desirable both from an efficacy as well as a patient compliance standpoint.
Glaucoma
Glaucoma is a chronic, progressive optic neuropathy that causes irreversible blindness. It is the major cause of irreversible blindness worldwide. The global burden of glaucoma is estimated to rise to affect 80 million worldwide by 2020 primarily due to an increasing ageing population in the world. Elevated intraocular pressure (IOP) is the only known effective modifiable risk factor. The use of daily eye drops containing hypotensive agents to lower the IOP remains the first-line treatment for glaucoma. Like any chronic therapy, ocular hypotensive agents require patient adherence. In addition, patients have trouble using eye drops and applying them correctly in the eye. A consequence to poor patient adherence is treatment failure and a poor outcome from disease progression. It is estimated that at least 10 % of blindness is directly attributed to poor patient adherence to prescribed medications.
Clearly, eye drops cannot sustain IOP lowering for more than 24 h at best. To achieve sustained duration of IOP lowering, other modes of administration are needed. One approach is to use a 'punctual plug' which effectively plugs the tear duct; if an IOP-lowering drug is incorporated into the body of the plug, it may be released slowly over time. The company Ocular Therapeutics has reported the development and testing in humans of such a plug containing the drug travoprost [
51
]. Although such a mode of administration [
52
] (Fig.
5.6
) offers promise for longer-duration therapy, it is more invasive than a sub-conjunctival injection that can also sustain the duration of IOP lowering for at least 3 months following a single injection. For this, nanoliposomes have been found to be successful [
53
]. The challenge is to incorporate sufficient amounts of the drug into the nanoliposomes such that a single 150 mL injection contains sufficient drug to last over 3 months; secondly, the release of drug must be slow enough to sustain IOP lowering over the same time period. The nanosize helps to reduce opacity in the anterior chamber as well as not to be irritating to the patient.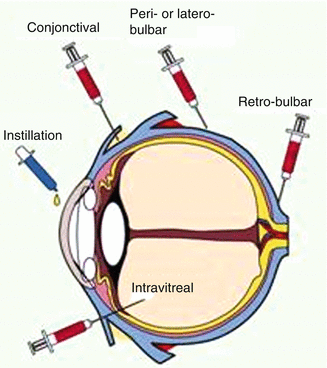 Fig. 5.6
Routes of administration of nanocarriers in the eye (Courtesy of Claudia Di Tommaso)
Work in our group showed that the prostaglandin analogue, latanoprost, may be loaded up to 10 % by weight of lipids in liposomes [
54
] and the release sustained over 2 months
in vitro. In vivo
studies in diseased monkeys showed duration of IOP lowering for up to 4 months. There were no deleterious local effects of the sub-conjunctival injection: the bleb that is formed initially resolves in 24 h. This approach opens up possibilities for sustained therapy of anterior chamber diseases that are chronic in nature. The required dosing over 3 months is usually high for most drugs, and so a suitable nanocarrier system must be identified that can incorporate such large doses without losing shape or aggregating.
Posterior Segment Diseases
One site of action where sustained delivery capability is needed is the posterior eye segment. There are several conditions that require sustained therapy: diabetic oedema, macular degeneration (the so-called wet kind) and infections, including cytomegaloviral infections. Topical administration is not a feasible option due to the impermeability of the various barriers. Currently, all the three conditions are treated with either intra-vitreal implants or intra-vitreal injections. Both procedures have associated risk factors, such as retinal detachment and vitreous haemorrhage. Furthermore, such procedures also suffer from poor patient acceptance. Thus, sustained delivery options for the back of the eye are an important area of research and have been for some years.