Fig. 2.1
Number of (
a
) publications and (
b
) citations related to "nanomaterials" or "nanotechnology" or "nanoparticles" and tissue engineering/dental according to ISI Web of Science (Data obtained March 2014). A steady increase in the number of publication in the area of nanomaterials for dental research indicates growing interest in the field
This chapter reviews recent developments in the area of nanomaterials and nanotechnologies for dental restoration. We will focus on two major types of nanomaterials, namely, bioinert and bioactive nanomaterials. Bioactive nanomaterials include hydroxyapatite, tricalcium phosphate, and bioglass nanomaterials, whereas bioinert nanomaterials include alumina, zirconia, titanium, and vitreous carbon. Emerging trends in the area of dental nanomaterials and future prospects will also be discussed.
2.2

Anatomy and Development of the Tooth

To design advanced biomaterials for dental repair, it is important to understand the chemical and physical properties of native tissues. Teeth are three-dimensional complex structures consisting of the crown, neck, and root. Oral ectodermal cells and neural crest–derived mesenchyme are the primary precursors for mammalian teeth. Tooth development can broadly be divided into five major stages: dental lamina, initiation, bud stage, cap stage, bell stage and eruption (Fig.

2.2

). Initially, ameloblasts and odontoblasts differentiate at the junction between epithelium and mesenchyme to form enamel and dentin, which are the tooth-specific hard tissues. Following this, root formation is initiated by differentiation of cementoblasts from dental follicle mesenchyme to form cementum, which is the third hard tissue of the tooth. As teeth erupt into the oral cavity and the roots reach their final length, substantial amounts of epithelial cells are lost [

21

].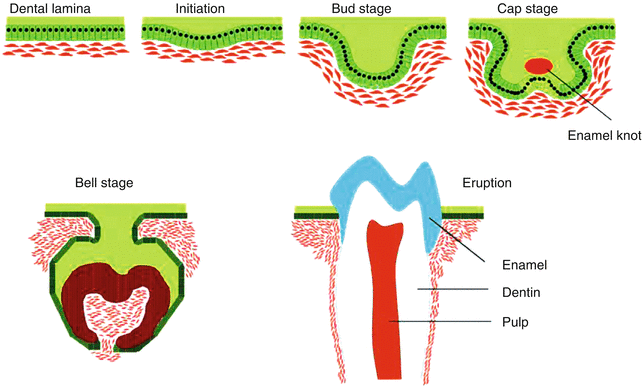 Fig. 2.2
Stages of tooth morphogenesis (Adapted from Nakashima and Reddi [
97
]. With permission from Nature Publishing Group)
A range of soft and hard dental tissues is observed, depending on the anatomical location. For example, the tooth crown with a mechanical stiffness of 100 GPa is composed of the mineralized outer enamel layer with 0.6 % of organic matter and 0.36 % of proteins. Underlying the enamel layer, the mineralized dentin layer has moderate mechanical stiffness (80 GPa), and the inner pulp dental tissue is very soft (~65 GPa) [
22
]. The enamel layer is mechanically stiff as it is composed of mineralized tissue that is produced by specific epithelial cells called ameloblasts. This layer consists of specialized enamel proteins such as enamelin, amelogenin, and ameloblastin. These proteins participate in helping structural organization and biomineralization of the enamel surface [
16
]. The underlying dentin layer is 75 % mineralized tissue containing dental-derived mesenchymal cells called odontoblasts on the dental papilla [
23
,
24
], while the inner dental pulp tissue present in the root canal consists of dentin, cementum, and periodontal ligament layers, which secures the tooth to the alveolar bone [
4
].
Most of the mineralized structure observed in dental tissue is composed of nonstoichiometric carbonated apatite known as nanocrystalline hydroxyapatite (HA) in a highly organized fashion from micrometer to nanometer-length scale. The nanocrystalline HA particles are rod-shaped particles 10–60 nm in length and 2–6 nm in diameter [
25
]. The second most important component of dental tissue is cells. Cells present in dental tissue include osteoclasts and osteoblasts present on the face of the alveolar bone, cementoblasts on the surface of the root canal, and mesenchymal tissue in the ligament tissue that is essential for the long-term survival of these dental tissues. Molecular signals initiated by these cells trigger a set of events that regulate tissue morphogenesis, regeneration, and differentiation.
Human teeth do not have the capacity to regenerate after eruption. Therefore, biomedical engineering of human teeth using nondental cells might be a potential alternative for functional dental restorations. Here, we will discuss various types of nanomaterials that are proposed to facilitate regeneration of dental tissues.
2.3

Nanomaterials for Dental Repair