Fig. 4.1
Distribution (
inset
) and growth of consumer goods containing nanomaterials based on the identification of eight commercial sectors (Reprinted from Meyer et al. [
1
]. With permission from American Chemical Society)
The major areas of nanotherapeutic applications in health care are cancer treatment, infection control, vaccine delivery, scaffold for tissue engineering and immunotherapy. To date, nanomaterials of metals, carbon, silica, liposomes, polymers and composite materials are developed with varying purposes. Although most of the advanced therapeutic interventions using nanotechnology are yet to reach the hands of medical practitioners, the medical benefits of nanotechnology has already been experienced with the advent of new-generation cancer medicine, diagnostic systems and antimicrobials. The disruptive growth of nanotechnology applications in diverse sectors and medicine in particular has raised questions on its safety to humans and the environment. In fact, ensuring the safety of nanotherapeutics has been recognised as one of the major roadblocks in the translation of exciting research findings.
Some of the fundamental properties of materials begin to shift as their size approaches 'nano', which has been the primary reason for the excitement about nanomaterials. Therefore, it is reasonable to speculate that the biological responses to nanomaterials could also be different from their bulk counterparts. In fact, the differential response of biological systems to nanomaterials has been well captured in nanomedicine. On the flip side, however, the same properties that make nanomaterials attractive for their therapeutic applications such as ability to penetrate biological compartments, biological persistence required for slow and sustained release of therapeutic agents, altered redox potential and ability to generate reactive oxygen species, dissolution and release of chemical components,
etc.
could generate negative outcomes at the nano–bio interface. Research studies over the years have shown that the toxicology of nanomaterials is different from the toxicology of the bulk material or the chemical entity that constitutes these materials. Since the field of studying toxicology of nanomaterials – nanotoxicology – has advanced over the past decade, there has been significant improvement in our understanding on the properties of nanomaterials that could make them potentially dangerous.
4.2

General Physico-Chemical Properties of Nanomaterials in Relevance to Their Toxic Potential

Over the past decade, there have been many studies addressing the hazard potential of nanomaterials. As our understanding on this subject is evolving, it is reasonable to state that there are '

general

' mechanisms and material '

specific

' mechanisms that determine the toxicity of nanomaterials. Physical parameters such as extremely small size and increased surface area, shape and aspect ratio, dispersion state,

etc.

constitute the general properties applicable to all nanomaterials regardless of their chemical composition. Chemical properties such as dissolution chemistry, band-gap energy, surface defects,

etc.

are some of the material-specific properties that govern toxic potentials of nanomaterials. The following section will detail some of the important physical and chemical factors that in general shape the toxicity of nanomaterials.
4.2.1

Size of Nanomaterials in Relevance to Toxicity

Among the physico-chemical properties, the primary size is the defining criterion for nanomaterials. The National Nanotechnology Initiative (NNI), USA, defines nanotechnology as "

the understanding and control of matter at dimensions of roughly 1 to 100 nm

,

where unique phenomena enable novel applications. Encompassing nanoscale science

,

engineering and technology

,

nanotechnology involves imaging

,

measuring

,

modeling

,

and manipulating matter at this length scale

" [

2

]. The US Food and Drug Administration adopts this definition of nanotechnology and nanomaterials. When all three dimensions (length, width and height) or radius are in the range of 1–100 nm, the materials is generally referred to as 'nanoparticle', and a material with one or two dimension(s) within 1–100 nm is generally referred to as 'nanomaterial'. Examples of nanoparticles include spheres or pseudospheres of metal (Ag, Au, Pt), metal oxides (Al

2

O

3

, TiO

2

, CeO

2

, ZnO, CuO, Fe

2

O

3,

etc.), silica particles (SiO

2

), spherical carbon nanoparticles (C

60

, C

70

etc) and quantum dots (CdSe, CdSe/ZnS). Carbon nanotubes (SWCNTs, MWCNTs), carbon nanowhiskers, nanopods, nanorods, nanobelts and the fibrous structure of metal and metal oxides are some of the classic examples of nanomaterials. Although the terms 'nanoparticle' and 'nanomaterial' are used interchangeably, it should be noted that the material properties as well as the toxicity of the same chemical composition could vary between its 'nanoparticle' or 'nanomaterial' form, which will be discussed later.

Experimental and epidemiological evidences suggest that the biological activity of a given material could increase with the decrease in particle size. Earlier indications on the relevance of particle size on the biological activity of materials came from studies on inadvertent particle and fibre exposures [

3

,

4

]. The adverse health effects from inhaled ultrafine particles of aerodynamic diameters of <100 nm were comparatively higher than larger coarse (aerodynamic diameter <10 μm, PM10) and fine (aerodynamic diameter <2.5 μm, PM2.5) air pollution particles [

3

,

5

]. In the case of inhalation exposure, 'ultrafine particles' of size 1–100 nm get deposited in the alveolar region impeding their removal via physiological function of lungs as well as through macrophage clearance mechanisms [

6

]. These particles get translocated through circulatory and lymphatic systems to distant tissues and organs. Nanoparticles in circulation can be taken up by the organs and tissues including the brain, liver, heart, kidneys, spleen, bone marrow and nervous system. At the cellular level, however, the entry of particles is governed by biological and thermodynamic principles. The binding of the nanoparticle–ligand conjugate to the receptor produces a localized decrease in the Gibbs free energy, which induces the membrane to wrap around the nanoparticle to form a closed-vesicle structure [

7

]. The vesicle eventually buds off the membrane and fuses with other vesicles to form endosomes, which fuse with lysosomes where degradation occurs. The size-dependent uptake of nanoparticles is likely related to the membrane-wrapping process, where it was observed that optimum size for the spherical particles for uptake through endocytosis is 25 nm [

8

]. One of the most documented and well-known endocytic pathways is clathrin-mediated endocytosis, wherein the physical interaction of nanomaterials with cell surfaces prompts assembly of clathrin molecules on the interior side of lipid bilayers to form a membrane vesicle that wraps around the nanomaterial. Particles interacting with cell surfaces could also be internalized

via

non-receptor-mediated pathways, among which pinocytosis is the most frequently reported in literature. These routes of uptake, which include macropinocytosis, can potentially allow uptake of materials up to 300 nm in diameter [

9

].

The ability of nanoparticles to translocate to distant organs is a double-edged sword. While this is advantageous for delivery of therapeutics to distal organs, it could impede the clearance of nanoparticles from different tissues and organs. Here, it is worth noting that more than the ability to access biological compartments, the toxicity of particles increases with decreasing size because the proportion of the surface-exposed atoms/molecules increases with decreasing size. The higher proportion of surface-exposed atoms/molecules increases their chance of interacting with biomolecules present in their vicinity. Thus, for a given mass of materials, the effective 'reactive surface' is higher for smaller particles contributing to the potential to cause higher toxicity in comparison to their bulkier counterpart. In the case of gold nanoparticles, it was observed that the toxicity increases tremendously when the particle size is in the range of 1–2 nm [

10

]. Nonetheless, it is reasonable to summarize that the ability to trespass biological compartments and increased proportion of surface-exposed atoms/molecules of the 'extremely small' nanomaterials are the two most relevant general properties that makes nanomaterials potentially more dangerous. Since surface area of a nanomaterial is related to its primary particle size, surface area as a determining factor for toxicity will not be discussed under separate topics. However, it should be noted that surface area is an important parameter to consider for the dosimetry of nanomaterials for toxicological assessment.

The properties related to primary particle size and increased surface areas of nanomaterials are greatly influenced by the agglomeration behaviour of particles. Particles suspended in media or biological fluids agglomerate depending on the dominant thermodynamic forces between particles, biomolecules and ionic entities in the suspending media. Since agglomeration reduces the effective surface area and increases the overall size, it will be relevant to understand the factors influencing agglomeration particles and methods to prevent/minimize particle agglomeration. Therefore, strategies aimed at stabilizing particle agglomeration are often required when investigating the toxicity of nanomaterials.
Agglomeration Behaviour of Nanomaterials in Body Fluids and Cell Culture Media
Body fluids and cell culture media (used for the growth of cells under laboratory conditions) often contain salts and mineral ions besides biomolecules. Through a series of studies, Allouni et al. showed that the stability of nanoparticles in cell culture media is determined by multiple factors such as particle concentration, ionic strength and the presence of proteins [
11
]. Mineral ions and salts could interact with nanomaterials according to their charge compatibility, often leading to agglomeration and precipitation of nanomaterials. As proposed in the Derjaguin, Landau, Verwey and Overbeek (DLVO) theory, the stability of a colloidal suspension is based on the net balance of two forces: the electrostatic repulsion which prevents aggregation and a universal attractive van der Waals force which acts to bind particles together [
12
]. In electrolytes containing solutions such as cell culture media, the charged surface of nanomaterials attracts counter-ion charge clouds. This electrostatic double layer extends far from the particle surface contributing to the long-range interactions. In low–ionic strength solutions, the electrostatic repulsion between similarly charged nanoparticles is relatively higher than van der Waals forces of attractions, keeping particles separated from each other, thereby stabilizing the nanoparticle suspension. However, in high–ionic strength media such as biological fluids and cell culture media, the electrical double layer is compromised, and the magnitude of the repulsive electrostatic forces decreases, whereby van der Waals attraction dominates. Therefore, the net interaction potential becomes purely attractive at long and short range, leading to nanoparticle agglomeration and precipitation of agglomerated particles.
Agglomeration of particles could lead to increase in size with a concomitant decrease in effective surface area. Increase in size of the particles could negatively affect the uptake of particles into tissue compartments and cells. Therefore, it is important to ensure adequate dispersion of particles for desired and more accurate outcome in biological studies. Therefore, many dispersion strategies to suit the specific application scenarios have been developed to ensure the stability of nanomaterials in biological media.
Dispersion of Nanomaterials in Biological Media
It is evident from the previous discussions that in order to prevent agglomeration of particles and to achieve stabilization in biological media/fluids, the attractive inter-particle forces should be overcome by equivalent repulsive forces. Most dispersion strategies are based on the electrostatic repulsion [
13
] between the particles and steric hindrances imparted by the polymeric molecules decorating the material surface or combinations of these two effects [
11
,
14
]. Polymeric coating materials can be either synthetic or natural in origin. Synthetic polymers often employed for stabilizing nanoparticle suspension include poly(ethylene-co-vinyl acetate), poly(vinylpyrrolidone) (PVP), poly(lactic-co-glycolic acid) (PLGA), poly(ethyleneglycol) (PEG) and poly(vinyl alcohol) (PVA), while natural polymers with a desired property include serum albumin, dextran, chitosan,
etc.
[
15
]. For example, surface coating with citric acid or humic acid is used to stabilize the iron oxide nanomaterial because of the electrostatic repulsion and steric hindrances provided by these coating materials [
16
]. Although such attempts are reasonable from the standpoint of targeted drug delivery, the purposeful surface modifications especially with synthetic chemical compounds could yield misleading toxicological interpretation about the nanomaterial in question. Therefore, when toxicity of nanomaterials is attempted, a rational approach to disperse nanomaterials could be the use of proteins or phospholipids that are part of the biological fluids at the site of action. Such an approach has been employed by many workers where serum albumin and dipalmitoyl phosphatidylcholine (DPPC) has been used to disperse and stabilize nanomaterial suspension in cell culture media when studying the cytotoxicity of nanoparticles [
17
–
20
]. Taking TiO
2
nanoparticles as an example, Ji et al. showed that the dispersion of nanoparticles can be improved by supplementation of cell culture media with albumin [
21
]. However, they observed that the degree of dispersion could vary from medium to medium mostly because of the varying concentrations of phosphate. They also showed that fetal bovine serum (FBS) is an effective dispersing agent for TiO
2
nanoparticles, which was due to synergistic effects of its multiple protein components, such as albumins,
γ
-globulin and apo-transferrin. George et al. detailed a protocol involving the use and sequence of application of ultra-sonication and albumin to ensure stability of nanomaterial suspension (Fig.
4.2
) [
22
]. Similarly, Portel et al. showed the dispersion capability and biocompatibility of media containing albumin protein and DPCC in PBS for nanomaterial suspension [
20
]. Although FBS is an excellent dispersion agent, the serum components could interfere with the toxic potential, leading to a drop in the toxicity of nanoparticles. This could lead to gross underscoring of the possible toxic potential of nanoparticles, as it has been observed with nanomaterials of heavy metals. Thus, while the use of FBS in cell culture media for cytotoxicity studies in mammalian systems is reasonable, the application of FBS as dispersing agent may not be appropriate when studying toxicity to environmental organisms. Alternate dispersion strategies, for example, use of Alginic acid as environmentally relevant dispersion agent, should be applied in such cases [
23
].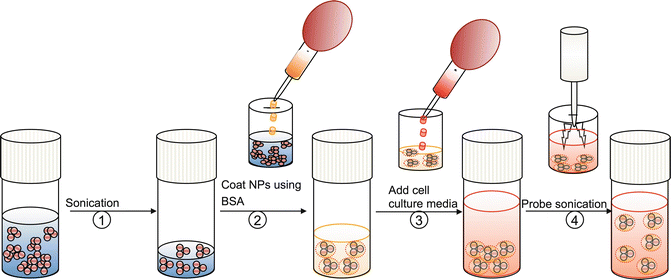 Fig. 4.2
Preparation of nanoparticle dispersion for cytotoxicity studies. (
1
) Sonicate (water bath) the stock solution of nanomaterial. (
2
) Aliquote the quantity required to make working concentration and add with dispersing agent (BSA) (e.g., 2 % BSA for serum free cell culture media) (
3
) Add cell culture media. Serum free cell culture media should be supplemented with BSA at 2 mg/mL concentration (
4
) Sonicate the nanomaterial suspension using probe sonicator and use the fresh nanomaterial suspension for cytotoxicity studies (Reprinted from Ji et al. [
21
]. With permission from American Chemical Society)
The relevance of dispersal states of nanomaterials in influencing their biological properties is exemplified by a series of studies conducted with Multi-Walled Carbon Nanotubes (MWCNTs) by Wang et al. They induced differential agglomeration states of MWCNTs in exposure media by suspending the particles in media with or without supplementation of dispersion agents. Suspending MWCNTs in exposure media resulted in agglomeration, while supplementation of the media with bovine serum albumin (BSA) and a lung surfactant DPPC dispersed these materials. The results showed that well-dispersed, relatively hydrophobic MWCNTs induce more robust pro-fibrogenic effects under
in vitro
and
in vivo
test conditions [
24
,
25
]. Well-dispersed MWCNTs induced more prominent TGF-β1 and IL-1β production
in vitro
as well as TGF-β1, IL-1β and PDGF-AA production
in vivo
than non-dispersed tubes [
25
].
4.2.2

Shape of Nanomaterials in Relevance to Toxicity

Nanomaterials cover a broad range of shapes, most of which fall in sphere, pyramid, cube, rod, tube or wire. Nanomaterials with distinct physico-chemical properties can be made from the same chemical composition by altering the geometry of the material. Shape of the nanomaterial is relevant with regard to its toxic properties because it determines factors such as the area of contact and the internalization pathway of nanomaterials into tissue compartments and cells, leading to different biological outcomes. In addition to these direct effects, shapes of nanomaterials could also influence their interaction with each other in suspensions. Nanomaterials of symmetrical shapes, for example, can give rise to self-assembled structures exhibiting periodicity in assembly of the building blocks (single nanocrystal). These interactions in turn shape nanomaterials' macroscopic-like behaviour such as their locomotion in circulatory systems. The influence of size and shape of nanomaterials on their movement through blood vessels and accumulation in different body compartments has been highlighted by research works on silica-based drug delivery nanomaterials. Decuzzi et al. studied a combinatorial library of silica nanomaterials with differing shapes – sphere, disc and cylinder – in mice models of tumours in order to study their accumulation in the major organs and within the tumour [

26

]. They observed that relatively bigger particles get accumulated in the reticuloendothelial system (RES). Discoidal particles were observed to accumulate more than others in most of the organs and in tumours, whereas cylindrical particles were deposited in liver [

26

]. Similarly, Meng et al. compared the cellular uptake of mesoporous silica nanoparticles (MSNPs) of different aspect ratio [

27

]. Their studies showed that the aspect ratio (ratio of length to diameter) of rod-shaped particles determines the rate and abundance of MSNP uptake by a macropinocytosis process in HeLa and A549 cancer cell lines. MSNPs with an aspect ratio of 2.1–2.5 were taken up in larger quantities compared to shorter- or longer-length rods [

27

]. While these examples provide examples of the influence of material shape on their transport and compartmentalization in the body, there are studies showing direct evidence of how shape of material influences its toxic outcome.
4.2.3

Fibre Pathogenicity Paradigm
4.2.4

Surface Functionality in Relation to Toxicity

The surface chemistry of a nanomaterial or chemical entity that coats nanomaterials can influence the biological outcomes of nano–bio interactions in many ways. The surface functionality determines the half-life of nanomaterials in circulation and its accumulation in specific body compartments. Capping nanomaterials with poly(ethylene) glycol (PEG) has been observed to increase their blood half-life [

36

]. The circulation time of PEGylated nanomaterials increases because PEG protects nanomaterials from phagocytosis by circulating macrophages. In fact, the second generation of nanomaterials for medical application uses the strategy of modifying the surface chemistry in order to achieve longer circulation time and active targeting. Surface functionalization using a co-polymer strategy using PEG and poly(ethyl) imine was also shown to increase the accumulation of nanomaterials in tumours [

37

]. These studies invariably show that functional groups play a major role in determining the ADME of nanomaterials. While the prolonged half-life in blood and site-specific accumulation of nanomaterials could have indirect effects on its potential toxicity, there are direct evidences on the influence of surface chemistry on the toxicity of nanomaterials.

In a study by Ryman-Rasmussen et al. using human epidermal keratinocytes cells (HEKs), the surface coating of QDs (commercially available CdSe core/ZnS shell-(QD 565) and QD 655 ) was found to cause differential effects on the cellular uptake, pro-inflammatory cytokine release and cytotoxicity [

38

]. Cytotoxicity was observed for quantum dots without any coating (QD 565) and QD 655 coated with carboxylic acids or PEG-amine, while no significant cytotoxicity was observed for PEG-coated QDs. Only carboxylic acid–coated QDs significantly increased release of IL-1b, IL-6 and IL-8, indicating that QD surface coating is a primary determinant of cytotoxicity and immunotoxicity in HEKs. This study also suggested the relevance of surface charge of the QDs to elicit biological responses where the cationic QDs showed the highest potential. The cationic quantum dots or dendrimers gain entry into the cytoplasm of cells by forming transient pores on the cell membranes which often result in cytotoxicity [

39

]. However, studies from Andre Nel's group from UCLA showed that cytotoxicity is determined not only by the surface charge but also by the cationic density of the polymer coating the nanomaterial. Mesoporous silica nanoparticles (MSNP) with potential use as carriers for hydrophobic cancer drugs and nucleic acids (for gene therapy) showed high efficiency of toxicity when polyethylenimine (PEI) of molecular size 25 kD was coated to the surface by non-covalent bonds. However, by reducing the molecular weight (MW) of the attached polymers to 0.6–10 KD, it was possible to retain high cellular uptake and drug delivery while reducing or even eliminating cytotoxicity. Apart from the type of surface coating, the pattern on the particle surface could also influence the uptake of nanomaterials and their ability to cause cytotoxicity. Verma et al. showed that gold nanomaterials with sub-nanometre striations of alternating anionic and hydrophobic groups could penetrate the plasma membrane without causing disruption to lipid bilayers, whereas the particles with random distribution of anionic and hydrophobic groups on the particle surface were mostly trapped in endosomes [

40

].

Chemical modification of nanomaterial surfaces with the intention of reducing their toxicity has revealed that surface functionality of nanomaterials could modify the toxic potential of nanomaterials. There have been many efforts to reduce the toxicity of nanomaterials mainly used for drug delivery purpose by chemical modification of their surfaces. Stasko et al. observed elimination of cytotoxicity of dendrimers in HUVEC cells when the surface amines of parental dendrimers were chemically modified to neutral acetamide or Polyethylene glycol (PEG) functionalities [

41

]. Similarly, functionalizing the fullerene and single-walled carbon nanotubes (SWNTs) with caroboxyl or hydroxyl groups was reported to decrease cytotoxic potential [

42

,

43

].
4.3

Material-Specific Properties of Nanomaterials in Relation to Its Toxicity

The above-mentioned factors such as size, shape and surface functionalization are the major properties in general that influence toxicity of nanomaterials. In addition, there are material-specific properties that are primarily associated with the chemical composition of nanomaterials that shape their interactions at nano–bio interfaces. Some of the material–specific properties of nanomaterials of relevance to human exposure because of their application in oral care products, food or therapeutics will be detailed in the following section. The strategy of elucidating property–activity relationships will be emphasized in an attempt to elaborate how nanotoxicology tools and studies are incrementally adding to our knowledge of factors that shape nano–bio interactions.