Fig. 9.1
Median rhomboid glossitis. An erythematous, well-defined, elliptical area located posteriorly in the midline of the dorsum of the tongue and anteriorly to the circumvallate papillae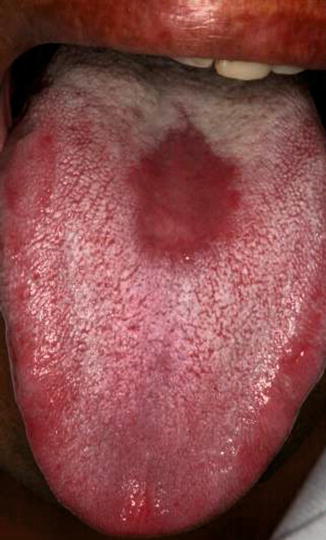 Fig. 9.2
Median rhomboid glossitis. A well-defined smooth, reddish area on the dorsum of the tongue located in the midline anterior to the circumvallate papillae (Courtesy of Prof. Dr. Antonio Adilson Soares de Lima)
Fig. 9.3
Median rhomboid glossitis. An erythematous, well-defined, elliptical area on the dorsum of the tongue located in the midline anterior to the circumvallate papillae (Courtesy of Prof. Dr. Maria Angela Naval Machado)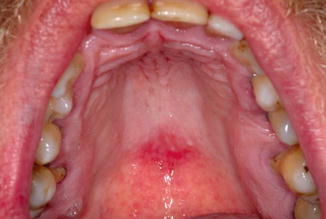 Fig. 9.4
Same patient of Fig.
9.3
. Erythematous spot located in the median plane of the hard palate:
kissing lesion
(Courtesy of Prof. Dr. Maria Angela Naval Machado)
Despite the relative frequency of MRG, little is known about its etiology. MRG once was thought to be developmental in origin, although it is seen almost exclusively in adults (Baughman
1971
; Cooke
1975
). It is now believed to represent an end stage of candidal infection and is similar to papillary hyperplasia of the palate (McNally and Langlais
1996
). There are several predisposing factors associated with MRG such as smoking, denture wearing, diabetes mellitus, as well as candidal infections (Espinoza et al.,
2003
; van der Wal et al.,
1986
; Soysa and Ellepola
2005
). Goregen et al. (
2011
) observed that although there was a significant association between MRG and Candida and diabetes mellitus, possible risk factors for oral candidosis such as smoking and denture wearing were invalid for MRG. Avcu and Kanli (
2003
) also observed that the prevalence of MRG was not associated with tobacco use, use of black tea, and oral hygiene index in a Turkish population.
Although there are several studies and hypotheses about the origin of MRG, the importance of Candida to the etiology of this lesion is still controversial because embryological, anatomical, and traumatic factors, and a mixed microbiota may favor the appearance of Candida (Scully et al.,
1994
; Manfredi et al.,
2013
). This would explain why the administration of antifungal therapy is sufficient to achieve clinical improvement in some cases and not in another (Samaranayake et al.,
2009
; Manfredi et al.,
2013
).