Fig. 11.1
OLP lesions affecting tongue and oral mucosa superimposed by oral candidosis
The objective of this chapter is to review the current literature on the association of candidosis and oral lichen planus, providing important information for a correct diagnosis and adequate treatment of these associated diseases.
Oral Lichen Planus (OLP)
Oral Candidosis (OC)
In dental practice, the diagnostic of oral candidosis is usually guided by clinical signs. The definitive identification of the microorganisms is performed by the microbiological diagnosis. For treatment of oral candidosis, various antifungal agents can be used with diverse advantages and disadvantages, as example nystatin, clotrimazole, ketoconazole, fluconazole and itraconazole.
Association of OLP to OC
Oral candidosis (OC) is subdivided into primary and secondary. Secondary infections are superimposed on other diseases of the oral mucous membranes, such as oral lichen planus (OLP), a chronic inflammatory disease. The histopathological characteristics of OLP include hyperkeratinization (Pindborg et al.
1997
), which may contribute to a predisposition for
Candida
infection. Erythematous or pseudomembranous areas in OLP can be a manifestation of the disease itself or a result of superimposed candidosis. Both cases are associated to morbidity, suffering and pain (Figs.
11.4
and
11.5
) (Scully et al.
1998
; Williams et al.
2011
).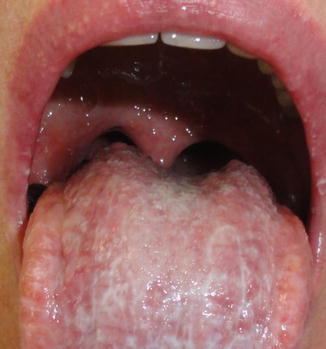 Fig. 11.4
Reticular OLP associated to pseudomembranous candidosis in the tongue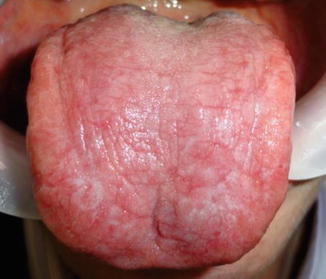 Fig. 11.5
Case of Fig.
11.4
after treatment with nystatin (100,000 IU) three mouthwashes per day during 2 weeks. Note a significant clinical improvement