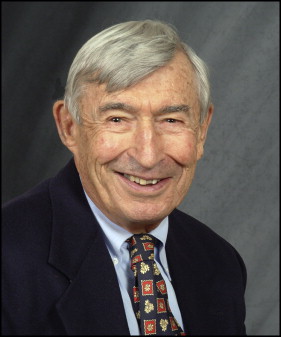 To date, only 1 person has been awarded the 4 highest honors given by the orthodontic specialty in the United States. In 1959, Dr J. (Jacob) Daniel Subtelny was presented the Milo Hellman Research Award. In 1993, he received the American Association of Orthodontists Foundation's honor for teaching, the Louise Ada Jarabek Memorial International Orthodontic Teachers and Research Award, followed by the American Board of Orthodontics Albert H. Ketcham Memorial Award for having "made a notable contribution to the science and art of orthodontics" in 1996, and the American Association of Orthodontists James E. Brophy Distinguished Service Award in 2006. In addition, the 2006 Orthodontic Educator's Conference was named in his honor along with that of his lifelong friend and collaborator, Dr Samuel Pruzansky.
An unassuming, gentle giant of orthodontic practice, teaching, and research for over 60 years, Dan—as he was known to all of his many friends and colleagues, or "Sub" as he was known to his students and recent alumni when he was not in earshot—passed away quietly in his sleep at his home in Pittsford, New York, on the evening of September 17, 2014. He was 92 at the time of his passing.
Dr Subtelny was born on March 30, 1922, in New York City. He graduated from high school at 16 years of age. He then applied and was accepted at the City College of New York. After graduation, he served in the U.S. Army from 1943 to 1945. In 1947, he graduated from the University of Pennsylvania School of Dentistry, earning a DDS degree. In 1950, Dr Subtelny was accepted into the orthodontic program at the University of Illinois at Chicago. This program was led by Dr Alan Brodie, a former student of Dr Edward Angle, and was considered at the time to be the top orthodontic program in the world. He received his orthodontic certificate and MS degree from the University of Illinois. He then was invited to join the orthodontic faculty at the University of Illinois. From 1953 to 1955, he was commissioned in the U.S. Public Health Service. In 1954, Dan was recruited by what was then called the Eastman Dental Dispensary to serve as the founding chairman of the Department of Orthodontics there. He continued to serve in that capacity for over 50 years, as the institution came to be known first as the Eastman Dental Center of the University of Rochester in New York and then as the Eastman Institute for Oral Health. Dan's title was eventually changed to "program director," but regardless of the title, he served as the leader and guiding light of the program. He retired briefly from that position in 2006 at age 84 but returned when he was needed in 2011. He continued until his dying day.
Dan's awards and accomplishments were astronomical. He trained almost 300 orthodontic graduate students. Many of these former students have gone on to serve in leadership positions around the world. He supervised over 200 graduate orthodontic research projects and 20 master's degree theses, published 70 peer-reviewed scientific papers and a number of book chapters, and authored a textbook entitled Early Orthodontic Treatment published by Quintessence in 2000. Dr Subtelny was an early member of the internationally recognized multidisciplinary cleft palate teams. He was a pioneer in the field of craniofacial orthodontics, even before that term was coined. He founded the Cleft Palate Team at the Eastman Dental Dispensary in 1955. He incorporated the diagnosis and treatment of patients with craniofacial anomalies into his orthodontic curriculum. Many other orthodontic programs around the world have since followed suit. He lectured on 6 continents, discussing this very topic.
Over the years, Dr Subtelny held a number of prestigious positions in various organizations. He served as president of the American Cleft Palate Association (1964) and president of the International Society of Craniofacial Biology (1965). He was named a diplomate of the American Board of Orthodontics (1964) and served as president and director of the American Board of Orthodontics (1969-1976). Dan was a fellow of the International College of Dentists (1980), a fellow of the American College of Dentists (1986), and a founding member of the North Atlantic Component of the Edward H. Angle Society of Orthodontists. He served on a number of editorial review boards, including the American Journal of Orthodontics and Dentofacial Orthopedics , Angle Orthodontist , Journal of Clinical Orthodontics , and Cleft Palate -Craniofacial Journal . This list of accomplishments and awards is far from complete.
If Dan is remembered for nothing else, he will be remembered for his joie de vivre . He loved to laugh and was always the first to get up and dance at departmental Christmas parties, insisting that his students follow his lead immediately. There are few parts of the world that Dan neglected in his many travels, and his love for fishing was well known. Both of these were encouraged and hosted by his many admiring alumni, who practice and teach throughout the world.
Dan was predeceased by his wife and collaborating author, Dr Joanne Subtelny, and his brother, Dr Michael Subtelny. He is survived by his children, Gregory Dan Subtelny and Alysa Subtelny Plummer; grandchildren, Benjamin Joseph and Ty Daniel Lantz-Subtelny; brother, Stephen (Ann) Subtelny; numerous nieces and nephews; and his special family at the Eastman Institute of Oral Health.
There is no doubt that the entire orthodontic specialty will sorely miss Dr J. Daniel Subtelny. Those of us who knew him as teacher, mentor, and role model will miss him the most. Dan had a unique pedagogic approach. It would best be described as a terrifying application of classical Socratic dialog, and all of us still shudder at the name of his course: "Hot Seat." It left us beaten, exhausted, and trembling but extremely well versed in world orthodontic literature, and accomplished and self-confident in orthodontic diagnosis and treatment planning. He definitively shaped the lives of almost 300 orthodontists from all over the world. The thousands of beautiful smiles that now exist thanks to the efforts of those graduates are a lasting tribute to Dan. Many of us have gone on to become professors of orthodontics ourselves, so Dan's guiding hand and love of teaching orthodontics will live on for many, many years to come.