Fig. 6.1.
Spectral output of one quartz-tungsten-halogen source (Optilux 501) and two light-emitting diode sources (Freelight-1 and Ultralume-2)
Further Variables with Light Sources
Alternative curing routines using stepped, pulsed or ramped energy delivery have been developed with the intent of improving restoration interfacial integrity by reducing composite curing rate, thereby increasing its flow capacity. A slow polymerisation of a resin composite may give rise to reduced polymerisation shrinkage in restorations because of stress relief. This may be achieved by applying short pulses of light energy (pulsed delay), pre-polymerisation at low light intensity followed by final exposure at high intensity (soft start), or a combination of both (ramp curing).
Light Penetration into and Through Oral Biomaterials
1-Phenyl-1,2-propanedione
Camphorquinone is inherently yellow, which causes problems in colour matching. This, in turn, places practical limits on the concentration of CQ and, consequently, limits the degree of polymerisation and depth of cure that can be attained; therefore, alternative photo-sensitisers have been considered. Diacetyl (2,3-butanedione) and propanal have been studied by Peutzfeldt and Asmussen [
58
,
59
]. A prominent initiator is 1-phenyl-1,2-propanedione (PPD) which has an aromatic group on one side of the dicarbonyl and a methyl group on the other (Fig.
6.4
) and λ
max
≈410nm. Recent experiments showed that PPD would be an efficient visible light photo-sensitiser, comparable with camphorquinone, for the initiation of the dental resin polymerisation [
60
], and that resins initiated with PPD showed better mechanical properties than those initiated with CQ [
61
]. Furthermore, PPD can act synergistically with CQ to increase the monomer conversion to polymer and/or reduce the photo-sensitiser concentration (and, hence, colour). This blend of photo-sensitisers may produce a better balance between surface cure and bulk cure [
62
]. The combination will also contribute to a reduction in chroma (from deep yellow to a pale yellow) when the total photo-sensitiser (PPD + CQ) concentration is held constant since the PPD wavelength (λ
max
≈410nm) will shift the hue to a less yellow shade (shorter dominant wavelength). The absorption spectra of CQ + PPD is shown in Fig.
6.5
.

Fig. 6.4.
Chemical structure of 1 phenyl 1,2 propanedione (PPD)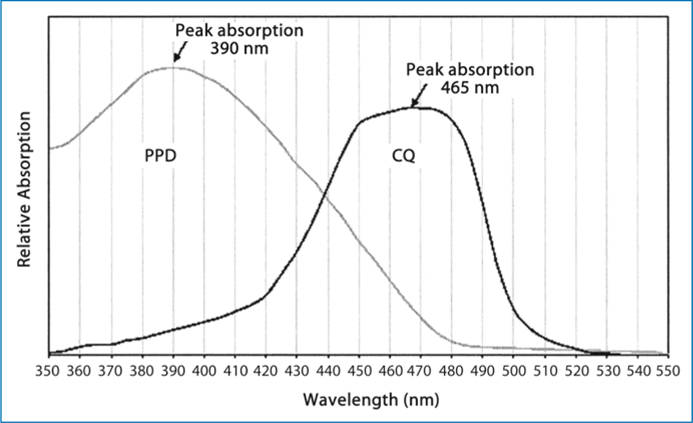 Fig. 6.5.
Absorption spectra of CQ + PPD
Photon Numbers and Photo-Initiation
It is useful to calculate the typical numbers of photons produced by a light source per second and to compare this with the numbers of photoinitiator molecules commonly employed.
Regarding photons produced by a light source, the following terms and relationships are defined:
I = irradiance of light source (mW/cm2),e.g. 500
λ = wavelength of light (nm), e. g. 470
υ = frequency of light (Hz)
c = velocity of light [
3
×10
8
m/s]
h = Planck's constant [
6
.626×10
-34
J.s]
E = energy of 1 photon of light = 4.226.10 -1 J, for λ470
Nph = number of photons emitted per second and per square centimetre.
Nph = I/E = I [mW/cm2 or mJ/(s.cm2)/E [J]
Thus, for a typical blue light wavelength: λ470
Nph = 1.185 × 1018.1 × 1018 photons/(s.cm2)
How many molecules of CQ are in a disk of monomer?
d = 5mm
h = 2mm
A
= π(2.5)
2
≈
20 mm
3
. V =
A.h
=
40 mm
3
.
If monomer density = 1.0g/cm3 = 0.001g/mm3,
then monomer mass = 0.001×40=0.04 g.
The concentration of CQ typically = 0.2 mass %.
Hence, within the monomer, the CQ mass fraction is
f
=0.002.
Hence, the mass of CQ is M
Cq
=
f
× 0.04 = 8×10
-5
g.
The molecular mass of CQ is
m
= 166g/mole;
hence, in 40mm
3
the number of moles of CQ = M
CQ
/
m
= 8×10
-5
/166.4.8×10
-7
.
Hence, in 40 mm
3
the number of molecules of CQ = (M
CQ
/
m
) × N
A
(Avogadro's number).
= (4.8×10-7) × (6.023×1023) = 0.289×1018 0.3×1018
With a composite consisting of 30 % monomer, the number of CQ molecules in a 40-mm3 disc is calculated as follows:
NCQ = (0.3×1018) × 0.3 = 0.09×1018 0.1×1018
This is the CQ content, in a material thickness of 2 mm.
This can be compared with the number of photons supplies per second per 20 mm2 disc area:
Nph.0.2 × 1018 photons per second per 20 mm2.
It is concluded that the number of photons arriving per second is comparable to the number of CQ molecules in the corresponding area or volume of the material.
Extent of Polymerisation
It is evident from many studies [
63
–
66
] that all of the dimethacrylate monomers exhibit considerable residual unsaturation in the final product. This ranges from 25 to 45 %, or
degree of conversion (DC)
ranging from 55 to 75 %. The nature of the unpolymerised resin is of considerable concern, especially in terms of deleterious effects on the mechanical properties and dimensional stability of the restoration, but less so in terms of biocompatibility [
67
]. The unconverted methacrylate groups must reside in the polymer network either as residual monomer or (a majority) as pendant side chains (PSC) which extend from the main chains by virtue of having reacted at only one end of the difunctional molecule. A further possibility is a cyclisation reaction. As residual monomer, these molecules function as plasticising agents which can reduce the properties of the polymer network. This occurs until such time as the monomers leach from the composite into the oral environment. Pendant side chains act as permanent plasticisers in the composite; hence, it is desirable to increase
DC
in order to produce stiffer and more durable resins, although, for a given composite, shrinkage increases with
DC
.
For a given VLC product the
DC
depends on the (a) light irradiance reaching the composite surface, (b) time of exposure and (c) thermal energy within the system.
Thermal and Spectroscopic Probes
Several techniques have been used to measure the extent of the reactions and to identify the formation of radicals.
Development of Mechanical Properties
Surface Hardness
The hardness of the top surface of a VLC composite resin specimen is observed to increase with time at ambient temperatures after the cessation of light irradiation, although there has been variation in the reported time scale [
88
–
90
]. The surface hardness changes should at least partially reflect changes in the bulk properties. An empirical mathematical model was proposed for this effect by Johnson et al. [
91
] based on non-linear regression. This incorporates exponential terms of the form derived previously, but involves two time constants.
Bulk Elastic and Visco-Elastic Compliance
The time dependence of development of Young's modulus in flexure was reported [
92
], and this followed a similar pattern to that of shrinkage and hardness. Similar changes in visco-elastic properties, such as static creep and creep recovery [
93
], are apparent following cure initiation as the network develops.
General Polymerisation Mechanism for Light-Activated Monomers
The principal chain-reaction steps involved subsequent to photo-activation of free radicals (A*) are as follows, with the associated rate constants [k…]:
| | | | | | |
| --- | --- | --- | --- | --- | --- |
| Initiation [kj] | A* | + | M | 6 | AM |
| Propagation [kp] | Mn⋅ | + | M | 6 | Mn+1⋅ |
| Termination [kt] | Mn⋅ | + | Mm⋅ | 6 | M(n+m) |
| Inhibition/retardation [kx] | Mn⋅ | + | X | 6 | MnX⋅ (inactive) |
| | R⋅ | + | X | 6 | RX⋅ (inactive) |
A, M and X denote the photo-reducer (usually an amine), the monomer and the inhibitor, while R and Mnare the initiator and polymer radicals. In the presence of certain chemicals, chain transfer is a further mechanistic possibility.
An active centre is created when a free radical attacks the π-bond of a molecule of monomer. Propagation involves growth of the polymer chain by rapid sequential addition of monomer to the active centre. With vinyl chain polymerisation (e.g. methyl methacrylate or methacrylate end groups) there is head to tail or head to head; the former predominates because attack at the methylene [CH2