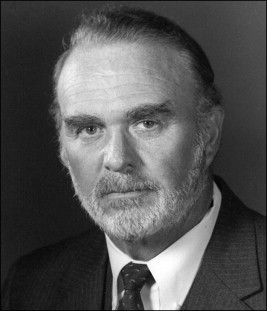 Harold T. Perry Jr (the Chief), 86, professor emeritus and former chairman of the orthodontic department at Northwestern University in Chicago, Illinois, died of natural causes on Friday, February 3, at his home in Florence, Oregon. After many years in Elgin, Illinois, he and his late wife, Lynn, had retired to Florence in 2000.
Dr Perry was born on January 26, 1926, in Bismarck, North Dakota. During his senior year in high school, he joined the US Army. He served during World War II on the ground with the 109th Infantry, 28th Division, in the Hurtgen Forest, Rhine River Crossing, and Central Europe. After his military service, he fought fires in Montana and attended Bismarck Junior College and the University of North Dakota, graduating with top honors. He then attended Northwestern University Dental School, where he earned DDS, MSD, and PhD degrees.
Dr Perry mentored more than 360 residents at Northwestern University Dental School, served as chair of the Department of Orthodontics for 25 years, and earned professor emeritus status in 1992.
"By his actions and his words, everyone who came into contact with him knew he demanded excellence, but he would always lend a helping hand for those who wanted to improve," said Steven Marshall of Buffalo Grove, Illinois, a former student, teaching colleague, and practice associate. "He was the consummate teacher. Once you had a relationship with him, it never faded. He would share his experience for your benefit without judgment or question."
With the exception of Antarctica, Dr Perry lectured on every continent. He published extensively, was a member of 8 dental organizations, and served as chairman, consultant, editor, contributor, and organizer in 19 professional appointments. Among his many awards and honors, he was selected by the Northwestern University Dental School as one the 20 most outstanding faculty members in the 100-year history of the school. An avid outdoorsman, lover of natural phenomena, and photographer, Dr Perry traveled often to southern Illinois and Canada for outdoor pursuits. He had a deep appreciation of music, poetry, and archaeology of the Plains Indian and Eskimo cultures.
For more than 3 decades of private practice in Elgin, Illinois, Dr Perry was respected for his effective care of patients, remarkable wit, wry sense of humor, and generosity. He helped many families who could not afford care and had a tender heart for those in need. Amidst "the Greatest Generation" and in memory, "the Chief" remains a powerful inspiration to all who had the privilege of his influence.